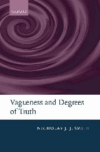 ISBN: 9780199233007
Published: 6 Nov 08
Availability: Available
Hardback
AU$122.95
NZ$158.99
Vagueness And Degrees Of Truth
Vagueness and Degrees of Truth develops and defends a new position on vagueness. To make the book accessible to non-specialists, Nicholas Smith includes both an introduction to the relevant philosophical literature, and a gentle but thorough introduction to the required logical tools and concepts.
Vagueness is a hot topic in philosophy
Introduces theories of vagueness in a clear, accessible style
Presents an entirely new theory, in a central area
Introduction
Part 1: Foundations
1: Beginnings
2: The Space of Possible Theories of Vagueness
Part 2: Vagueness
3: What is Vagueness?
4: Accommodating Vagueness
Part 3: Degrees of Truth
5: Who's Afraid of Degrees of Truth?
6: Worldly Vagueness and Semantic Indeterminacy
Conclusion

Nicholas J. J. Smith , The University of Sydney
Nicholas Smith is a Senior Lecturer in Philosophy at The University of Sydney.
`There can be no doubt that it is a must read for anyone engaged or just seriously interested in the debate on reasoning in face of vagueness.' Christian G. Fermüller, Australasian Journal of Logic