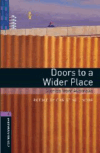 ISBN: 9780194791953
Published:
Availability: Contact Customer Service
Paperback
AU$12.95
NZ$17.99
Oxford Bookworms Library Third Edition Stage 4 Doors to a Wider Place - Stories from Australia
Third Edition
Help your students read their way to better English with this new edition of the world's best graded readers - now with a new range of World Stories, fully revised Factfiles, more audio, and new tests. The new edition includes the original Bookworms stories, plus the Starters, Playscripts and Factfiles, making it easy for you to see the full choice of books at each Stage. The highly acclaimed seven-stage system of grading, from Starter to Stage 6, remains the same, helping you to find the right level for all your students. The Oxford Bookworms Library provides superb reading and student / teacher support for the classroom, and is also highly recommended for schools running Extensive Reading Programmes, offering the right range of books that encourage students to read for pleasure.
Key Features
Stunning NEW covers, to get students interested from the start.
NEW World Stories - collections of short stories written in English from around the world - Africa, Australia, South Asia and more...
UPDATED Factfiles, with NEW text and colour photos, and a new look.
UPDATED Tests, including a NEW Multiple-choice Test for every book.
NEW Teacher's Handbook for each Stage, with answers to the activities in all the books.
UPDATED Activity Worksheets with a story summary & worksheets at Stages 1-4.
MORE books available with Audio for students to listen to the complete text.
Illustrations (including new ones in selected stories) to support the book and help introduce new vocabulary.
About the Author information, Glossary and Activities section at the back of every book.
FREE answer keys, tests, story summaries, and photocopiable activities from www.oup.com/elt/bookworms

Description
World Stories
1400 Headwords
Wordcount 15,862
Available on Audio CD
'When it came to football, Billy was different. Black hands grab the ball. Black feet kick the ball. Black hopes rise up with the ball to the sickly white sky. No one can stop him now. He forgets about the river, and the people of his blood . . .' But who can forget their own past? Billy finds that the ties which hold him to the people of his blood are strong indeed . . . The stories in this volume of World Stories are by Australian writers Mena Abdullah & Ray Mathew, Judith Wright, Archie Weller, Dal Stivens, David Malouf, Marion Halligan.