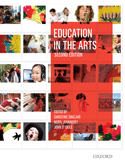 ISBN: 9780195518788
Published:
Availability: Available
Ebook
AU$71.95
Education in the Arts Ebook
eBook
Second Edition
This is a VitalSource e-book.
Education in the Arts: Second Edition is a book about the principles and practice that underpin teaching and learning in the arts. It enables primary school teachers to work across a number of art forms, including drama, art, music, media, technology and dance. It also addresses the need for all teachers to be able to teach the arts, not just art, music or drama specialists. It is grounded in theory and research, with links to teaching practice, allowing students to apply what they are learning to new contexts, and encouraging them to become reflective practitioners. Students can continue to use this book as they become practising teachers, drawing on how to implement the various arts practices in a school setting.
Part One: Key Principles
The Arts and Creativity: A Manifesto for Schools
1. Art, Creativity, and Motivation
2. Learning in the Arts
3. Arts Education as Intercultural and Social Dialogue
4. Generic skills and Multiple Literacies
5. Teaching for the Aesthetic, Teaching as Aesthetic
6. Shower Singing and Other Essentials
Part Two: Teaching the Art Forms
7. Drama: Social Dreaming in the 21st Century
8. Making Music and Cultural Connections
9. Learning In and Through the Visual Arts
10. Dance: Art Embodied
11. Media Arts and Learning in the Digital World
Part Three: Integrating the Arts
12. Integrating the Arts
13. Learning and Teaching through the Arts
14. Support and Partnerships for the Teacher Reflections: Art is a Place You Can Go
Glossary
Christine Sinclair – Head of Drama, Melbourne Graduate School of Education, The University of Melbourne
Neryl Jeanneret – Head of Music, Melbourne Graduate School of Education, The University of Melbourne
John O'Toole – (Former) Chair, Arts Education, Melbourne Graduate School of Education, The University of Melbourne