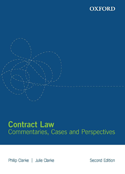 ISBN: 9780195578454
Published:
Availability: 999
Paperback
AU$139.95
NZ$186.99
Contract Law
Commentaries, Cases and Perspectives
Second Edition
Contract Law introduces students to the fundamental principles, theories and arguments in contract law. It provides a carefully selected collection of cases, statutes and materials with insightful commentary designed to give students a thorough understanding of the subject.
Key Features
Concise extracts – identifies the key extracts from leading cases, making them accessible for students.
Provides international perspectives in each chapter First year law students will find the material accessible.
Incorporates a broad range of material, including US examples.
A detailed introduction is presented in each chapter to clearly set the scene for subsequent materials and commentary.
New to this Edition
New review questions at the end of each chapter
More flowcharts and diagrams to aid learning
Up-dated to reflect recent changes to the law, including the new Australian Consumer Law
Contract Law is also available as an e-book.
Part I – Introduction
1. The nature and importance of contract law
Part II: Formation
2. Agreement
3. Certainty and conditional contracts
4. Consideration
5. Intention to create contractual relations
6. Capacity
7. Formalities
Part III – Scope and Content
8. Privity of contract
9. The terms of a contract
10. Construction and classification of terms
11. Exclusion clauses
Part IV – Avoidance
12. Misleading or deceptive conduct
13. Mistake
14. Duress
15. Undue influence
16. Unconscionable conduct
17. Unfair terms
18. Illegality and public policy
Part V – Performance and termination
19. Performance
20. Discharge by agreement
21. Discharge by breach
22. Discharge by frustration
Part VI – Remedies
23. Damages and liquidated claims
24. Equitable remedies
Philip Clarke - Emeritus Professor of Law, Deakin University
Julie Clarke - Senior Lecturer, Deakin University