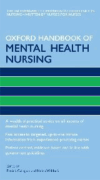 ISBN: 9780198568988
Published:
Availability: Contact Customer Service
Flexi Cover
AU$44.95
NZ$60.99
Oxford Handbook Of Mental Health Nursing
Now for the first time nurses have a comprehensive and reliable guide to the care of patients in the mental health setting. The Oxford Handbook of Mental Health Nursing gives concise, practical and expert advice on all aspects of this specialized and challenging field. Giving a complete picture of the role of the mental health nurse, the handbook gives a systematic summary of the prevalence, features and nursing management of the major mental disorders. The handbook covers the vast majority of scenarios a mental health nurse will ever encounter.
Fast access to concise, targeted information on all essential aspects of mental health nursing
Written by experienced nurses and packed full of up-to-the minute guidance and information
Patient centred, evidence-based and in line with government guidelines
An indispensable companion for practising and student nurses in a variety of care settings
1: Introduction
2: Essential mental health nursing skills
3: Interventions
4: Violence
5: Risk
6: Common mental disorders
7: The Mental Health Act
8: Medications
9: Culture
10: Older adult
11: Leadership
12: Evidence-based mental health nursing
13: Research
14: Liaison mental health
15: National occupational standards for mental health
16: Essential shared capabilities

Patrick Callaghan , Professor of Mental Health Nursing, School of Nursing, University of Nottingham, UK
Helen Waldock , National Development Consultant, Health and Social Care Advisory Service, London, UK
"Not only does it provide a guide for a range of interventions used in mental health nursing but it also furnishes the reader with a clear and concise guide to a variety of agencies, both statuatory and voluntary, relating to mental health care and management, which all mental health nurses should be aware of...[it is] written by mental health nurses for mental health nurses, as opposed to theorists or academics who can sometimes lose touch with the reality of caring for individual with mental health problems..." - justfornurses.co.uk
"... clear, well-thought out and... comprehensive companion for mental health nurses is a helpful structure on which to build competent, sensitive and effective practice." - Nursing Standard
"I was left with an overwhelming feeling of regret on reading this book that I am not about to start my career all over again. It is not a book to borrow, it is one you must own." - From the Foreword by Professor Peter Nolan, Staffordshire University, UK