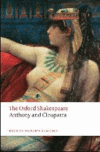 ISBN: 9780199535781
Published:
Availability: Contact Customer Service
Paperback
AU$14.95
NZ$20.99
Anthony And Cleopatra
A newly edited text of the most formally ambitious and poetically brilliant of Shakespeare's tragedies. Always alert to the play's theatricality and boldly experimental design, the extensive introduction offers a fresh critical account of the play, exploring its paradoxical treatment of gender and identity.
Michael Neill is Associate Professor of English at Aukland University.
'Stanley Wells' OUP Complete Works of Shakespeare is now eight years old and has spawned a new Oxford Shakespeare which appears now in splendidly affordable volumes in that nonpareil of libraries of good reading The World's Classics.' The Oxford Times