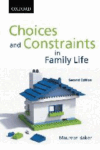 ISBN: 9780195431599
Published:
Availability: 26
Paperback
AU$81.95
NZ$111.99
Choices and Constraints in Family Life
Second Edition
Designed specifically for sociology of the family courses, this text examines the choices and constraints placed on individuals, relationships, and marriages in light of both family circumstances and societal expectations. Using an interdisciplinary approach that draws on the latest research in sociology, psychology, anthropology, and social history, the author explores emerging patterns in family life, including rising rates of cohabitation among both heterosexual and same-sex couples; trends in birth rates; and higher rates of separation, re-partnering, and stepfamilies. With the most up-to-date statistical data, new information on aging and women in the workforce, and extensive coverage of historical and theoretical perspectives, this new second edition is a concise yet comprehensive examination of family life in western society.
Current. Includes the most pertinent subject matter and the most up-to-date statistical data available offering students a fresh, relevant look at the many aspects surrounding family life.
Concise. Includes extensive coverage of the study of family life while still remaining brief and concise.
International examples. Allows students to evaluate the many issues surrounding families in westernized countries such as Canada, Australia, and Great Britain providing students with a global context
Breadth of coverage. Encompasses a broad range of issues affecting family life from child-rearing, to aging, to marriage and divorce, giving students a well-rounded perspective on the topic
Interdisciplinary. Emerging patterns in families are examined based on the latest research in sociology, psychology, anthropology, and social history providing students with a wide-ranging, balanced overview of family life
Historical and theoretical perspectives. Extensive coverage of both the history and theory associated with the sociology of the family provides students with a solid foundation on the many issues surrounding family life today.
Detailed Table of Contents
List of Tables and Boxes
Preface and Acknowledgements
1: Conceptualizing Families
2: Forming Relationships
3: Cohabitation and Marriage
4: Child-bearing, Child-rearing, and Childhood
5: Household Work and Money
6: Separation, Divorce, and Re-partnering
7: Midlife, Aging, and Retirement (NEW)
8: Constraints on Personal Choices
Glossary
References
Index

Maureen Baker , Professor of Sociology, University of Auckland, New Zealand
Maureen Baker is a well-respected and well-established name in Canadian sociology. After receiving her doctorate from the University of Alberta, Baker taught at Acadia University, University of Toronto, and McGill University before taking a position at the University of Auckland, New Zealand. In addition to Choices and Constraints in Family Life, she is the author and editor of twelve other texts including Families: Changing Trends in Canada (MH).
"It focuses on the most up-to-date issues facing families today." "I very much like the comparison throughout the text between the many developed countries and their trends. This adds depth to the text and allows for an advanced level of critical discussion in the classroom." --Catherine Swanson, Assistant Professor and Educational Consultant at the Centre for Leadership in Learning, McMaster University