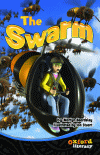 ISBN: 9780195572148
Published:
Availability: 386
Pack
AU$74.50
NZ$96.85
Related Titles
Team X The Swarm Fluency And Vocabulary Pack
Team X is an outstanding addition to the Oxford Literacy series and has been developed for the whole school – for the early years through to Year 6. Team X has been extensively researched and trialled in schools to make absolutely sure that it's what kids want!
Team X builds fluency, vocabulary, and comprehension. Fluency and vocabulary are important skills and are both crucial stepping stones to comprehension, which for any reader may be considered the main goal of reading.
Step 1: Listen to the audio book
An adult mentor with a particular area of expertise (the eXpert) introduces themselves and relates the cluster theme to their own experience. The mentor reads all or some sections of the book.
Step 2: Read the book
The student then reads the book, either in a guided reading or independent reading situation.
Step 3: Write your responses to the question on the activity card
For all levels, there are two writing activities related to the content or theme of the book, often scaffolded, with a graphic organiser. There are also two additional activities that link to other curriculum learning areas.

Captivating, visually stimulating books that will get the boys – and the girls – reading and writing.

A unique thematic structure that is great for motivation and consolidating learning.

A literacy program that fits alongside your existing resources, including Oxford Literacy.

Continuous characters including heroes and villains.

Overarching plot containing action, humour and fantasy.

Non-fiction elements to the series.

Visual literacy elements such as comic-book style episodes, story maps and speech bubbles.
Listen, Read, Write – Professional Support
Big Book

Fiction and non-fiction chapter books

Audio books and activity cards