Write Ways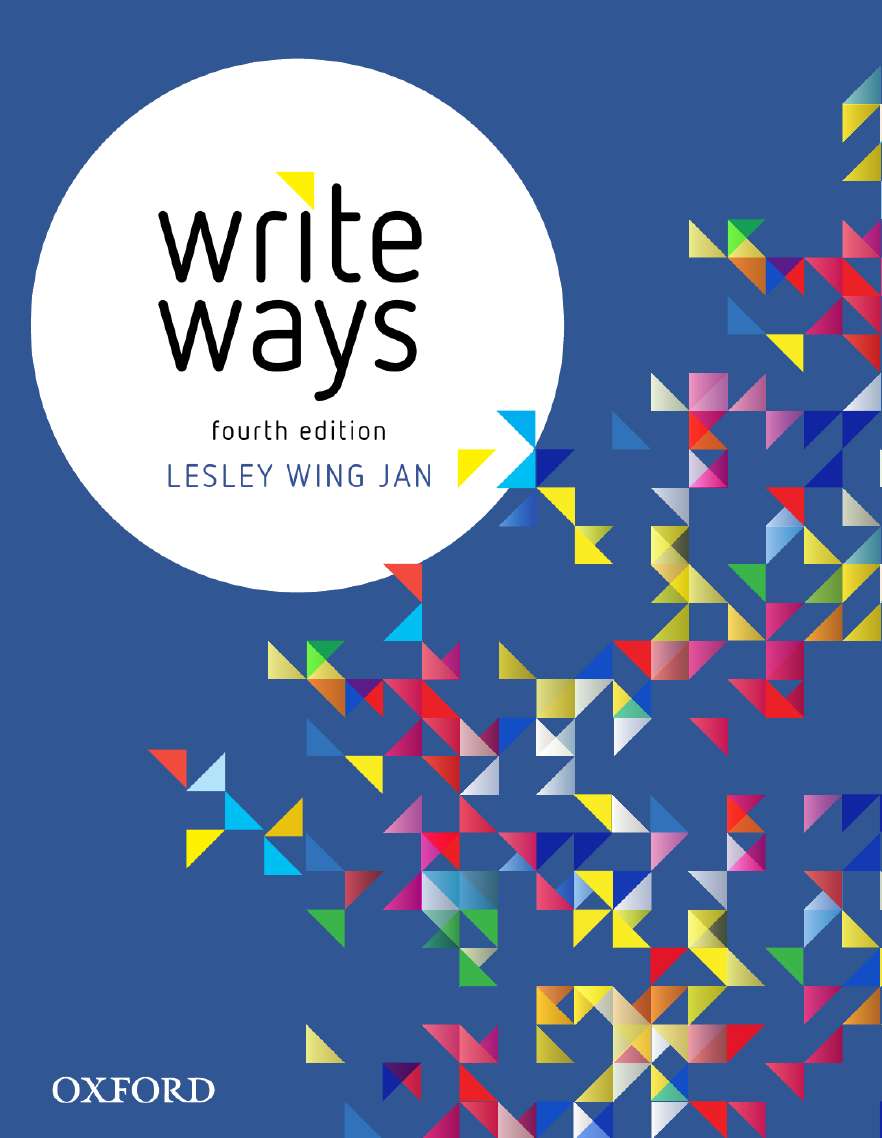 Write Ways
| | |
| --- | --- |
| ISBN: | 9780190302702 |
| Binding: | Paperback |
| Published: | 4 Nov 2015 |
| Availability: | 999 |
| Series: | |
$80.95 AUD
$92.99 NZD
Add To Cart
Description
Your best text types resource, from the lecturer theatre to the classroom
Write Ways is a practical, user-friendly text for both teacher education students and practicing teachers. It explains how to teach students to write in all the major text types—not only in English, but across the curriculum—and provides clear, useful examples of classroom practice, planning and assessment.
New to this edition
References to the Australian Curriculum

Increased focus on grammar, multiliteracies, literacy practices and teaching focuses at whole text, paragraph, clause, sentence, word group and word level

More emphasis on multiliteracies, critical literacy and ICT, and how these look in classroom practice

ICT margin notes suggesting how to use technology to teach text types

All new sample units at the end of chapters 6 to 16. These

include multiple sequences that enable teachers to adapt teaching focuses to specific teaching purposes and student needs across many year levels

are developed around the threads within specific sub-strands of the Australian Curriculum: English rather than narrow year-level content descriptions, thus enabling teachers to tailor their instruction to individual students and plot student learning

encourage engagement with a variety of text formats, from paper-based to multimodal

demonstrate the interrelatedness of speaking and listening, reading and viewing, and writing.

More on programming and planning, including suggestions for how to use the Australian Curriculum: English for planning in both primary and secondary contexts, how to link assessment to teaching, and how to support students as they write.
Contents
Preface
Acknowledgments
Part One: Preparation
1. Literacy and Language
2. Texts
3. Program Planning
4. Assessment Procedures and Record Keeping
5. Reading and Writing Process
Part Two: Informative Text Types
6. Informative Texts
7. Information Reports
8. Procedural Texts
9. Explanations
10. Recounts
11. Transactional Texts
12. Persuasive Texts
Part Three: Imaginative Text Types
13. Imaginative Texts
14. Imaginative Narratives
15. Information Narratives
16. Poetry
Glossary
Bibliography
Index

Authors
Lesley Wing Jan
Lesley Wing Jan is an independent educational consultant who has taught at all levels of primary school and in tertiary settings.
Student Resources
The following resources are available for students using Write Ways 4th edition for their course:

Checklists
Assessment checklists to use in the classroom or as practice for lesson planning:
Sample Pages
Request an inspection copy