It's Arts Play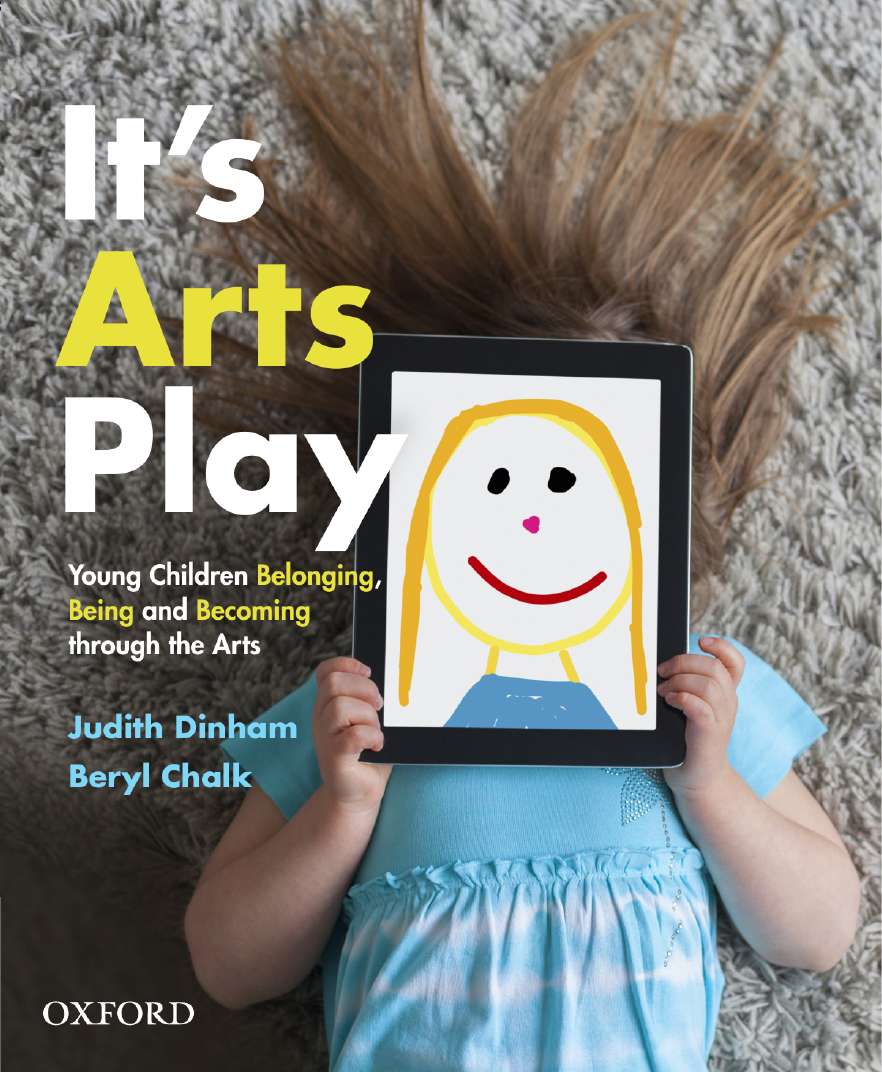 It's Arts Play
| | |
| --- | --- |
| ISBN: | 9780190304515 |
| Binding: | Paperback |
| Published: | 5 Dec 2017 |
| Availability: | 575 |
| Series: | |
$95.95 AUD
$110.99 NZD
Add To Cart
Other options: Ebook $84.95 AUD $96.99 NZD Ebook Rental $48.95 AUD $54.99 NZD
Request an inspection copy
Description
Developing children through arts experiences
It's Arts Play is a professional and practical resource that shows how the expectations of developing the whole child – their belonging, being and becoming – can be pursued through arts experiences that exemplify the play-based approach to learning within the context of the Early Years Learning Framework and the Australian Curriculum.
Australia's ethnic diversity affords a pathway for the exploration and appreciation of the significance of socio-cultural contexts in children's development. Contributions by Aboriginal Elders, educators and artists engage readers with Indigenous perspectives and encourage the development of inclusive learning environments as well as ideas about approaches to learning for all young children.
In Part One the text outlines the nature of The Arts, how participation in arts learning contributes to children's development, and how learning within The Arts fits within the Australian Curriculum and the philosophy and structure of the Early Years Learning Framework. Part Two provides an in-depth, practical guide to each of the five arts subjects of dance, drama, media arts, music and visual arts. In Part Three, practical guides to pedagogy, planning, monitoring, documenting and assessing learning, assist pre-service and novice educators navigate their professional responsibilities in regard to these dimensions of educational practice.
Key Features
Pause and Reflect scenarios and questions throughout are opportunities for pre-service teachers to consider real-life examples of these ideas.
Clearly links authentic Arts practice to current educational policy frameworks including the ELYF and Australian Curriculum.
Sparkers in Part 2 offer ideas to get you started in each Arts area, and help steer new teachers towards authentic educational practices.
Incorporates authentic Indigenous voices that offer valuable insights for pre-service teachers.
Summarises important "Things to Remember" as a handy reminder check-list for students and educators.
*Please note the online resources referred to in the video are a list of related web links included in the content of the book
Contents
PART ONE Children's learning through the arts
Chapter One: Setting the Context
Chapter Two: The nature of learning in and through the arts
Chapter Three: How Arts Experiences Contribute to Children's Growth and Development
Chapter 4: Belonging - How Children Belong Through the Arts
Chapter Five: Being - How Children Experience Being Themselves Through The Arts
Chapter Six: Becoming -Ways in which Children Become their Future Selves through the Arts
PART TWO: Educating Through The Arts
Chapter Seven: Arts-Making Experiences in Dance
Chapter Eight: Arts-Making Experiences in Drama
Chapter Nine: Arts Making Experiences in Media Arts
Chapter Ten: Arts-Making Experiences in Music
Chapter Eleven: Arts Making Experiences in Visual Arts
Chapter Twelve: Arts Responding Experiences Across the Five Arts Subjects
Chapter Thirteen: Learning experiences across the age groups
PART THREE: The Professional at Work
Chapter Fourteen: Arts Pedagogies
Chapter Fifteen: Monitoring, Documenting and Assessing Arts Learning
Chapter Sixteen: Planning for Arts Learning
Authors
Judith Dinham – Associate Professor, School of Education, Curtin University
Beryl Chalk – Sessional Academic, School of Education, Curtin University
Request an inspection copy