Inclusive Education in the Early Years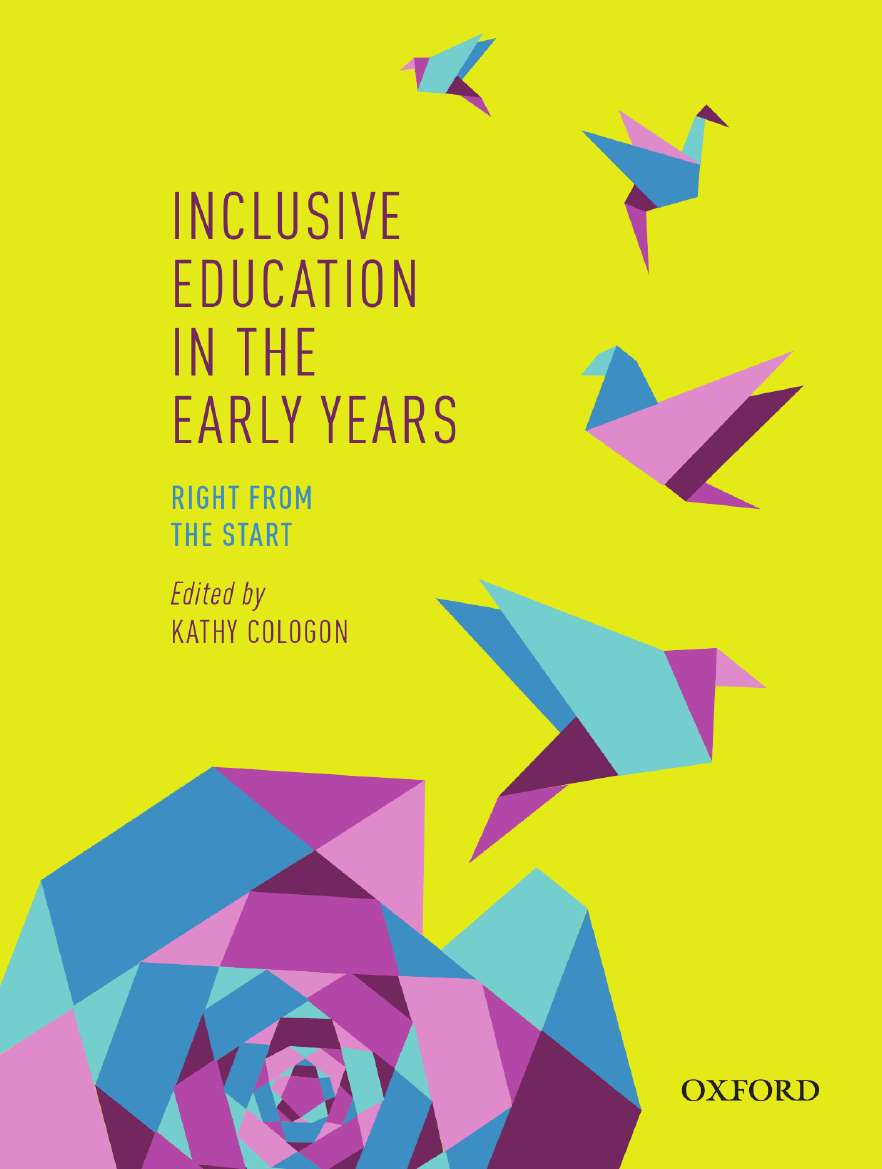 Inclusive Education in the Early Years
| | |
| --- | --- |
| ISBN: | 9780195524123 |
| Binding: | Paperback |
| Published: | 26 Nov 2014 |
| Availability: | 242 |
| Series: | |
$89.95 AUD
$102.99 NZD
Add To Cart
Other options: Ebook $78.95 AUD $90.99 NZD
Request an inspection copy
Description
Inclusive Education in the Early Years introduces key concepts of inclusion, disability and inclusive education within the context of early childhood education. It focuses on effective approaches to facilitating inclusive education in the early years, addresses the Key Learning Areas and incorporates consideration of the prior to school, transition and early childhood school years. The text covers critical aspects of teacher development in relation to fostering inclusive language and communication, enabling social interactions (including play) and supporting positive behaviour development.
Inclusive Education in the Early Years encourages and supports educators and other early years professionals to develop their own skills, knowledge and confidence in creating inclusive early years learning environments.
Key features
Up to date with the contemporary Australian context for early childhood education, including consideration of the Early Years Learning Framework of Australia and the current legislative and policy framework
Builds on current research and engages with the field of

Disability Studies in Education

Case studies reflect personal accounts from children, parents and teachers highlight factors that facilitate inclusion
Reflection exercises and critical reflection questions throughout encourage readers to think about key themes of the book and ignite further discussion
Contents
SECTION 1: UNDERSTANDING INCLUSION IN THE EARLY YEARS
1. Better Together: Inclusive Education in the Early Years
Introduction
Barriers to inclusion
The journey towards inclusion
Why is inclusion important?
Inclusive early years professionals
Becoming inclusive
Conclusion
2. Ableism, Disablism and the Early Years
Kathy Cologon & Carol Thomas
Introduction
Medical and social model understandings of disability
Deconstructing disability
Towards a social relational understanding of disability
Ableism
Children's experiences of disability
Conclusion
3. More than a Label? The Power of Language
Introduction
Conclusion
4. Legislation and Policy in Early Years Inclusion
Introduction
National universal legislation and policy
Sector-specific national legislation and policy
National policy for target groups
Targeted state-based policy
Conclusion
SECTION 2: DIVERSITY AND INCLUSION IN THE EARLY YEARS
5. 'Not just being Accepted, but Embraced': Family Perspectives on Inclusion
Introduction
Resisting stigma and disestablishing ableism
Conclusion
6. Cultural and Linguistic Diversity in the Early Years: Implications for Inclusion and Inclusive Practice
Emma Pearson, Hanapi Mohamad & Hajah Zuryatini Zainal
Introduction
Experiences of early intervention services among families from CALD backgrounds living in Australia
Conclusion
7. Gender Matters in the Early Years Classroom
Kylie Smith, Kate Alexander & Audrey D'Souza Juma
Introduction
Policy context
Theories of gender construction
Performances of gender in an Australian early childhood classroom
Performances of gender in a Pakistani early years setting
And still no one answer: The messiness of engaging with constructions of gender identity
Challenges and tensions of 'doing' gender work
Conclusion
8. The Possum Hunt: A Ghost Story for Preschoolers? Death, Continuity and the Revival of Aboriginality in Melbourne
Sue Atkinson & Prasanna Srinivasan
This chapter: Our postcolonial re-vision
The Possum Hunt: A postcolonial telling
Our postcolonial challenges: Moving beyond translations
SECTION 3: WORKING TOGETHER FOR INCLUSION
9. Family-Centred Practice for Inclusive Early Years Education
Loraine Fordham & Christine Johnston
Introduction
Conclusion
10. Interprofessional Practice to Support Inclusion
Introduction: Inclusive settings require diverse professional expertise
Defining collaborative inter-professional work
Benefits of inter-professional work in early years' settings
Supporting the development of inter-professional collaborative relationships
Personal and professional action
Conclusion
11. The A–Z of IFSPs, IEPs and SSPs!: Positive Planning for Inclusion
Kathy Cologon & Dinah Cocksedge
Introduction
Service Support Plans
IFSPs and IEPs
Taking a family-centred approach to planning
Preparing for an IFSP and IEP
Assessment for inclusion
Setting goals and developing strategies
The IFSP document
The IEP document
Conclusion
12. Adapting the Curriculum in the School Years
Introduction
Starting considerations
(Dis)continuities of inclusion in early years education
Planning for inclusion in the early school years
Adapting the curriculum
Conclusion
SECTION 4: TRANSITIONS AND CONTINUITY
13. Transitions in the Early Years
Introduction
Transitions and early childhood services
Transitions and the early years of school
Ongoing transitions
Transition partnerships
Conclusion
14. Children in Emergency Contexts: Supporting Transitions and Continuity
Lisa Deters, Kathy Cologon & Jacqueline Hayden
Introduction
Disaster response
Children experiencing disaster
Psychosocial support
A rights-based approach to protecting children in natural disaster
Early Childhood Development in Emergencies: A holistic response
Children and disaster risk reduction
Conclusion
15. Trauma, Disruption and Displacement
Introduction: A focus on difference
The underpinning neurobiology of trauma
Refugee children
Children in foster care
Aboriginal children in out-of-home care
Parental incarceration
Working with children and families who have been displaced
Conclusion
16. Supporting the Inclusion of Children with Chronic Illness and Health Issues in the Early Years
Introduction
Defining chronic health conditions
Seeing obstacles as hurdles
Siblings are a part of the family
The importance of play
Transitioning and returning
Conclusion
SECTION 5: INCLUSIVE EARLY YEARS EDUCATION
Melanie Nind, Rosie Flewitt & Fani Theodorou
Introduction
Learning from naturalistic research
Enabling teachers to enable children
Play-based assessment
Conclusion
18. Inclusive Literacy Learning
Introduction
Literacy learning and children who experience disability
Beyond functional literacy: Taking a holistic approach to literacy learning
Presuming competence for literacy learning
Supporting inclusive literacy learning
Taking seriously the literate lives of all children
Engaging with literacy for pleasure
Conclusion
19. Inclusive Early Numeracy Experiences
Introduction
Mathematics education is a human right!
Misconceptions of mathematics
Inclusive mathematics teaching practices
Teaching aspects of the mathematics curriculum
Assessing learning in mathematics
Implications for professionals and paraprofessionals in early years settings
Implications for working with families
Conclusion
20. Engaging All Children through the Arts
Cathy Nutbrown & Peter Clough
Introduction
The importance of the arts to all human beings
The importance of the arts to all young children
A framework for working in the arts with all young children
A conceptual framework: Opportunities, Recognition, Interaction and Models
Examples of engaging young children in the arts
Suggestions for arts-based learning experiences
Conclusion
21. Why Does the Moon Change Shape?: Inclusive Science and Technology in the Early Years
Camilla Gordon & Kate Highfield
Introduction
Science and technology in perspective
The inclusive science classroom
The inclusive technology classroom
The role of the environment in science and technology
The role of the teacher in science and technology
Conclusion
SECTION 6: FACILITATING INCLUSION IN EARLY YEARS EXPERIENCES, ENVIRONMENTS AND APPROACHES
22. Including Children with Sense Impairments in the Early Years
Introduction
The senses and the essential role they play in development and learning
How children use their vision and hearing
Assessing and categorising vision and hearing
How sense impairments may impact on development, social interaction and learning
Maximising the child's development, social interaction and learning within an inclusive setting
Conclusion
23. Inclusion of Children through Augmentative and Alternative Communication Supports
Teresa Iacono & Kathy Cologon
Introduction
Augmentative and Alternative Communication
Underlying philosophies
AAC and early years teachers
Research support for AAC
Matching AAC to learner characteristics
From research to practice
Conclusion
24. (Un)Becoming Behaviour
Introduction
Analysing behaviour
Supporting learning, language and behaviour
Theory of Mind
Conclusion
25. Extending and Enriching Children's Learning
Introduction
Assessing children's current knowledge, skills and interests
Extension and enrichment
Conclusion
26. Constructing Inclusion: Putting Theory into Practice
Inclusive education: Rhetoric to reality
Breaking barriers to inclusion
Towards an affirmative model of 'difference' and 'disability'
Inclusive education: Engaging in resistance
Conclusion
Authors
Edited by Kathy Cologon - Lecturer, The Institute of Early Childhood, Macquarie University
Contributors
Kate Alexander
Sue Atkinson
Peter Clough
Dinah Cocksedge
Lisa Deters
Audrey D'Souza Juma
Rhonda Faragher
Rosie Flewitt
Loraine Fordham
Camilla Gordon
Linda J. Graham
Leanne Hallowell
Jacqueline Hayden
Kate Highfield
Kerry Hodge
Teresa Iacono
Christine Johnston
Hanapi Mohamad
Melanie Nind
Cathy Nutbrown
Paul Pagliano
Emma Pearson
Anne Petriwskyj
Margaret Sims
Kylie Smith
Ilektra Spandagou
Prasanna Srinivasan
Fani Theodorou
Carol Thomas
Sandie Wong
Hjh Zuriyatini Hj Zainal
Sample Pages
Request an inspection copy