Classroom Management eBook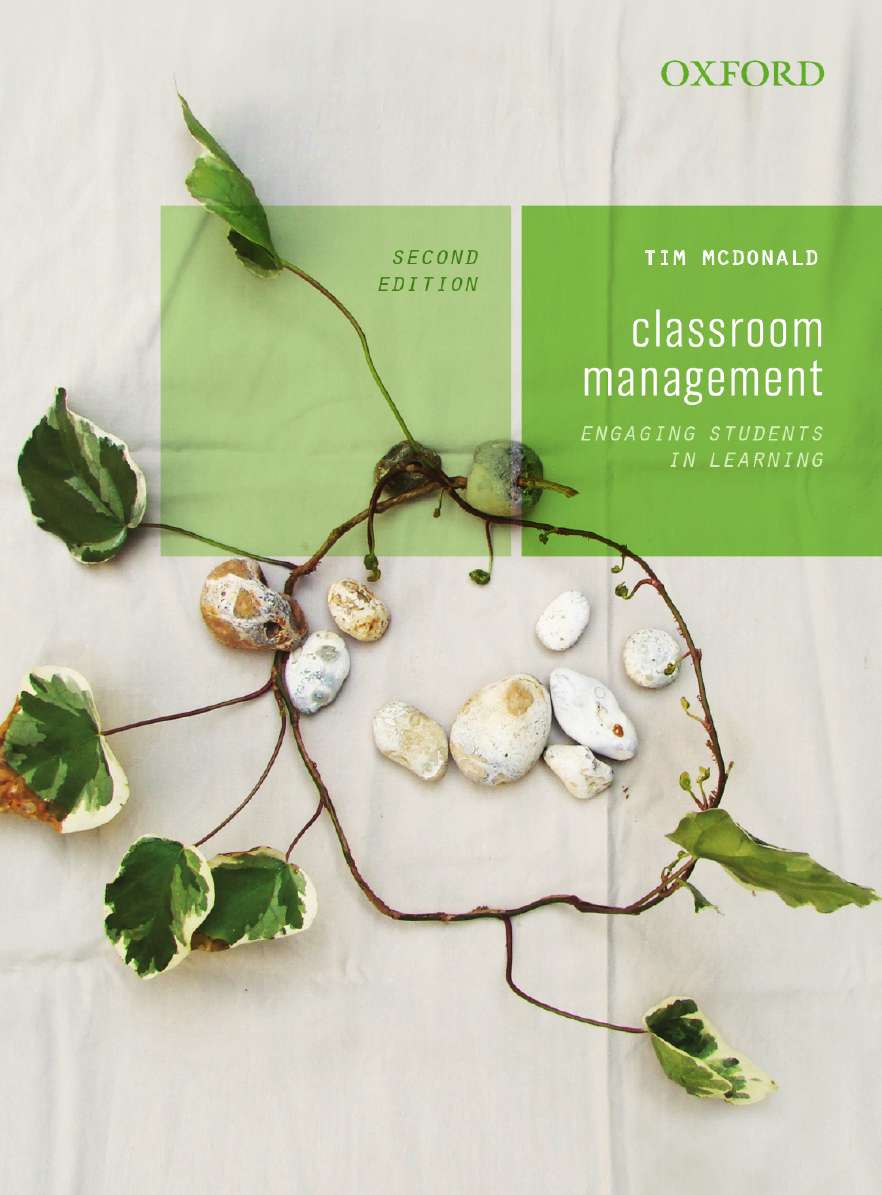 Classroom Management eBook
| | |
| --- | --- |
| ISBN: | 9780195529029 |
| Binding: | Ebook |
| Published: | 21 Mar 2013 |
| Availability: | Available |
| Series: | |
$77.95 AUD
$89.99 NZD
Add To Cart
Add To Cart
Description
Classroom Management focuses on what teachers can do to create quality-learning environments with their students, demonstrating effective instructional strategies that engage students in learning as well having the skills to respond positively to misbehaviour and de-escalate conflict. Using a healthy measure of theory and plenty of practical advice, this text helps pre-service teachers develop their own management plan and skills to cater for individual students' needs.
Key features:
Practical framework to develop a personal management plan integrated with current evidence based approaches to classroom management.
Practical strategies for working with challenging behaviours Helpful evidence based suggestions on how to engage students.
Real life examples of classroom scenarios with crucial reflections that will help teachers develop instructional and discipline skills.
Covers early childhood, primary and secondary.
Includes learning outcomes, critical reflection activities, and a practice activity per chapter to assist in practical skill development.
New to this edition:
New chapter on Cultural Competency and Classroom Management contributed by Matt Byrne and Graeme Gower.
New theorist in focus boxes throughout help pre-service teachers relate the theory to practice.
Contents
1. A Positive Learning Framework for Classroom Management
2. Connecting with Students
3. Frameworks to View Student Behaviour
4. Proactive Teacher Behaviours
5. Developing Safe and Accountable Classrooms
6. Re-engaging the Disengaged Learner
7. Cultural Competency and Classroom Management (Matt Byrne and Graeme Gower)
8. The Effective Teacher's Learning Journey
Authors
Tim McDonald – Director of Catholic Education, Western Australia
Student Resources
Useful web links are available for students using Classroom Management 2nd Edition.
Lecturer Resources
The following resources are available for lecturers who prescribe Classroom Management 2nd Edition for their course:
Instructor's Resource Manual
For more information about the resources for Classroom Management 2nd Edition, please contact your Oxford Territory Manager.
Sample Pages
Request an inspection copy