Language, Literacy and Early Childhood Education eBook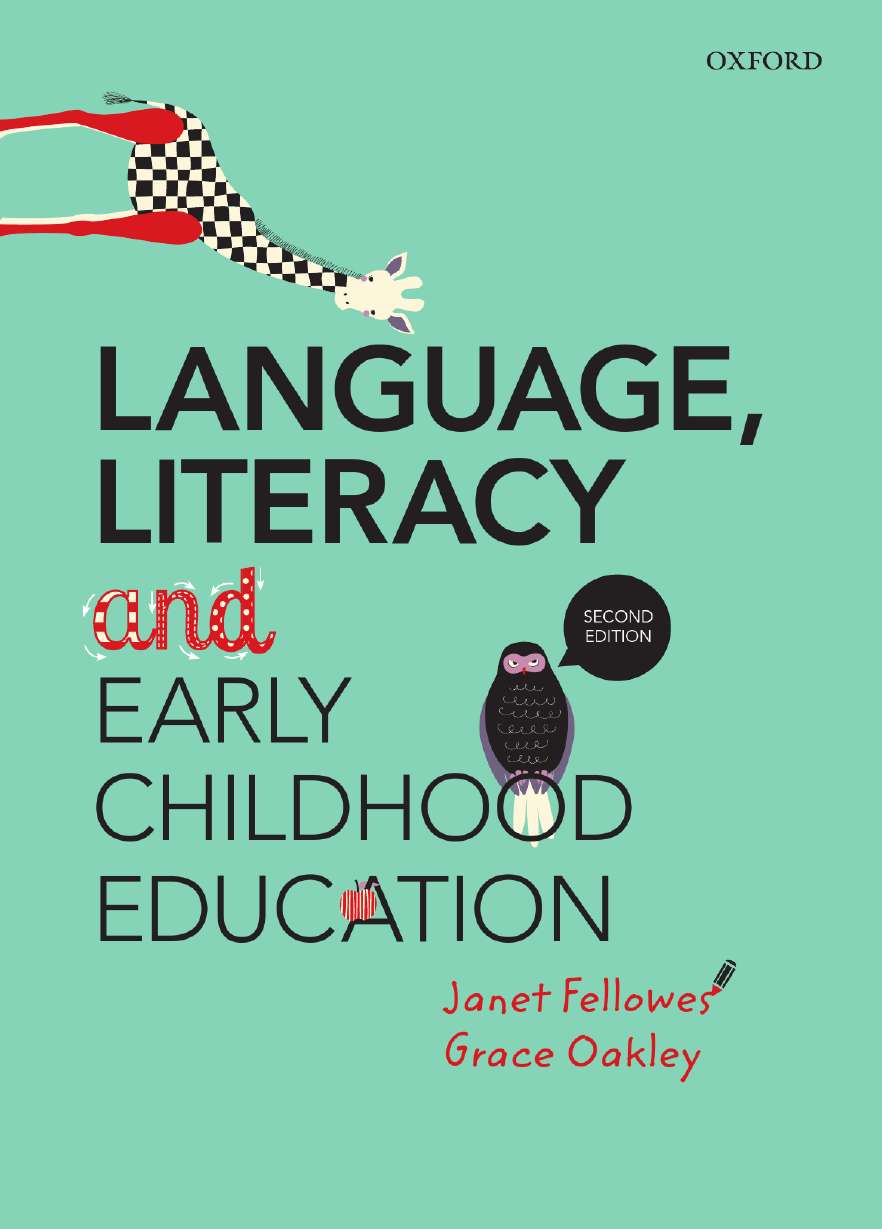 Language, Literacy and Early Childhood Education eBook
| | |
| --- | --- |
| ISBN: | 9780195596991 |
| Binding: | Ebook |
| Published: | 29 Oct 2014 |
| Availability: | Available |
| Series: | |
$85.95 AUD
$98.99 NZD
Add To Cart
Description
Language, Literacy and Early Childhood Education is a comprehensive textbook for pre-service and practising educators. Focusing on language and literacy development and learning in children from birth to the age of eight, the book encompasses four main early childhood settings: the family and community, childcare, the preschool years, and the early years of school.
Making explicit links to the Early Years Learning Framework and the Australian Curriculum, this text is based on current research and theoretical perspectives, and includes practical strategies and activities to equip educators with the knowledge and skills they need to effectively support young children's learning of language and literacy.
Key Features
Emphasis on the key areas of oral language, reading, writing and children's literature
Clearly presented links to the Early Years Learning Framework and the Australian Curriculum
Toolboxes of teaching strategies and ideas that can be implemented in a range of settings
Review questions and activities for each topic, to encourage self-assessment.
New to this edition
Appendix A: Compendium of Teaching Strategies and Activities for Language and Literacy
Appendix B: Test Your Language and Literacy Knowledge
Pause and reflect sections: questions to prompt readers to stop and reflect on important topics
Professional insights features: relevant examples from theory, research and practice
Additional learning activities and questions to promote deeper understanding and improved practice
New references to international research in all chapters
Additional material on children from diverse linguistic and cultural backgrounds
Coverage of contemporary trends in literacy education such as visual literacy, multimodal and digital literacy
Revised chapters on ICT and Children's Literature.
Contents
1 Introduction to Literacy: Definitions and Theoretical Perspectives
Defining literacy
Theoretical perspectives on literacy
Affective factors and young children's literacy learning
PART 1: YOUNG CHILDREN, LANGUAGE AND LITERACY
2 Understanding Oral Language
Introduction
Language and communication
Language and speech
Expressive (productive) and receptive modes
Properties of language
Components of spoken language
Language is functional
Language register
Listening (receptive language)
Language and culture
Language variations
3 Oral Language: Perspectives and Phases
Theoretical perspectives on oral language learning
Phases, stages and milestones of oral language development
Bilingual and multilingual language learners
4 Early Childhood Settings and Oral Language Learning and Development
Introduction
Language development and the home setting
Language development and the childcare setting
Language development and the preschool setting
Language development and the early years of the primary school setting
5 Key Early Childhood Learning Contexts for Oral Language
Play and oral language
Reading aloud to children
Storytelling
Conversations and discussions
Investigations
6 Learning Experiences and Activities for Speaking and Listening
Introduction: Important considerations
Speaking and listening activities
Activities with a listening focus
Drama as a medium for speaking and listening development
7 Language, Thinking and Learning
Cognition and language
Language use and brain development
The relationship between language and cognition
Inner speech and thinking
Language and learning
Questioning for cognition and learning
8 Assessing Speaking and Listening
Assessment issues in Early Childhood
What needs to be assessed?
The components of language
Collecting data about children's oral language
Documentation of oral language learning
Interpreting the information gathered about oral language
PART 2: YOUNG CHILDREN AND READING
9 Understanding Reading
Defining reading
Foundational knowledge for reading
Knowledge about text purposes
Phonological awareness
Knowledge about letters and sounds
Letter–sound relationships
Word recognition: Phases of development
Sight words
Reading development
Perspectives on how to teach reading
Child-initiated or educator-initiated literacy learning?
10 Phonological Awareness, Letters, Sounds and Sight Words
Phonological awareness
Teaching phonological awareness
Principles for teaching phonological awareness
Assessment of phonological awareness
Teaching about letter–sound relationships
What do children need to know about letter–sound relationships?
Suggested sequences for teaching phonics
Principles of phonics teaching
Strategies and games for teaching phonics
Working with letters and sounds
Assessment of letter–sound knowledge
Teaching sight words
Strategies for teaching sight words
Assessment of sight-word knowledge
11 Vocabulary for Reading and Writing
What do we mean by vocabulary?
Why is vocabulary important in reading and writing?
How does vocabulary develop?
Levels of vocabulary knowledge
How can vocabulary learning be facilitated in the early years?
Indirect instruction
Explicit vocabulary instruction
Word study
Word sorts/classifications
Purposeful strategic conversations
Using dictionaries
Using contextual cues
Teaching word consciousness
Some principles for vocabulary teaching
Assessment of vocabulary knowledge
Toolbox of Vocabulary Strategies
12 Strategies for Teaching Reading
Pedagogical strategies for supporting reading
Reading aloud to children
Shared reading
Guided reading
Language Experience Approach
Buddy reading
Independent reading
Reciprocal teaching
Literature circles
Matching texts to children
Finding out about children's reading interests
13 Reading for Comprehension
Introduction
How can reading comprehension be defined?
What does a child need to know and do to comprehend a text?
Reading comprehension: Suggested developmental pathway
'Levels' of comprehension
Strategic processes for comprehension
Teaching comprehension processes and strategies
Comprehension of informational texts
Providing appropriate texts
Vocabulary for reading
Comprehension of multimodal texts
Good practice recommendations
Assessment of reading comprehension
Toolbox of Comprehension Strategies
14 Developing Reading Fluency
What is reading fluency?
Elements of reading fluency
Why is reading fluency important?
Fluency development
Key practices for fostering reading fluency
Improving the elements of fluency
Improving expressiveness
Using ICTs to teach reading fluency
Pulling it all together
Assisting struggling readers
Assessment of reading fluency
What not to do
Toolbox of Fluency Strategies
PART 3: YOUNG CHILDREN AND WRITING
15 Introduction to Writing
Written communication
Four components of writing
The physical aspect of writing
Writing traits
The writing process
Children's growth in written communication
Using the phases of writing development
16 Writing Purpose and Text organisation
Introduction
Writing purpose
Audience
Written texts
Types of texts
Teaching about texts: Beginning and emergent
Teaching about texts in the early years of school
17 The Writing Conventions: Grammar and Punctuation
Writing conventions
What is grammar?
Oral language and grammar as a prelude to writing
Understanding English grammar
Punctuation
Teaching about the writing conventions
18 Spelling and Handwriting
The importance of good spelling
The English orthographic system
Spelling knowledge
Spelling strategies
Children's spelling development
Invented spelling
Teaching spelling
Spelling activities
Spelling journals
Spelling lessons
Spelling and editing
Handwriting
19 Key Strategies for Teaching Writing
Introduction
Modelled writing
Shared writing
Working with texts produced in modelled or shared writing
Interactive writing
Language Experience Approach
Guided writing
Independent writing
The teaching strategies in use
20 Writing Experiences and Activities
The emergence of writing
Supporting the emergence of writing
Supporting children's further progress as writers
Developing writing lessons for children in the early years of school
Establishing the stimulus for writing activities
21 Assessing and Evaluating Writing
What to assess?
Collecting information about children's writing
Spelling
Assessment of writing interest and motivation
PART 4: FRAMING LANGUAGE AND LITERACY LEARNING
22 Children's Literature by Helen Adam
What is children's literature?
The place of literature in the curriculum
Laying the foundations
Response to literature
Creating a positive environment for dynamic literary response
23 Visual and Critical Literacy
Introduction
Defining critical literacy
Visual literacy and its importance in the 21st century
Defining viewing or visual literacy
Broad approaches to teaching viewing
Suggested themes for critical and visual literacy
Assessment of visual literacy
24 Language, Literacy and Information and Communication Technologies
Young children and ICTs
SAMR and TPACK
Using ICTs to further young children's literacy learning
ICTs to help children learn sight words, comprehension and fluency
Writing using ICTs
ICT-based concept mapping for reading and writing
Using the web
Interactive whiteboards
ICTs and safety concerns
25 Connecting with Families
Family literacy practices
Family literacy practices and emerging literacy
Oral language as a component of family literacy
Family literacy and emergent literacy
Family literacy diversity
Family literacy initiatives
Parent–educator partnerships
The benefits of parent–educator partnerships
Partnership practices
Working with families from culturally and linguistically diverse backgrounds
26 Planning for Language and Literacy
The learning program
The literacy-enriched environment
Language and literacy programs for the different early childhood settings
The informed early childhood professional
Appendix A: Compendium of Teaching Strategies and Activities for Language and Literacy
Appendix B: Test Your Language and Literacy Knowledge
Authors
Janet Fellowes - Senior Lecturer, School of Education, Edith Cowan University
Grace Oakley - Associate Professor/Primary Program Course Coordinator Graduate School of Education, University of Western Australia
Contributors
Helen Adam - Lecturer, School of Education, Edith Cowan University
Sample Pages
Read a sample chapter from
Language, Literacy and Early Childhood Education
:
Reviews
Review of the first edition
"Language, Literacy and Early Childhood Education is a valuable text, of benefit to both pre-service teachers and to early childhood practitioners in under-five settings and for educators in the first years of school. It is contemporary in its approach and very practical in its orientation, while the ideas suggested for the support of young children's developing language and literacy competency are grounded in established theoretical perspectives and solid research. This book is an excellent resource and I applaud the authors for their work."
Journal of Early Childhood Literacy, 2013
Request an inspection copy