Literacy eBook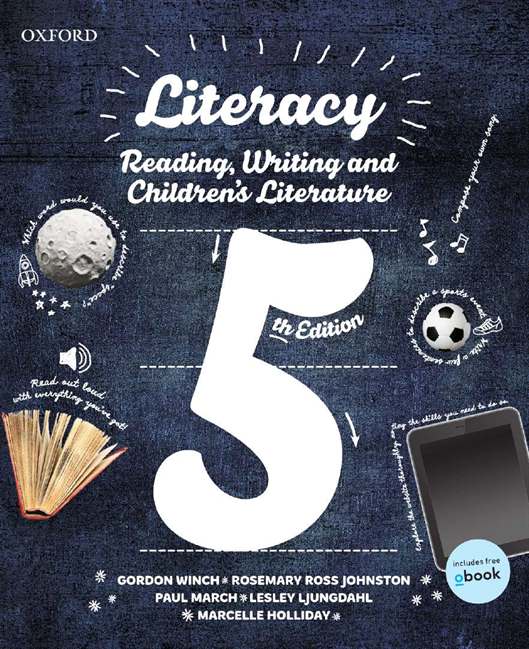 Literacy eBook
| | |
| --- | --- |
| ISBN: | 9780195597103 |
| Binding: | Ebook |
| Published: | 9 Mar 2015 |
| Availability: | Available |
| Series: | |
$89.95 AUD
$102.99 NZD
Add To Cart
Description
Literacy: Reading, Writing and Children's Literature, fifth edition, is the most comprehensive text in English Education for pre-service teachers. It covers the whole literacy curriculum: reading, writing, speaking, listening and viewing and illustrates how pre-service teachers can use theory in their classrooms. This accessible text is rich with practical examples, classroom scenarios, and revision questions help readers to put theory into practice. Teaching examples highlight effective assessment practices and it demonstrates how to teach to a range of learning abilities from beginning through to accomplished.
New to this edition
Multiliteracies content integrated throughout entire text
Coverage of visual literacy, social media and iPad usage
More content covering Early Childhood
Includes teaching examples to highlight effective assessment practices
The inclusion of end of chapter feature "take a test" functions as a way that pre-service teachers can test their own literacy knowledge with answers provided at the back of the book.
Links to the Australian curriculum and Early years learning framework
Children's literature section revised to be more student friendly with a focus on early years education
Contents
Section 1: What is Reading?
1. A Balanced View of Reading
What is reading?
A balanced approach in the Australian Curriculum: English
Research and the teaching of reading
The two compatible views
The balanced view of reading
2. Towards a Model of Reading
Understanding reading
The contexts in which we read
The texts we read
The knowledge we need in order to read
The skills readers use
Reading digital texts
The basic strategies of reading
Putting it all together for effective reading
Section 2: Key Elements in Learning to Read
Language as social practice
Oral language
Learning English as an additional language or dialect (EAL/D learners)
How context influences language use
Vocabulary
Oral language and learning
Questioning
Oral language and reading
4. Word Recognition: Phonics, Phonemes and Phonemic Awareness
Recognising words
The writing system of English
Phonemes and allophones
Regular features of English orthography
The sound system of English
Phonemic awareness and phonological awareness
Phonics, a vital tool for word recognition
The school literacy program
5. Comprehension: Meaning of Text
The quest for meaning
Keeping things in perspective
Skills and strategies
How readers operate
Text and the locus of meaning
Schools of literary criticism and meaning
Teaching comprehension
6. The Reader and the Text
Different types of texts
Concepts about print
Constructing meaning from text
Text and context
How language and image interact in text
Grading or levelling texts
Section 3: Planning and Teaching Reading
What is assessment?
Purposes of assessment
Assessment in the school and classroom
A teaching/learning cycle
When to assess?
Forms of reading assessment
Outcomes-based assessment
Authentic assessment
Reading checklists, reading profiles and cumulative assessment files
Running records
Diagnostic assessment
Selecting assessment strategies
Assessment and the Australian Curriculum
Assessment at state and national levels
Can we improve our results in national and international assessments?
8. The Effective Teaching of Reading
What do effective teachers do?
Teaching strategies
9. Learning to Read: The Child Before School
Reading development
Learning to read
The early literacy experience
The role of the parent in early literacy
Early literacy in the community
In the home, preschool classroom or library
10. Learning to Read: The Early School Years
The emergent reader: An example with Shared Reading
The developing reader: An example with Guided Reading
The developing reader: An example with Independent Reading
Matching books to children
11. Learning to Read: The Primary School Years
The middle primary years
Teaching strategies for the middle primary years
The later primary years
Teaching strategies for the later primary years
Reading roles in the primary years
The Literacy Session
12. Managing Literacy in the Classroom
Planning and programming
Resources
Grouping students
Students with special learning needs
The Literacy Session
PART 2: WRITING
Context of culture and context of situation
Audience and purpose
What is writing?
The power of language
The evolution of language
Multiliteracies
English now
Literacy and computers
14. The Importance of Writing in Our Society
What makes writing important?
Learning through writing
Writing as a creative process
Different styles of writing for different purposes
Other common text-type structures
15. The Writing Developmental Continuum
Overview of the writing continuum
Literacy before school
Literacy at school
Characteristics of experimental/early writing
The developing writer
The proficient writer
What is grammar?
Why teach grammar?
Traditional and functional grammar
Teaching grammar
Classroom ideas for teaching grammar
Verbs
Grammar and language
Why we need punctuation
Punctuation and personal style
The history of punctuation
Teaching punctuation
Scope and sequence of teaching punctuation
Effective literacy practices
Modern punctuation
The teaching of spelling skills
The stages of spelling development
English orthography
Phonics and spelling
Learning styles and spelling strategies
Teaching spelling and effective classroom practices
Using the dictionary, the thesaurus and word banks
Spelling and the future
The processes of handwriting
Teaching handwriting
Foundation and modern cursive styles
Classroom practice
20. Assessment of Writing
Assessment, evaluation and reporting
Assessment of writing in the classroom
Student self-assessment
21. Multiliteracies and Technology
Using ICT to enhance teaching and learning
Teaching e-literacies
21st-century learners
The potential of ICT
22. Teaching Writing in the Classroom
A sociolinguistic approach
The genre approach
The process approach
Knowledge about language
Multiliteracies
The importance of spoken language
The curriculum cycle
Response: The writing conference
Students experiencing learning difficulties
The importance of planning
23. Literature, The Curriculum and 21st Century Literacy
What is literature?
Ideas of 'language', 'reading and 'text'
Literature, language and story
Children's literature and the literature continuum
Language, literature and being
Literature and digital literacy
24. Starting Out: Introducing the Book
The literary toolkit: What you need to know when introducing books
Goals: Starting off on the artistic continuum
The importance of theory
The pattern of narrative: The idea of the quest and the home-away-home story, and intertextuality
Place as part of identity
Your students' journey
25. Early Childhood Literature and Engaged Play
'Babies Need Books'
Books as 'virtual space'
An uninhibited multimodal continuum that matters
Making it relevant for very young readers
'Engaged play'
Digital literacy
Cultural literacy
How texts work
Deep literacy
27. Children's Literature in an Australian Context
Historical and geographic contexts
Representations of Australia in early children's books
Books for young adults
Australian poetry for children
Australian picturebooks
Books as ways of seeing and knowing ourselves and others
Early writings of Indigenous stories
Indigenous writing of Indigenous stories
Stories of the Asia-Pacific
28. Fairy tales a Pervasive Paradigm
Fairytales as the province of children
Children's literature and oral traditions
Archetypes
The birth of the fairytale in literature
Characteristics of the fairytale
Sanitising fairytales
Interpretations of fairytales
Characteristics of contemporary retellings
29. Picture Books and Poetry
Visual and verbal art
Verbal and visual languages of picturebooks
Picturebooks and poetic language
Formalism (and how it helps understandings of what poetry does)
Summary of specific characteristics of picturebooks
Children's poetry
30. Visual Literacy: Reading the World of Signs
Significance and heritage
What is visual literacy?
Interpreting visual language
The language of gesture
The visual chronotope
31. Building Community: First and Second Language Learners and Indigenous Students
Literature and identity
Finding common ground
Word magic: The power of language
Teaching Indigenous children
32. A Forum: Social Issues, History and Fantasy
History and fantasy and social issues
The environment and sustainability
An ethics of hope
33. The Organic Classroom: A Locus of Creative Literate Practices
The organic class
Enhancing learning space
Assessment in the organic class
34. Conclusion and Beginning
Osmotic research and practice
Children's literature as theatre
Soul and the ethics of hope
Connecting communities
Starting your practice
Appendix 1: Answers to Take a Test
Appendix 2: Oxford Wordlist
Authors
Gordon Winch – Educational consultant and previously Head of the Department of English at Kuring-gai College of Advanced Education, now the Lindfield campus of the University of Technology, Sydney.
Rosemary Ross Johnston – Professor and Head of Academic Group, Learning Cultures and Practices, University of Technology Sydney. Founding director of the Australian Centre for Child and Youth: Culture and Wellbeing.
Paul March – Educational Consultant and an Associate of the Centre for Child and Youth: Culture and Wellbeing, University of Technology, Sydney.
Lesley Ljungdahl – Senior Lecturer, Faculty of Arts and Social Sciences, University of Technology, Sydney.
Marcelle Holliday – Educational consultant, writer of online learning materials, and lecturer at the Australian Catholic University.
Lecturer Resources
The following resources are available for lecturers who prescribe Literacy: Reading, Writing and Children's Literature for their course:
Imagebank of the figures and tables from the book
For more information about the resources for Literacy: Reading, Writing and Children's Literature, please contact your Oxford Sales & Learning Resource Consultant.
Sample Pages
Read a sample chapter from Literacy: Reading, Writing and Children's Literature:
Request an inspection copy