A Guide to Clinical Skills for Health Students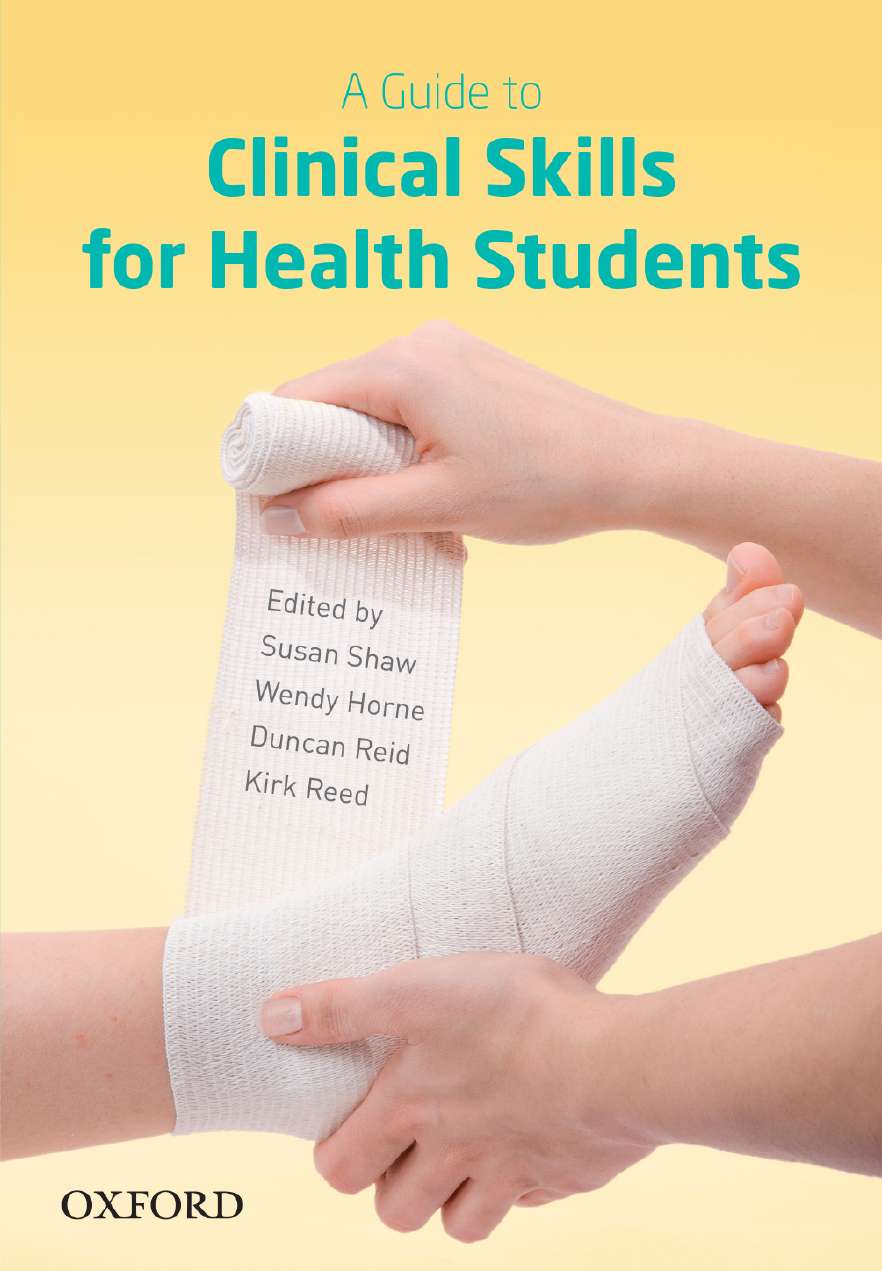 A Guide to Clinical Skills for Health Students
| | |
| --- | --- |
| ISBN: | 9780190304263 |
| Binding: | Paperback |
| Published: | 11 Jan 2017 |
| Availability: | 13 |
| Series: | |
$66.95 AUD
$76.99 NZD
Add To Cart
Other options: Ebook $48.95 AUD $55.99 NZD Ebook Rental $31.95 AUD $36.99 NZD
Request an inspection copy
Description
The learning of clinical skills is an important part of health professional education and often one of the most stressful and confusing elements of the student journey. A Guide to Clinical Skills for Health Students is designed to be a trusted guidebook for students in Aotearoa New Zealand studying across a range of clinical health degrees.

This book outlines the context of professional practice, summarises key skills, presents supporting information about relevant practice, identifies references to guide further learning, and provides tools for recording clinical learning and professional development. At its heart is a focus on people, and the role that health professionals play in delivering quality assessment and care.

It begins with an overview of cultural and professional elements of practice. Real examples are presented to contextualise practice, and key language and concepts are outlined in recognition of the need for practitioners to share some basic understandings to assist communication among colleagues and with clients. Clinical skills from Section Two of the book are indicated for each character.

The second section of the book is presented in table format and provides brief guidance on skills that students are likely to encounter in clinical practice. This guidance has been developed with educators from the clinical programmes offered at Auckland University of Technology (AUT) and Unitec Institute of Technology and practitioners from the Auckland and Waitemata District Health Boards. The disciplines that have directly contributed are nursing, occupational therapy, physiotherapy, podiatry, osteopathy, dental therapy and hygiene, and paramedicine.

KEY FEATURES
Brings together the basics of anatomy and assessment and combines it with the clinical skills necessary for practice
Structured to build on learning and skill development, starting at basic level and progressing to clinical skills covered in more detail
Tools that students may use to record their learning and develop their professional portfolios, include: templates for reflection, logging skills, recording skills, a skill development plan and recording learning against professional competencies, are included in the appendix.
Relevance to a range of health professionals encourages development of inter-disciplinary understanding
Contents
SECTION 1: Professional Interprofessional Practice
1. Cultural and professional contexts
2. Examples from practice
3. Key language and concepts
4. Practical learning
SECTION 2: Clinical Skills Guidelines
5. Professional practice
6. Infection control and safety
7. Cardiorespiratory and vascular
8. Neurological/sensory and vascular
9. Musculoskeletal
10. Mental and cognitive
11. Integumentary
12. Gastrointestinal
13. Genitourinary
14. Medication administration
APPENDIX
Learning Records and Tools:
Reflection template
Skills log
Record of skills
Skills development plans and evaluation
Orofessional competencies
Answers to chapter 3 review questions
Glossary
Index
Authors
Susan Shaw is the Associate Dean (Academic) in the Faculty of Health and Environmental Sciences at Auckland University of Technology
Wendy Horne is the Executive Dean in the Health Sciences at Unitec Institute of Technology
Duncan Reid is an Associate Dean in the School of Health Sciences at Auckland University of Technology
Kirk Reed is a Senior Lecturer in the School of Health Sciences at Auckland University of Technology
Request an inspection copy