Mental Health in Australia eBook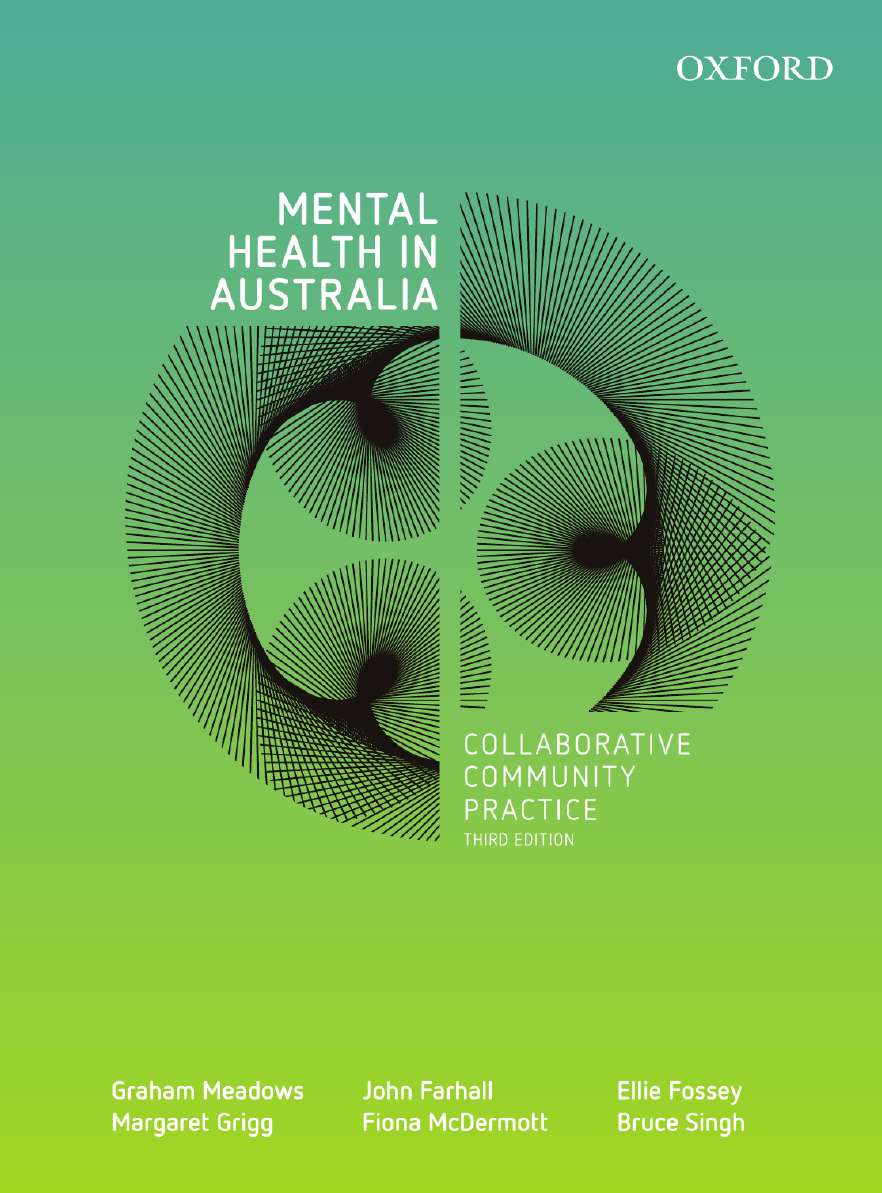 Mental Health in Australia eBook
| | |
| --- | --- |
| ISBN: | 9780195523898 |
| Binding: | Ebook |
| Published: | 31 Oct 2012 |
| Availability: | Available |
| Series: | |
$124.95 AUD
$143.99 NZD
Add To Cart
Description
Now in its third edition, Mental Health in Australia is the go-to reference on mental health for students, academics and practitioners. With a new four part structure, the book thoroughly covers the current context of mental health, clinical practice principles, and the assessment and management of mental health disorders.

Taking a cross-disciplinary approach, Mental Health in Australia reflects a wide range of opinions and perspectives in the field of mental health care. This approach also allows the text to be used throughout a degree and into professional practice. Authoritative and up-to-date, Mental Health in Australia is the most comprehensive Australian book on mental health on the market.

NEW TO THIS EDITION
A new four part structure
Three new editors bringing their teaching and professional expertise
Four new chapters: Psychopharmacology, Psychological Therapies, Supporting Recovery & Living Well, and Eating Disorders
Thoroughly updated to reflect the current context of mental health practice
A greater focus on recovery and social reconnection.
Contents
Part 1: The Context
1. Society, mental health and illness
2. How communities respond to mental distress: a consumer perspective
3. The global perspective
4. Delivering mental health care
5. Mental health services in Australia
6. Mental health services in the Australian states and territories
7. Research in mental disorders and mental health practice
8. Evaluation and the concept of quality in mental health care
9. Mental disorder in Australia
Part 2: Clinical Practice Principles
10. The active participants in mental health services
11. Working collaboratively
12. Assessment: Essential skills
13. Assessment: Specialised assessment skills
14. Case management
15. Psychopharmacology
16. Psychological therapies
17. Supporting recovery and living well
Part 3: Disorders Considered in the Context of the Lifespan
18. Personality disorders
19. Developmental disabilities and psychiatric disorders
20. Disorders of childhood and adolescence: A developmental and family perspective
21. Youth mental health: A new stream of mental health care for adolescents and young adults
22. Psychiatric disorders affecting the elderly in Australia
Part 4: Disorders Commonly Presenting in Adult Life
23. Anxiety disorders
24. Affective disorders
25. Substance-related disorders
26. Somatoform disorders
27. Eating disorders
28. Schizophrenia and related disorders
Authors
Graham Meadows – Professor of Adult Psychiatry, Monash University and Director of Southern Synergy, the Southern Health Adult Psychiatry Research, Training and Evaluation Centre.
John Farhall – Clinical psychologist and a director of Mind Australia, with joint appointments in the School of Psychological Science, La Trobe University and North Western Mental Health, a Division of Melbourne Health.
Ellie Fossey – Senior lecturer and postgraduate courses co-ordinator in the Department of Occupational Therapy at La Trobe University.
Margaret Grigg - General Manager Research Development and Advocacy at Mind Australia.
Fiona McDermott – Associated Professor, Faculty of Medicine, Nursing and Health Sciences, Monash University and joint appointment with Southern Health.
Bruce Singh – Assistant Vice-Chancellor (Medicine Dentistry & Health Sciences Projects), University of Melbourne.
Request an inspection copy