Food, Nutrition and Health eBook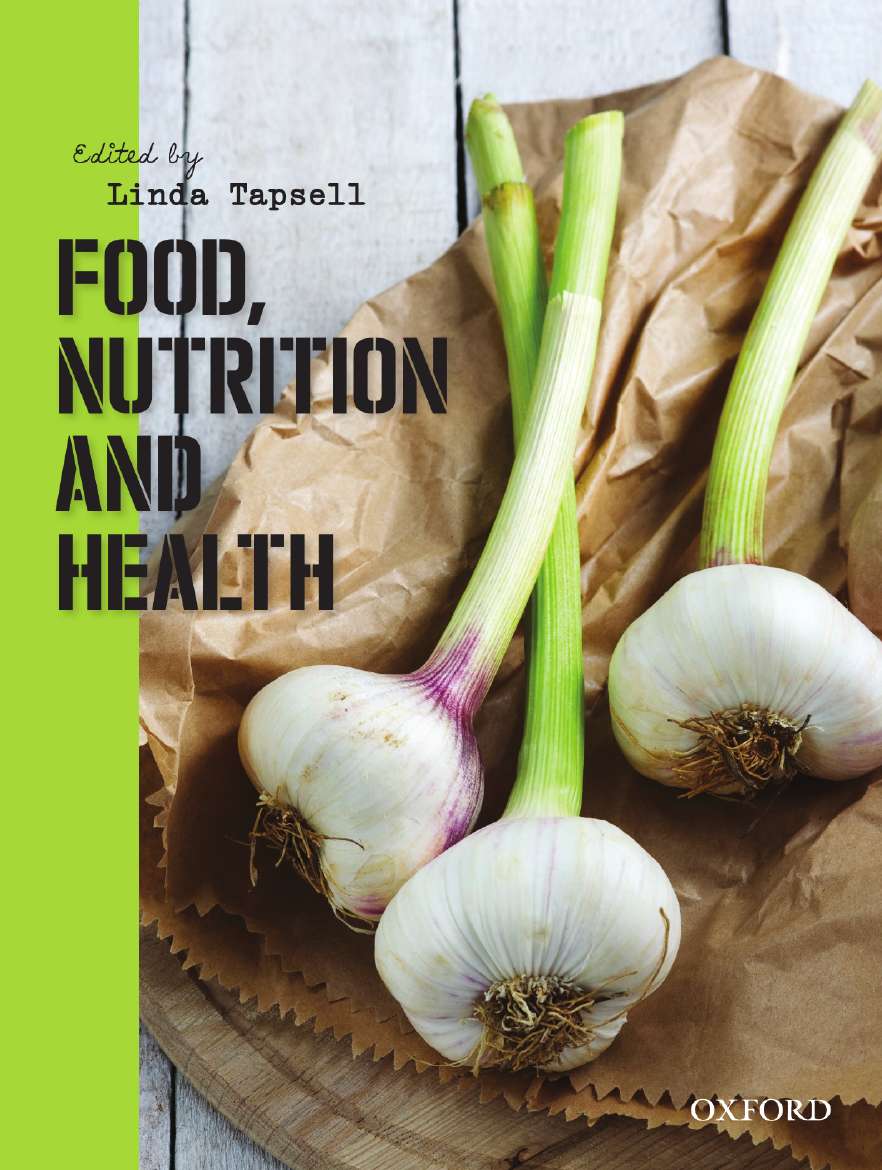 Food, Nutrition and Health eBook
| | |
| --- | --- |
| ISBN: | 9780195587982 |
| Binding: | Ebook |
| Published: | 23 Sep 2013 |
| Availability: | Available |
| Series: | |
$115.95 AUD
$132.99 NZD
Add To Cart
Add To Cart
Description
Food, Nutrition and Health takes a holistic approach to the study of food, nutrition and the lifecycle. It canvases the full spectrum of issues relevant to food, nutrition and health, while providing a clear framework for understanding and working with nutrition science by gradually building up a knowledge base and setting it in practice contexts. Key concepts are introduced early then built upon in more detail; a fruitful pedagogical approach that develops knowledge, fosters research skills and encourages critical thinking.
Features
Controversies – Highlight the complex issues and are easily located in the book's contents
Building Blocks: from knowledge to application – help students build knowledge and understand more challenging concepts
Try it yourself – encourage students to apply what they've studied to their own lives for greater depth of learning
Research in Practice – showcase current research
Case Studies – Introduce relevant practical nutrition and diet considerations
Food and Nutrition facts – relevant tips and facts that students can discuss.
Look inside the brochure to learn more about Food, Nutrition and Health's pedagogical features.
Contents
PART 1 AN INTRODUCTION TO NUTRITION
1. Food and Health: A Biological Perspective (Linda Tapsell)
How does food consumption affect health?
How do we know that food intake affects health?
How has the biological understanding of nutrition evolved and where is it headed?
2. Applying Nutrition Principles in the Lifecycle (Linda Tapsell)
How can understanding the biological effects of food be applied to human health?
How do we know if there is a problem with nutrition?
How are nutrition problems in the community addressed?
3. Nutrition in a Social and Environmental Context: An Introduction (Linda Tapsell)
Who are the main stakeholders in food and nutrition at a societal level?
What is food and nutrition policy?
How does nutrition practice and research relate to food policy?
PART 2 FOOD AND HEALTH: A BIOLOGICAL PERSPECTIVE
4. Food: The Primary Source of Energy and Nutrients (Linda Tapsell, Yasmine Probst, Jimmy Louie, Karen Charlton, Barbara Meyer)
What happens to food when you eat it?
What does energy balance mean?
How does eating protein, fat or carbohydrate influence weight?
Why do we need vitamins and minerals?
5. Extending Knowledge on Food Components (Linda Tapsell, Yasmine Probst, Jimmy Louie, Eleanor Beck, Vinodkumar Gopaldasani, Vicki Flood, Rebecca Thorne, Barbara Meyer)
What are the different types of carbohydrate, fat and protein, and why is this important?
What is dietary fibre?
What can we say about other components in food?
Why is water an important part of nutrition?
What about alcohol?
6. Categorising Foods in Terms of Nutrient Content (Yasmine Probst, Linda Tapsell, Rebecca Thorne, Jane O'Shea)
Which foods are the best for delivering carbohydrate, protein and fat?
Which foods have the most vitamins and minerals?
Which foods deliver the best nutritional value?
7. Categorising Foods in Terms of Healthy Diets: Cuisines, Dietary Patterns and Dietary Guidelines (Linda Tapsell, Karen Charlton, Vicki Flood)
What is a cuisine?
Which dietary patterns are associated with disease?
What do dietary guidelines mean?
PART 3 APPLICATIONS OF NUTRITION THROUGHOUT THE HUMAN LIFECYCLE
8. Nutrition During the Lifecycle: Pregnancy and Lactation (Sara Grafenauer, Rebecca Thorne)
What are the key nutrients required before and during pregnancy?
What are the energy requirements of pregnancy?
What are the best foods to eat during pregnancy?
How does breastfeeding work?
Why is breasfeeding best for mother and baby?
9. Nutrition During the Lifecycle: Infancy and Childhood (Sara Grafenauer, Vicki Flood, Kanita Kunaratnam)
Why is it necessary to introduce solid foods to infants in their first year of life?
What are the most appropriate first foods for infants and when should they be introduced?
How can healthy eating habits be established?
What are the key nutritional issues for children?
How can child obesity be prevented?
10. Nutrition During the Lifecycle: The Prevention of Chronic Disease in Adulthood (Linda Tapsell, Karen Charlton, Barbara Meyer)
What is the most important dietary factor in preventing chronic lifestyle-related disease?
Which foods are best to include in the diet to prevent chronic disease in adulthood?
Where do all the other foods, beverages and alcohol fit in the dietary pattern?
What is the role of physical activity and general well-being in this scenario?
11. Nutrition during the Lifecycle: Nutrition Needs of Older Adults (Karen Charlton, Karen Walton)
What are the categories of ageing?
What are some of the common nutrition-related health problems seen in old age?
Which nutrients are required in higher amounts in old age?
Why does malnutrition emerge as a problem in old age?
What are the particular considerations for older people living in institutional settings?
12. Dietary Assessment, Food Databases and Dietary Modelling (Linda Tapsell, Vicki Flood, Yasmine Probst, Karen Charlton, Peter Williams)
What is dietary assessment?
How is dietary assessment conducted at the population level?
What is the role of food and nutrient databases?
What is dietary modelling?
PART 4 FOOD AND NUTRITION POLICY AND PRACTICE
13. Food and Nutrition Policy and Frameworks (Heather Yeatman, Joanna Russell, Deanne Condon-Paolini, Vicki Flood, Eleanor Beck, Peter Williams)
What is a food and nutrition system and how does nutrition policy work? What is food security?
What are food standards and laws?
How does food innovation work?
14. Locations of Nutrition Practice (Eleanor Beck, Heather Yeatman, Linda Tapsell, Vicki Flood, Barbara Meyer)
How can individuals and communities get help with nutrition problems and advice?
How do government agencies work in nutrition?
What is the role of nutrition researchers?
What role does the food industry play in nutrition?
15. Future Directions in Nutrition (Linda Tapsell, David Jacobs Jr)
What are the main challenges facing nutrition today?
What is needed in nutrition research?
Where will nutrition practice go in the future?
What will the food supply of the future look like?
Authors
Edited by Linda Tapsell: Professor, School of Health Sciences, University of Wollongong
Contributors
Eleanor Beck
Karen Charlton
Deanne Condon-Paoloni
Vicki Flood
Vinodkumar Gopaldasani
Sara Grafenauer
David Jacobs Jr
Kanita Kunaratnam
Jimmy Louie
Barbara Meyer
Jane O'Shea
Yasmine Probst
Joanna Russell
Rebecca Thorne
Karen Walton
Peter Williams
Heather Yeatman
Student Resources
The following resources are available for students using Food, Nutrition and Health:
Lecturer Resources
The following resources are available for lecturers who prescribe Food, Nutrition and Health for their course:
PowerPoint slides
Instructor's Resource Manual including tutorial activities, discussion questions and further reading suggestions
Testbank of multiple choice and short answer questions
Imagebank of figures, diagrams and tables from the book
For more information about the resources for Food, Nutrition and Health, please contact your Oxford Territory Manager.
Sample Pages
Read a sample chapter from Food, Nutrition and Health
Request an inspection copy