Healthy Ageing and Aged Care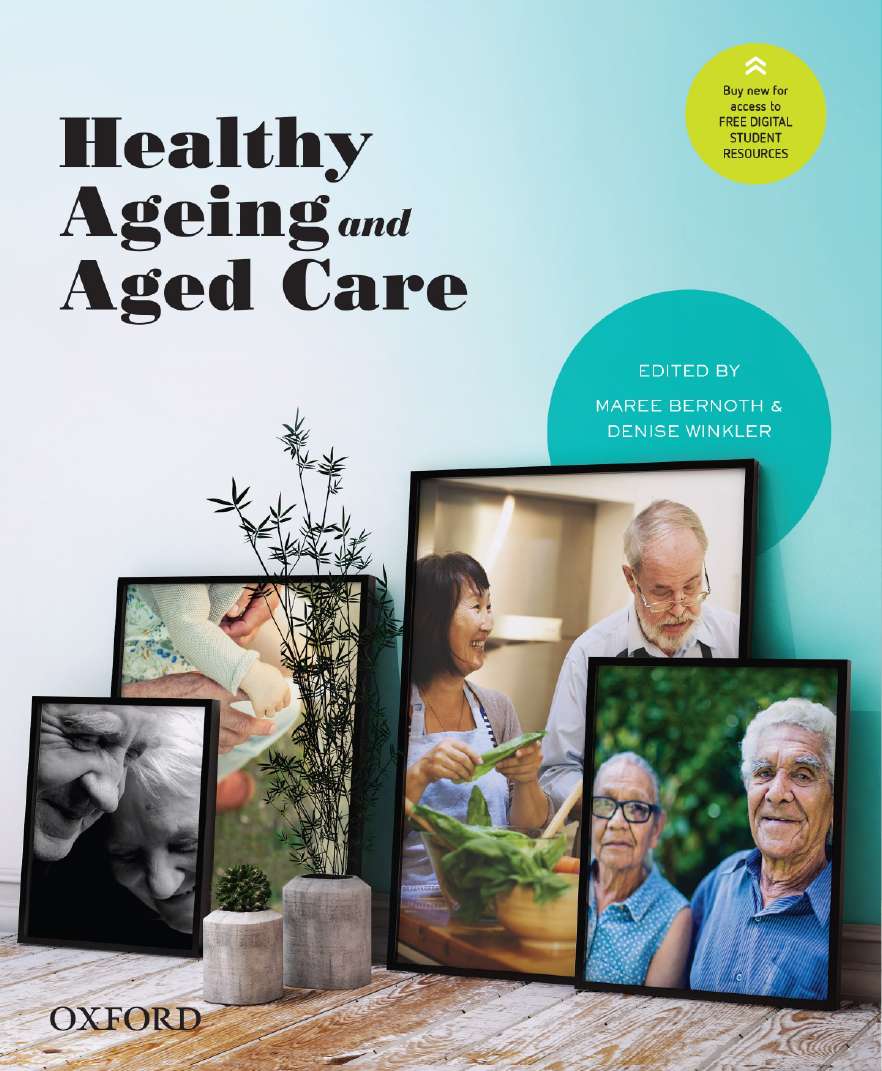 Healthy Ageing and Aged Care
| | |
| --- | --- |
| ISBN: | 9780195597585 |
| Binding: | Paperback |
| Published: | 11 Nov 2016 |
| Availability: | 404 |
| Series: | |
$108.95 AUD
$123.99 NZD
Add To Cart
Other options: Ebook $98.95 AUD $113.99 NZD Ebook Rental $52.95 AUD $60.99 NZD
Request an inspection copy
Description
This is a book about life—the continuum of life, the impact of choices made throughout life, changes that happen during our lives and a celebration of lives lived! At the very heart of the book is the people who are living, who have lived their lives and are generously sharing their experiences with you—people who are ageing, people who make up families and communities and people who are health professionals, especially registered nurses, who work with and provide support for individuals, families and communities to ensure the best possible outcomes.

Healthy Ageing and Aged Care takes an inter-disciplinary approach to supporting older people within the community and in care. It represents current Australian and New Zealand policies and practices and takes a holistic view of the older person, and emphasises the positive aspects of the ageing process, maintaining that people age in healthy ways and continue to be an integral part of their families and communities. This is one of the rewarding aspects of working with older people—assessing accurately and collaboratively putting in place strategies that can maintain the person's quality of life. The goal is for you to be able to develop those skills by engaging with the material in this book.

Accompanying videos and audio recordings give life to case studies in the text. They enhance the learning experience for the student audience by providing an opportunity to see the complexities and idiosyncrasies of situations relevant to older people and their carers.
Contents
The profile of older people in Australia and New Zealand

The policies impacting ageing and aged care in Australia and New Zealand

The experience of ageing as an Indigenous Australian and Maori Peoples

The personal perspectives of ageing in a complex world

Family relationships and informal care

Intimate relationships

Ageing in rural areas

Vulnerabilities and Abuse

Volunteer relationships and older people in the work force

Leisure and Recreation in the lives of older people

Previously unrecognised issues: Managing the Heath of an ageing prison and homeless population

The impact of physiological changes on older people; implications for nursing practice

The Older Person in Acute Care

Maintaining Mental Health through the ageing experience

Dementia

Pharmacology

The role of the Registered Nurse in maintaining optimal nutrition and hydration

Mobility and falls prevention

Managing multiple chronic conditions

End of life care
Authors
Maree Bernoth is a Senior Lecturer, School of Nursing, Midwifery & Indigenous Health, Charles Sturt University
Denise Winkler is an Educational Designer, Division of Student Learning, Charles Sturt University

Contributors:

Simone Alexander has extensive experience as an oral hygienist in private practice and has held an academic position at Charles Sturt University.
Jane Anderson-Wurf works as a postdoctoral fellow with the University of Notre Dame Rural Clinical School, in Wagga Wagga.
Tanya Atkinson works with Wintringham, a specialist aged-care provider in Australia.
Susan Baidawi is a research fellow in the Department of Social Work at Monash University, Melbourne.
Karen Bell is a social work academic at Charles Sturt University.
Maree Bernoth is a senior lecturer at Charles Sturt University.
Robyn Bryant is an ASET nurse at Wagga Wagga Rural Referral Hospital.
Oliver Burmeister focuses his research on ethical issues in the clinical application of new technologies.
Belinda Cash is a lecturer in social work and gerontology at Charles Sturt University.
Ruth Crawford is an accredited practising dietitian and has worked in a variety of settings including food service, education and institutional care (aged care, disability homes and correctional facilities).
Megan Daniel has extensive experience in clinical nursing in residential aged care and in teaching undergraduate student nurses.
Carmel Davies is a lecturer in the School of Nursing, Midwifery and Indigenous Health at Charles Sturt University.
Rylee A. Dionigi is an associate professor in the School of Exercise Science, Sport and Health at Charles Sturt University.
Gael Evans-Barr MBA (Health and Human Services Management) currently manages Charles Sturt University's Foundation and Alumni programs.
Gary Forrest has been nursing for 30 years, and has undertaken postgraduate studies in critical care and intensive care units, and in emergency departments.
Pam Foster is a senior lecturer at Waiairki Institute of Technology.
Alison Henry has been a lecturer at Charles Sturt University's School of Nursing, Midwifery and Indigenous Health since 2012.
Travis Ingersoll is a social work professor, sexuality educator and researcher based at West Chester University, Philadelphia, PA, USA.
Jenny McKenzie has worked for over 20 years, specialising in oncology and palliative care, the last 10 years as a nurse practitioner in palliative care.
Faye McMillan has held a number of roles within health and education for over two decades; this includes working as a registered pharmacist and lecturer within the health sciences. Faye is a Wiradjuri woman, and uses her roles to advocate health equality for Aboriginal and Torres Strait Islander people.
Robyn McMillan is a lecturer of mental health at Charles Sturt University. She has worked in the health industry as a mental health professional since 2009. As a Wiradjuri woman, Robyn has combined her experiences as a health professional with her lived experiences as an older Indigenous woman to enhance the learning experiences of students.
Susan Mlcek is Māori-Indigenous, from the Ngaiterangi Iwi in New Zealand, with teaching experience gained from time at two Australian universities, a New Zealand tribal Indigenous university, and TAFE NSW.
Jed Montayre lectures in the School of Clinical Sciences at Auckland University of Technology.
Stephen Neville is an associate professor and head of the nursing department at the Auckland University of Technology.
Margaret Roberts is a registered psychologist and registered nurse in New Zealand. She is the associate head of research and senior lecturer in nursing in the School of Clinical Sciences at the Auckland University of Technology.
Kristy Robson has worked as a podiatrist in rural regional Australia her entire professional career. She is currently employed as an academic at Charles Sturt University.
Marissa Samuelson is an accredited practising dietitian and has worked in a variety of settings including community health, private practice and acute care.
Peter Santangelo is a credentialed mental health nurse with the Australian College of Mental Health Nurses and a past president.
Andreia Schineanu is a researcher and lecturer at Charles Sturt University, and for the past 15 years has worked in the broad field of public health, focusing on domestic violence, alcohol and other drugs, mental health, Aboriginal health, and community development.
Belinda Scott currently works as a clinical nurse consultant in dementia for NSW Health in a rural/regional setting.
Kay Shannon is a registered nurse with practice experience in a range of hospital, aged residential care and primary health-care settings in urban and rural areas. Kay has worked at Auckland University of Technology University since 2012.
Helen Small has been employed as the general manager operations at Wintringham Specialist Aged Care for the last twelve years.
Fredrik Velander is a lecturer and researcher at Charles Sturt University.
Student Resources
Oxford Ascend is the home of online resources for higher education students to help them study and succeed.

Each print copy of Healthy Ageing and Aged Care comes with a free code that can be activated at www.oxfordascend.com to access the student resources.

The student resources are not available with the ebook. These resources can also be purchased separately.
Nine case study videos enable students not just to read about cases, but to hear direct from those directly impacted in aged care. The videos come from the authors, elderly Australians and carers and volunteers. They covers a wide range of topics including:

Support for Older Men (Men's Sheds)
Healthy Ageing
Elder Abuse
Rural Issues
Volunteering
Leisure and Recreation
Delirium
Palliative Care
Residential Aged Care
Dementia

An audio interview case study with Robyn (a Wiradjuri woman)
Bonus online chapter - information access and use by older people
To access your
Healthy Ageing and Aged Care
Oxford Ascend Student Resources:
Go to www.oxfordascend.com
Register for an account
Activate the code (printed inside the back cover of your textbook) within your account
This code can only be activated once. Once activated, access is valid for the life of the edition.
Lecturer Resources
The following resource is available for lecturers using Healthy Ageing and Aged Care:
Instructors' Resource Manual built around the case studies, in text and video.
Sample Pages
Request an inspection copy