First Principles of Business Law 2017 ebook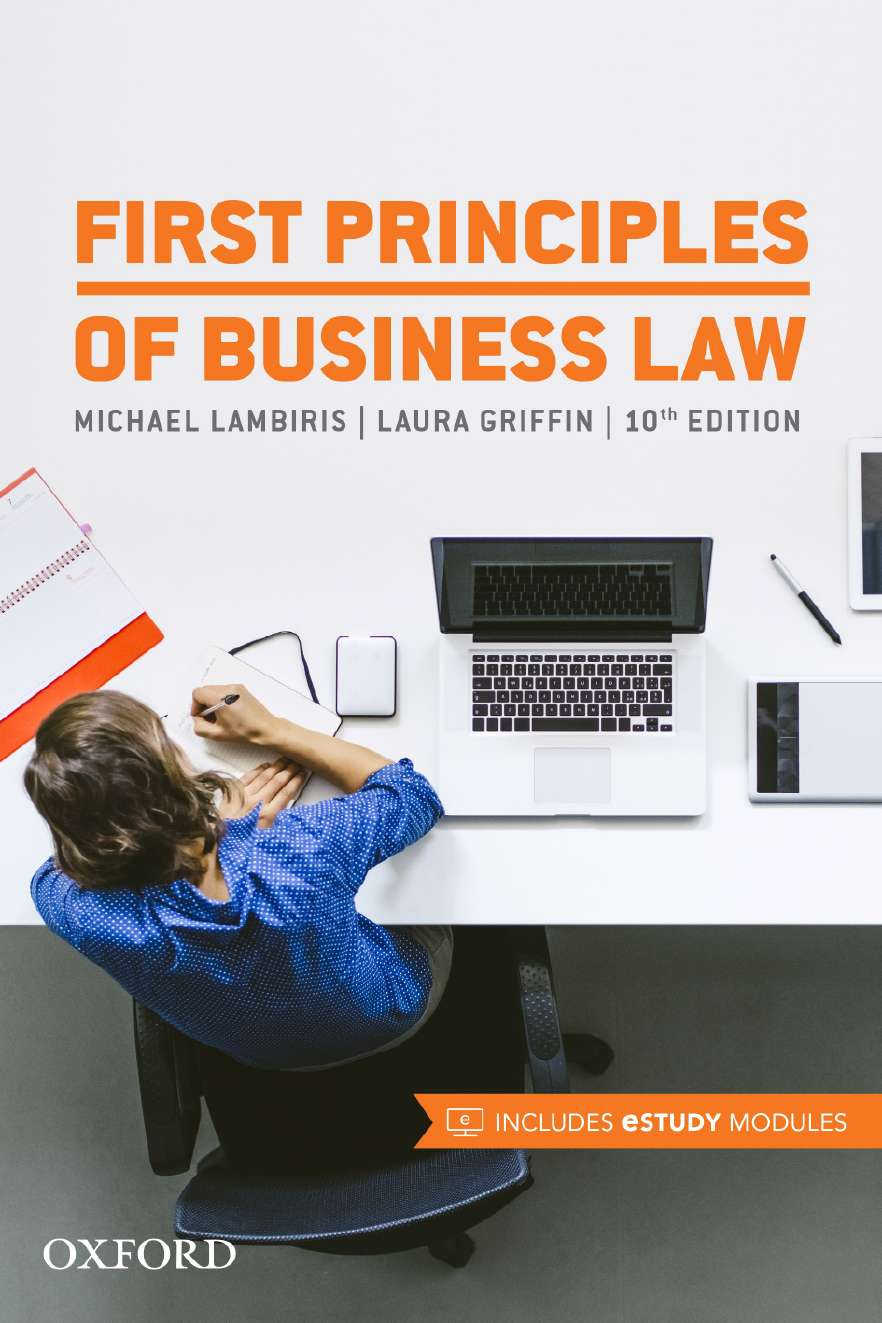 First Principles of Business Law 2017 ebook
| | |
| --- | --- |
| ISBN: | 9780190304492 |
| Binding: | Ebook |
| Published: | 19 Jan 2017 |
| Availability: | Available |
| Series: | |
$102.95 AUD
$117.99 NZD
Add To Cart
Description
First Principles of Business Law provides an integrated learning approach to studying business law, and offers a succinct and authoritative explanation of the system within which business law operates.

This textbook is easy to navigate, with well-structured headings, flowcharts, glossary of terms, tables of cases and legislation, and index. Extracts from key legislation are included, and summaries of reported cases illustrate key concepts of business law.

The eStudy modules complement the textbook and will help students develop their ability to apply business law in practical situations. The modules improve learning and understanding through hundreds of carefully sequenced examples, questions and short case studies, giving instant feedback to answers. There is a supporting module for each chapter of the textbook.

Sample the eStudy modules that support First Principles of Business Law.
Contents
The Organisation of Law and Government in Australia
Sources of Law: Legislation
Sources of Law: Case Law
Finding Law Online
Making a Contract
The Contents of a Contract
Statutory Provisions Affecting Contracts for Goods and Services
Performance and Breach of Contract
Remedies for Breach of Contract
Circumstances that May Invalidate a Legal Transaction
Statutory Protection Against Unethical Conduct
The Scope of Tort Law
The Tort of Negligence
Remedies in Tort
The Law of Agency
Property Law
Business Organisations
Selected Legislative Provisions
Authors
Michael Lambiris – Director of Australian Law Courseware Pty Ltd. Former Associate Professor and Reader, Melbourne Law School, University of Melbourne.
Laura Griffin – Lecturer, Faculty of Business, Economics and Law, La Trobe University.
Student Resources
Each copy of First Principles of Business Law comes with access to interactive eStudy modules, providing hundreds of carefully sequenced questions, exercises and short case-studies.
The eStudy modules are accessed through a reader installed on your computer, which can be downloaded from www.ALCware.com
Lecturer Resources
The following resources will be available for lecturers who prescribe First Principles of Business Law for their course:
Lecture outlines in PDF and PowerPoint
For more information about the resources for First Principles of Business Law, please contact your Oxford Territory Manager.
Sample Pages
Request an inspection copy