Contract Law 5e ebook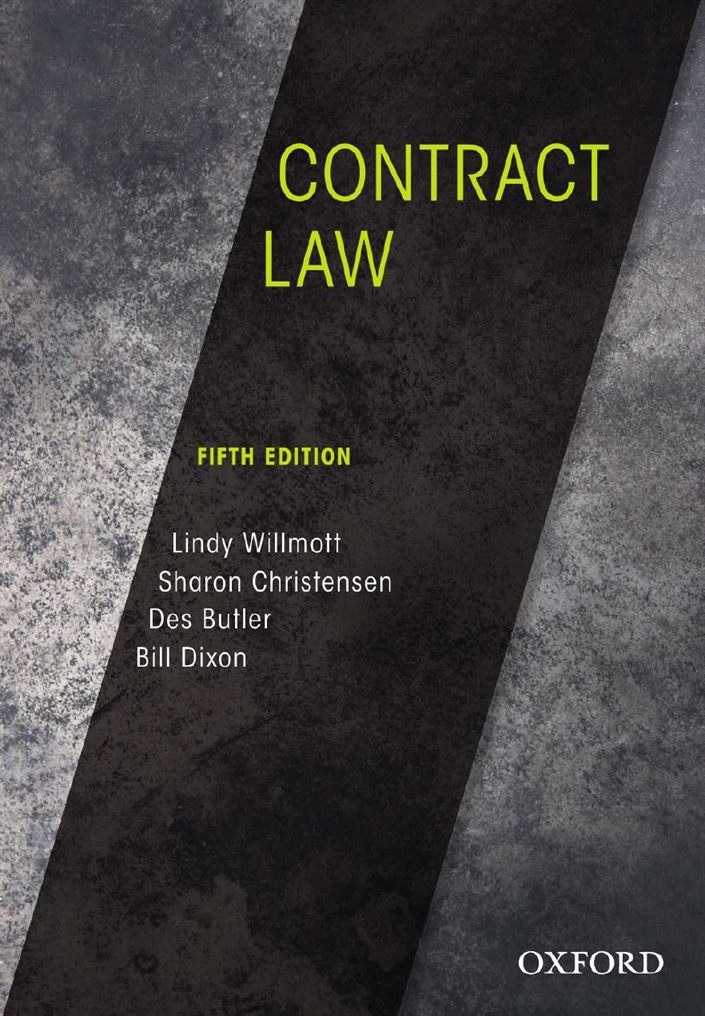 Contract Law 5e ebook
| | |
| --- | --- |
| ISBN: | 9780190304782 |
| Binding: | Ebook |
| Published: | 31 Jan 2018 |
| Availability: | Available |
| Series: | |
$141.95 AUD
$162.99 NZD
Add To Cart
Description
The fifth edition of Contract Law offers an in-depth examination of Australian contract law, its principles and contemporary issues, the common terminology and the role of the courts, as well as its historical development.

Complex topics are illustrated by clear and informative cases, and are supported by Case Example boxes with summaries about the judgment, allowing students to see how the judgments set or support precedents and principles.

This text is also available with the Contract Law Case Book Third Edition which gives students access to an expanded selection of primary and secondary materials.

NEW TO THIS EDITION
Incorporates statutory changes since 2013
Explores a number of important decisions handed down by the High Court, including Paciocco v Australia and New Zealand Banking Group (2016)
Chapter 20 expanded to include examination of contractual termination including pursuant to a contingent condition
Chapter 26 updated to include:

Federal Court decision in Australian Competition and Consumer
Commission v Chrisco Hampers Australia Ltd (2015)
The application of the electronic transactions legislation across Australia
The expansion of unfair contract terms provisions in the Australian Consumer Law

Includes up-to-date and concise examination of contemporary issues in contract law
Contents
PART 1: OVERVIEW
1. Introduction
2. Negotiation
PART 2: FORMATION
3. Agreement
4. Certainty
5. Intention to Create Legal Relations
6. Consideration
7. Equitable Estoppel
PART 3: CONTENT
8. Terms I: Establishing Contractual Terms
9. Terms II: Construction of Terms
PART 4: LIMITS ON ENFORCEMENT OF CONTRACTS
10. Capacity
11. Formalities
12. Privity
PART 5: VITIATING FACTORS
13. Misrepresentation and Misleading or Deceptive Conduct
14. Mistake
15. Duress
16. Undue Influence
17. Unconscionable conduct
18. Void and Illegal Contracts
PART 6: DISCHARGE OF THE CONTRACT
19.Discharge By Performance
20. Discharge By Termination
21.Discharge By Agreement
22.Discharge by Frustration
PART 7: REMEDIES
23. Damages
24. Restitution
25. Equitable Remedies
PART 8: CONSUMER PROTECTION
26. Unfair Contract Terms
27. Consumer Guarantees
28. Themes, Critical Perspectives, and Ideologies
Authors
Lindy Willmott - Professor, Faculty of Law, QUT
Sharon Christensen - Professor, Faculty of Law, QUT
Des Butler - Professor, Faculty of Law, QUT
Bill Dixon - Associate Professor, Faculty of Law, QUT
Sample Pages
Read a sample from Contract Law, fifth edition:
Request an inspection copy