Ethics and Legal Professionalism in Australia eBook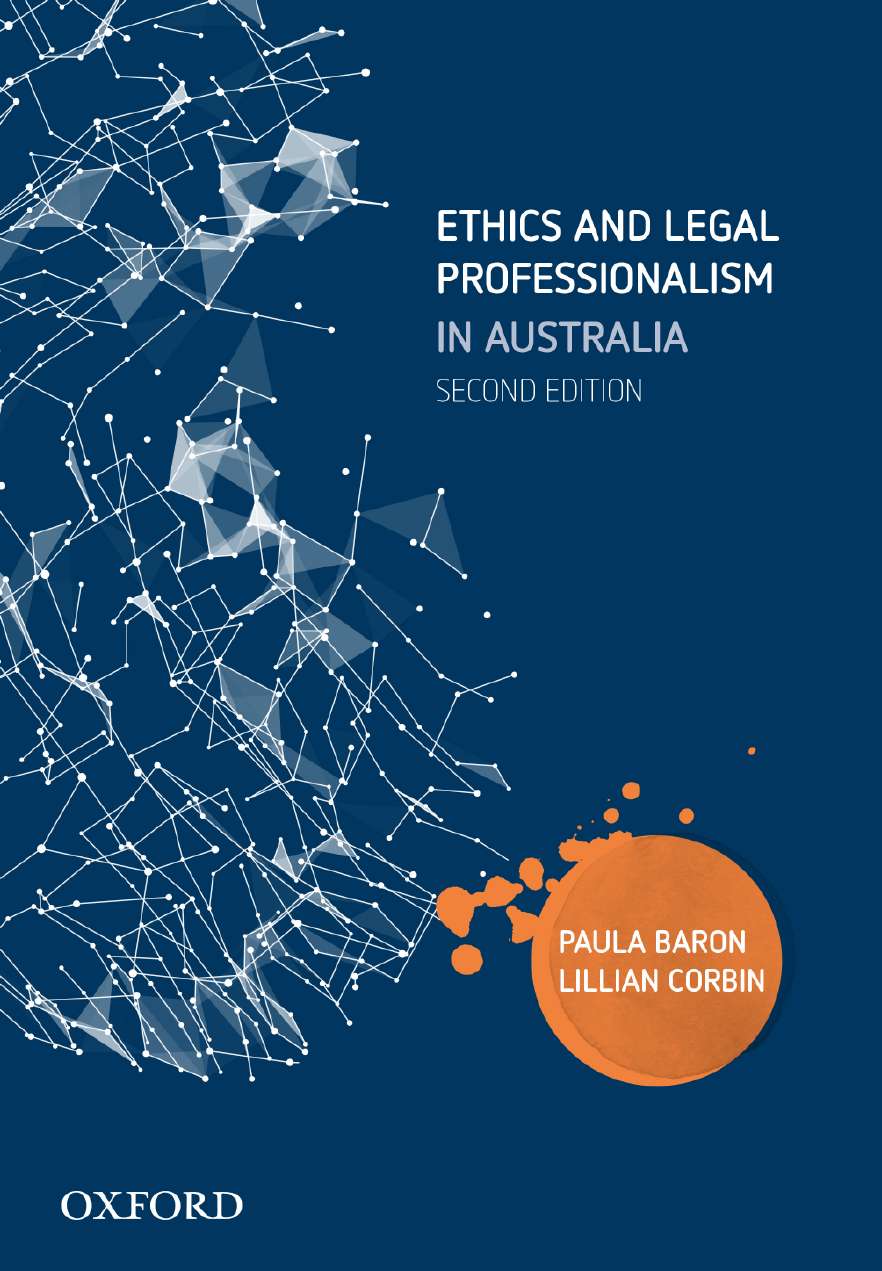 Ethics and Legal Professionalism in Australia eBook
| | |
| --- | --- |
| ISBN: | 9780190309817 |
| Binding: | Ebook |
| Published: | 24 Oct 2017 |
| Availability: | Available |
| Series: | |
$96.95 AUD
$110.99 NZD
Add To Cart
Description
Ethics and Legal Professionalism in Australia introduces students to the ethics and professional responsibilities that they will encounter in practice. It outlines the concepts, rules and conflicts relating to legal ethics in addition to exploring the ambiguous ethical aspects associated with being a lawyer.

This text takes a thematic approach, with each chapter focusing on one theme and how it relates to lawyers' professional obligations, rather than simply focusing on the rules of professional conduct. Lawyers do not work in a vacuum, but within a framework of legal and professional regulation, and having the ability to make sound professional decisions is at the heart of good professional conduct.

This edition has been updated to include the Uniform Law framework which has been implemented in NSW & VIC, and includes tables that outline the comparative sections and rules for each Australian jurisdiction.

NEW TO THIS EDITION
Additional cases added throughout the text to support the content
Updated to include information about technological advances and how these affect the legal profession in terms of the conduct required of lawyers when operating in the digital environment (ie what some term 'e-professionalism')
Includes additional information about mental health issues amongst lawyers and how this affects professional practice
Comparative tables updated to reflect changes following the abandonment of the proposed national law
Contents
INTRO - HOW TO USE THIS BOOK
What is Lawyering?
The Framework of Lawyering
Truth and Honesty
Fidelity to the Law
Loyalty to the Client
Confidentiality
Competence
Civility and Courtesy
Service and Access to Justice
APPENDICES
Introduction
Comparative Table 1: Lawyer Legislation
Comparative Table 2: Professional Rules for Solicitors
Comparative Table 3: Professional Rules for Barristers
Authors
Paula Baron - Associate Pro-Vice Chancellor and Professor of Law, College of Arts, Social Sciences and Commerce, La Trobe University
Lillian Corbin - Associate Professor, School of Law, University of New England
Lecturer Resources
The following resources are available for lecturers who prescribe Ethics and Legal Professionalism in Australia second edition for their course. They include:
An Instructor's Resource Manual, with:

Chapter summaries
Chapter objectives
Key terms
Tutorial activities
Short-answer questions and answers
Sample essay and suggested list of criterion

A Test bank, with:

Multiple choice questions with answers
For more information about the resources for Ethics and Legal Professionalism in Australia second edition, please contact your Oxford Learning Resource Consultant.
Sample Pages
Read a sample from Ethics and Legal Professionalism in Australia, second edition:
Request an inspection copy