Connecting with Law eBook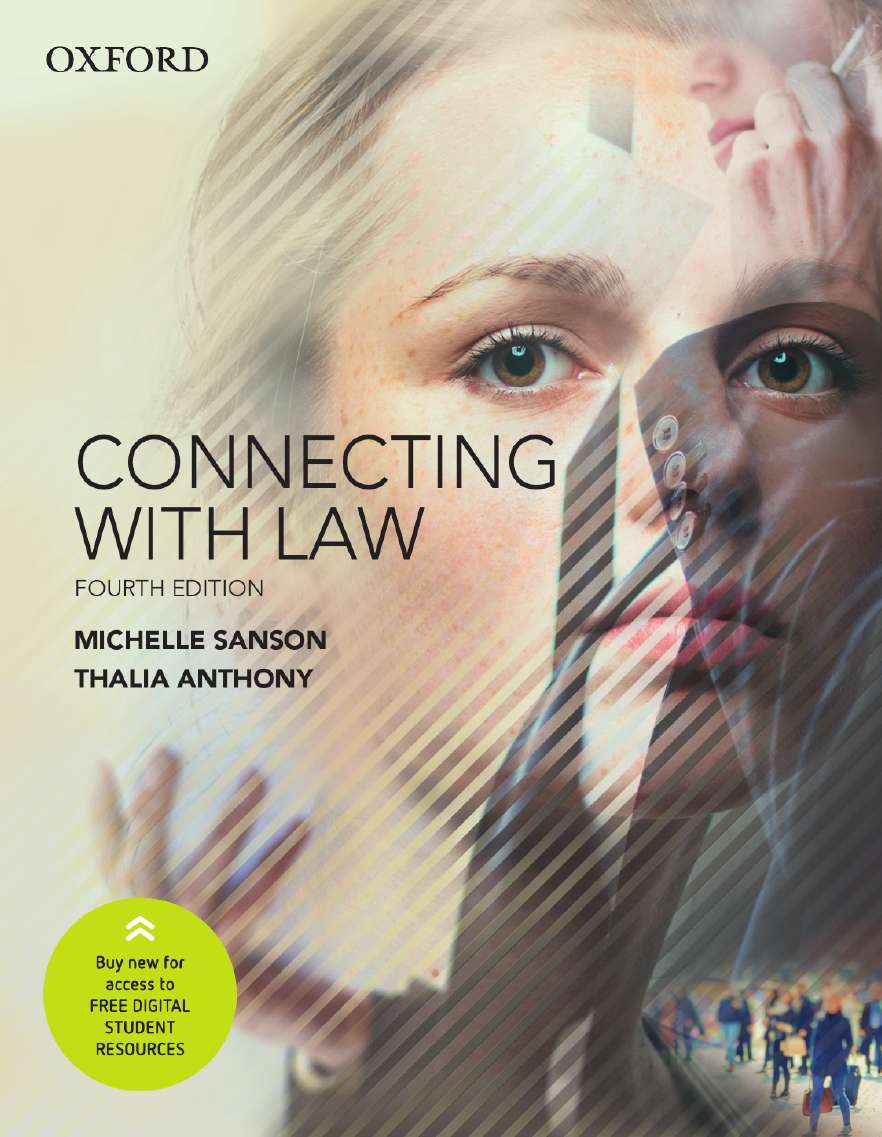 Connecting with Law eBook
| | |
| --- | --- |
| ISBN: | 9780190310851 |
| Binding: | Ebook |
| Published: | 6 Sep 2018 |
| Availability: | Available |
| Series: | |
$110.95 AUD
$127.99 NZD
Add To Cart
Request an inspection copy
Description
Think like a lawyer; unlock your future.

Connecting With Law, fourth edition, will challenge students' assumptions and develop their critical thinking skills while teaching them the practical knowledge they need to succeed in law. Fully revised to incorporate the latest legal developments in Australia, this text introduces students to the foundations of law and the Australian legal system, engaging them with contemporary examples and case studies and helping them to connect with the law.

NEW TO THIS EDITION
Updated to incorporate the latest legislation, cases and developments, including:

the recent Australian Marriage Postal Survey
the First Nations Constitutional Convention and the Uluru Statement from the Heart
the Adani coal mine proposal
Equality, Capacity and Disability in Commonwealth Laws (ALRC Report 124)

New and updated examples and exercises throughout the text to develop practical skills and develop critical thinking and reflective skills
Significantly revised throughout, with new discussion on:

Alternative Dispute Resolution (ADR)
Indigenous Jurisprudence
Ecological Jurisprudence
Sovereignty and imposition of English law
Technocratic justice
Freedom of speech
Marginalised communities and access to justice

New practitioner profiles showcasing a diverse array of careers in the legal profession and beyond.
Contents
Table of Cases
Table of Statutes
Guided Tour
1. Learning Law: How Can I Develop A Legal Mind?
2. Sources: What Is The Law Itself?
3. Legal Institutions: How Is Law Made?
4. Classifying and Practicing Law: How Are Cases Resolved?
5. Research: How Do I Find the Law?
6. Communication: How Do I Engage With Others About the Law?
7. Jurisprudence: What Is Law?
8. History: How Did Australian Law Develop?
9. Australia: Where Do Indigenous Laws Fit In?
10. Precedent: How Do Judicial Decisions Become Law?
11. Statutory Interpretation: How Do Courts Interpret Legislation?
12. The Profession: What Do Lawyers Do?
13. Law in Society: What Are the Problems and Remedies For Accessing Justice?
14. My Law Career: How Can I Best Prepare For It?
Index
Authors
Michelle Sanson is an Adjunct Fellow at the Western Sydney University School of Law, an international lawyer and humanitarian.

Thalia Anthony is an Associate Professor in the Faculty of Law at University of Technology Sydney.

The authors recognise the contribution of researchers and feedback from scholars to the current and previous editions of the book, including Aidan Ricketts, David Worswick, Amanda Porter, Dorothea Anthony, Michelle Burgis, Scott Calnan, Nicole Graham, Christine Black, Ashleigh Best, Stephanie Constand, and Angela Dwyer.
Student Resources
Please note that the eBook version of Connecting with Law, fourth edition, does not come with access to the supporting Oxford Ascend Student Resources.

To access these, please purchase the Connecting with Law, fourth edition, Oxford Ascend Student Resources separately.
Lecturer Resources
The following resources are available for lecturers who prescribe Connecting with Law, fourth edition, for their course:
Updated Instructor's Resource Manual, with:

Answers to exercises and problems in the text
Mock unit outline
Examples of student essays and assessments
Copies of all Oxford Ascend student fact sheets and activity sheets

PowerPoint slides
For more information about the resources for Connecting with Law, fourth edition, please contact your Oxford Learning Resource Consultant.
Sample Pages
Read a sample from Connecting with Law, fourth edition:
Request an inspection copy