Australian Public Law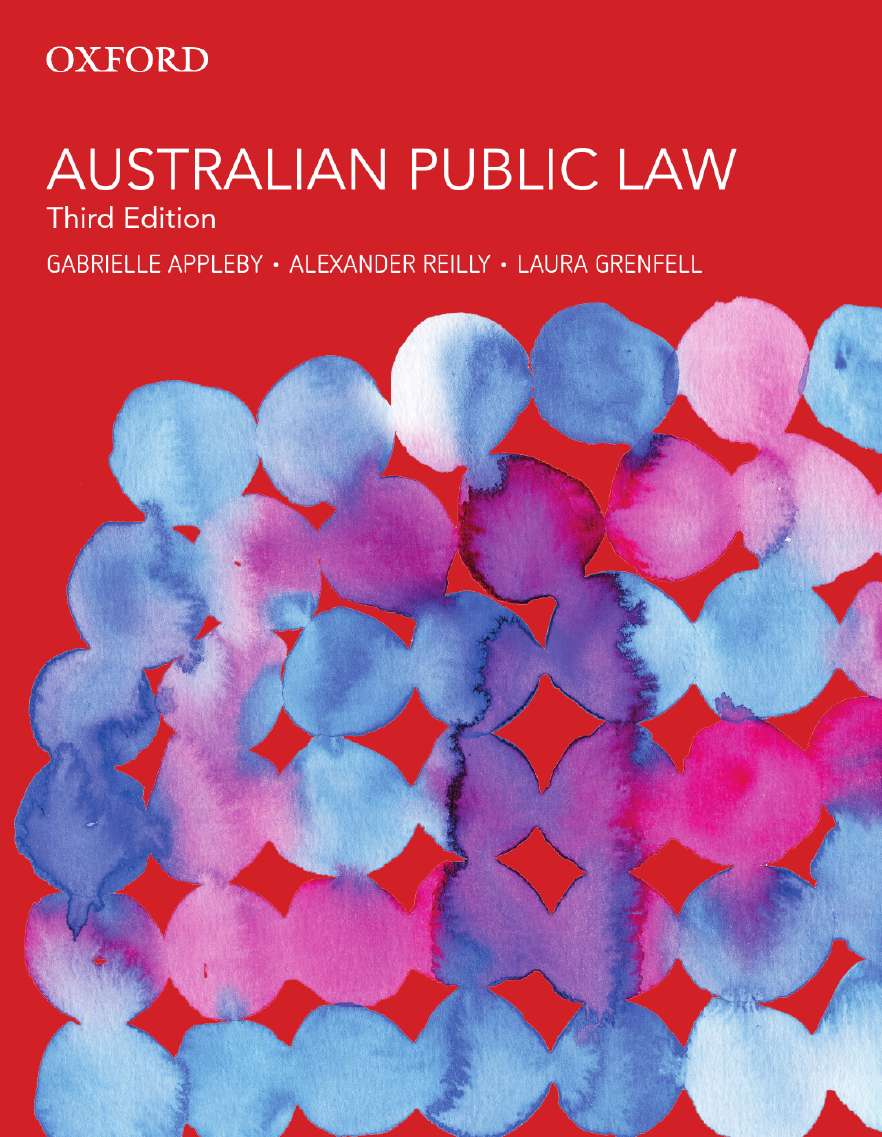 Australian Public Law
| | |
| --- | --- |
| ISBN: | 9780190310899 |
| Binding: | Paperback |
| Published: | 22 Oct 2018 |
| Availability: | 966 |
| Series: | |
$142.95 AUD
$162.99 NZD
Add To Cart
Other options: Ebook $126.95 AUD $146.99 NZD Ebook Rental $68.95 AUD $79.99 NZD
Request an inspection copy
Description
Australian Public Law provides a foundation for understanding the ideas and principles that underpin Australian public law and develops a concept of public law through analysis of the mechanisms of power and control.

Now in its third edition, this text provides a theoretical framework for investigating and interpreting the Australian Constitution while introducing the core concepts that are required for the study of constitutional and administrative law.

NEW TO THIS EDITION
New chapter on 'Public Law and Statutory Interpretation'
Explanation and analysis of new developments, including:

The developments in constitutional recognition of Aboriginal and Torres Strait Islander peoples, including the 2016−2017 Regional Dialogues and First Nations Constitutional Convention leading to the creation of the Uluru Statement from the Heart
The failed attempt at federalism reform under the 2014 White Paper process
Plebiscites with a focus on the 2017 same-sex marriage plebiscite
The High Court decisions on section 44 of the Constitution regarding the eligibility of parliamentarians (including the dual-citizenship cases)
Recent developments in the High Court's implied freedom of political communication and freedom of association cases
The High Court's recent decisions regarding Chapter III of the Constitution

KEY FEATURES
Comprehensive coverage of the foundational principles of public law

Clear discussion and analysis of the Parliament and democratic process, the executive, the tribunal system and the judiciary

Examples and case studies that demonstrate real-life applications of public law

Thorough and clear explanations of complex principles

Written in an engaging and accessible style
Contents
TABLE OF CASES AND STATUTES
PART ONE: INTRODUCING AUSTRALIAN PUBLIC LAW
1. The Idea of Public Law
2. The Development of Public Law in Australia
3. Aboriginal and Torres Strait Islander Peoples and Australian Public Law
4. A Federal Commonwealth
PART TWO: THE PEOPLE AND THEIR GOVERNMENT
5. Democracy and Representative Government
6. Parliamentary Process and Legislative Power
PART THREE: THE ADMINISTRATIVE STATE
7. The Executive
8. Executive Accountability
PART FOUR: THE JUDICIARY
9. The Judiciary and the Separation of Judicial Power
10. The Separation of Powers Applied: Rights, Exceptions and State Courts
11. Public Law and Statutory Interpretation
PART FIVE: EXTERNAL INFLUENCES ON AUSTRALIAN PUBLIC LAW
12. Human Rights in Australia
13. International Influences on Australian Public Law
INDEX
Authors
Gabrielle Appleby is an Associate Professor in the Faculty of Law at the University of New South Wales
Alexander Reilly is a Professor in the Adelaide Law School at the University of Adelaide
Laura Grenfell is an Associate Professor in the Adelaide Law School at the University of Adelaide
Lecturer Resources
The following resources are available for lecturers who prescribe Australian Public Law, third edition, for their course:
Instructor's Resource Manual, with:

Chapter summary
Chapter objectives
Key terms
Tutorial activity
Short-answer questions and answers
Revision questions and answers
Sample essay and suggested response
Further reading list

Test bank, with:

Multiple choice questions with answers
True or False questions with answers
For more information about the resources for Australian Public Law, third edition, please contact your Oxford Learning Resource Consultant.
Sample Pages
Read a sample from Australian Public Law, third edition:
Request an inspection copy