Uniform Evidence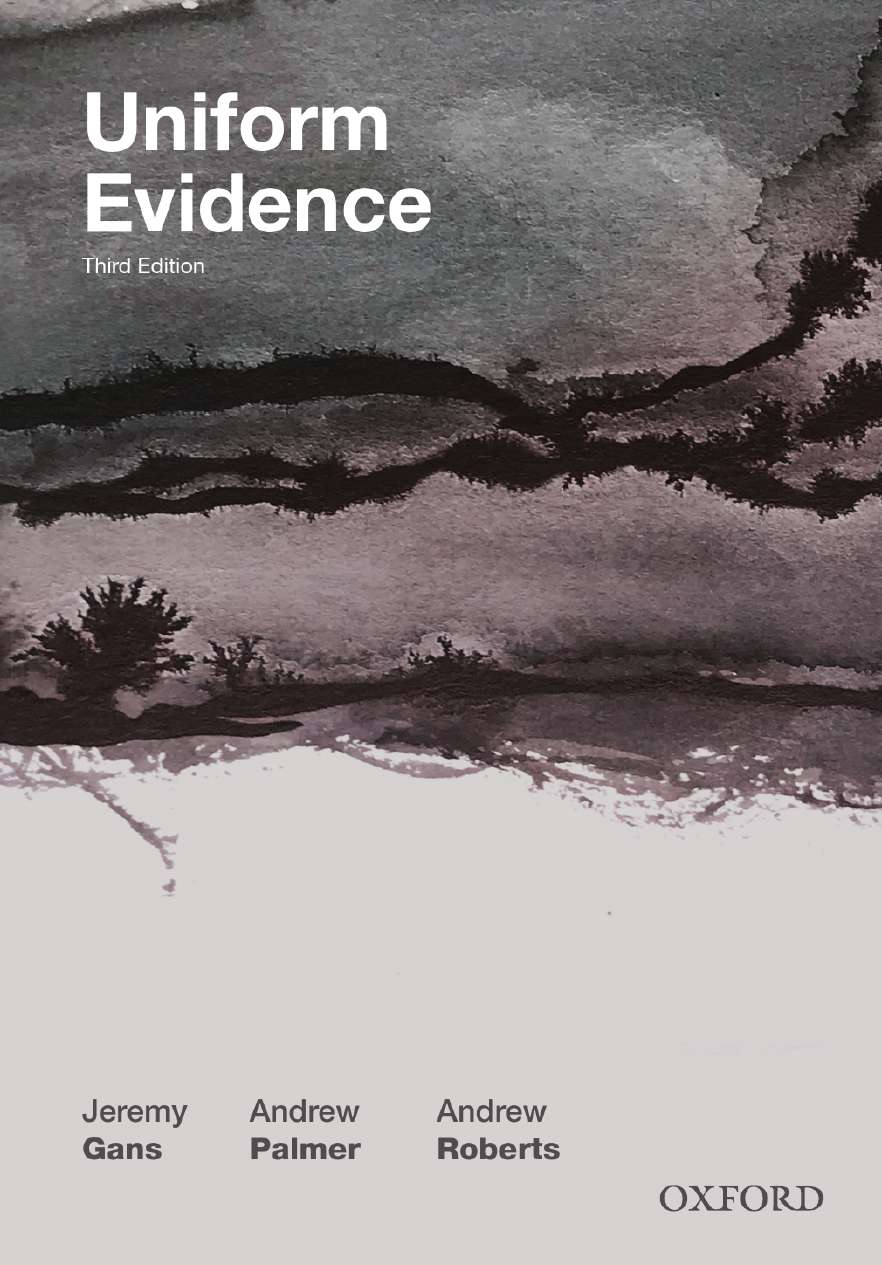 Uniform Evidence
| | |
| --- | --- |
| ISBN: | 9780190313722 |
| Binding: | Paperback |
| Published: | 23 Jan 2019 |
| Availability: | 491 |
| Series: | |
$138.95 AUD
$158.99 NZD
Add To Cart
Request an inspection copy
Description
Uniform Evidence introduces the uniform evidence legislation as implemented by the Commonwealth, New South Wales, Victoria, the Australian Capital Territory, Tasmania, the Northern Territory and Norfolk Island.

It illustrates the practical applications of evidence law with case examples, summarises complex legal rules with flowcharts, and provides in-depth case analysis to help students explore and understand the underlying principles of evidence law.

Now in its third edition, this book explains, analyses and critiques uniform evidence law in a manner that can be readily and easily understood by all those interested in the law of evidence.

New to this Edition
Updated to reflect all amendments to the uniform evidence legislation
Incorporates significant new cases on documents, credibility evidence, and privilege
Includes analysis of recent developments on the issue of probative value
Addresses the latest High Court judgment on tendency evidence in sexual cases
Chapters updated and restructured in response to the latest developments, including:

means of evidence with a focus on witnesses, documents and real evidence
opinion evidence including extended analysis of the law concerning expert evidence
the hearsay rule and its exceptions
Contents
1. Uniform Evidence Law
PART 1: ADDUCING EVIDENCE
2. Witnesses
3. Documents and Other Evidence
PART 2: ADMISSIBILITY
4. Relevance
5. The Hearsay Rule
6. Hearsay Exceptions
7. Opinion
8. Admissions
9. Judgements and Convictions
10. Tendency and Coincidence
11. Credibility
12. Character
13. Identification
14. Privileges
15. Client Legal Privilege
16. Discretionary and Mandatory Exclusions
PART 3: PROOF
17. The Burden and Standard of Proof
18. The Facts That Can Be Proved Without Evidence
19. Warnings and Information
20. Procedural Provisions
Authors
Jeremy Gans – Professor, Melbourne Law School, University of Melbourne
Andrew Palmer – Barrister at Law; Principal Fellow, Melbourne Law School, University of Melbourne
Andrew Roberts – Associate Professor, Melbourne Law School, University of Melbourne
Sample Pages
Read a sample from Uniform Evidence, third edition:
Request an inspection copy