Commercial Applications of Company Law 2019 eBook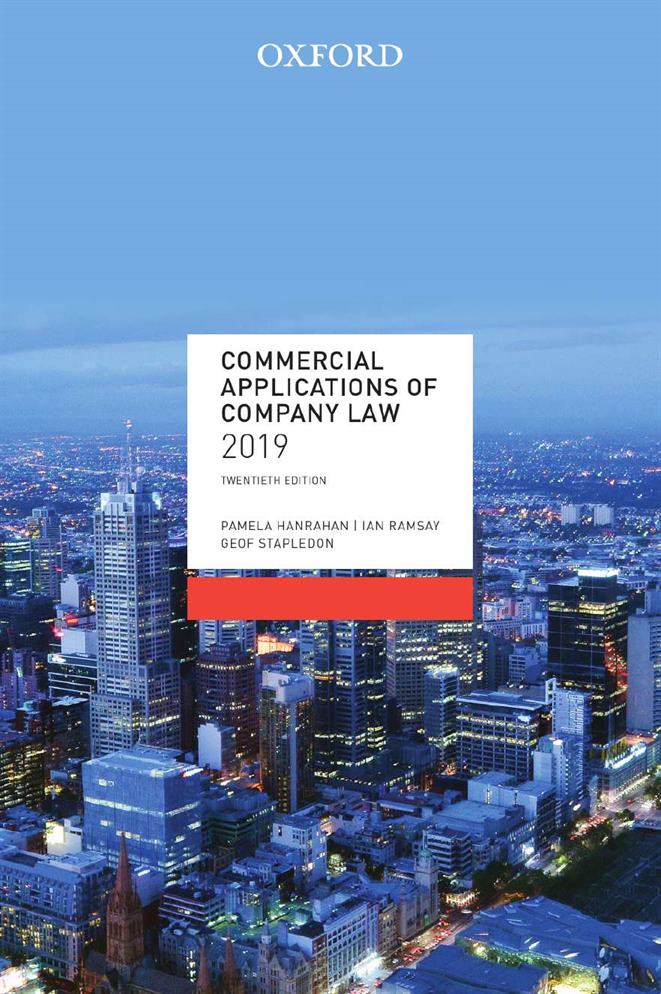 Commercial Applications of Company Law 2019 eBook
| | |
| --- | --- |
| ISBN: | 9780190318468 |
| Binding: | Ebook |
| Published: | 17 Dec 2018 |
| Availability: | Available |
| Series: | |
$141.95 AUD
$162.99 NZD
Add To Cart
Description
Written by three of Australia's foremost corporate law experts, Commercial Applications of Company Law 2019 is the textbook of choice for students studying company law, with insightful commentary guiding readers through complex legislation and contemporary issues.

Now in its twentieth year, this text introduces the key aspects of company law as they relate to business organisations. It focuses on corporate legal personality, corporate management and governance, corporate finance and corporate liability, demonstrating how they influence company practice and policy.

NEW TO THIS EDITION
Updated to reflect the latest developments in regulatory practice, legislation and case law
New discussion of developments including:
The expansion of crowd sourced equity funding to proprietary companies
Recent decisions relating to the doctrine of capital maintenance and capital reductions
'Safe Harbour' protections for directors from insolvent trading liability when undertaking a company restructure
Related party transactions under Chapter 2E of the Corporations Act 2001 (Cth)
Proposed reforms to increase penalties for corporate and financial sector misconduct
Transacting by companies (Chapter 23) updated with cases relating to section 129(5) and (6) of the Corporations Act 2001 (Cth)

KEY FEATURES
Two running Case Studies involving a listed public company and a large proprietary company with Problem Sets to help readers apply legal principles to real-life situations
Sample Company Documents to familiarise readers with the tools they will use in the workplace
Legislative Extracts with important provisions from the Corporations Act 2001 (Cth) and the Australian Securities and Investments Commission Act 2001 (Cth)
Table of Cases, Table of Legislation, and Index to assist with navigating the text
Contents
PART A—COMPANIES AND COMPANY LAW
1. About Companies
2. Company Law
3. The Legal Nature of Companies
4. Companies and Business Planning
5. Constituting Companies
PART B—COMPANY MANAGEMENT AND GOVERNANCE
6. Managing Companies
7. Member Decision-Making
8. Members' Meetings
9. Restrictions on Member Decision-Making
10. Company Directors and Other Officers
11. Directors' Duties 1
12. Directors' Duties 2
13. Directors' Duties 3
14. Directors' Duties 4
15. Consequences of Breach of Duty
16. Members' Remedies
17. Reporting and Disclosure
PART C—CORPORATE FINANCE
18. Financing Companies
19. Shares and Shareholding 1
20. Shares and Shareholding 2
21. Securities and Takeovers
22. Financial Services and Markets
PART D—COMPANIES AND OUTSIDERS
23. Transacting by Companies
24. External Administration
25. Winding Up
PART E—REFERENCE MATERIALS
26. Case Studies and Problem Sets
27. Sample Company Documents
28. Legislation Extracts
FINDING AIDS
TABLE OF CASES
TABLE OF LEGISLATION
INDEX
Authors
Pamela Hanrahan is a Professor and Director of Research in the School of Taxation and Business Law at the University of New South Wales, Sydney.

Ian Ramsay is the Harold Ford Professor of Commercial Law and Redmond Barry Distinguished Professor at Melbourne Law School, and Director of Studies for Commercial Law and Corporate Law in the Melbourne Law School Masters Program.

Geof Stapledon is the Group Manager of Governance for BHP Billiton.
Lecturer Resources
Upon publication, the following resources will be available for lecturers who prescribe Commercial Applications of Company Law 2019 for their course:
PowerPoint slides
Answers to problem sets
Test bank of multiple choice questions and answers
For more information about the resources for Commercial Applications of Company Law 2019, please contact your Oxford Learning Resource Consultant.
Sample Pages
Read a sample from Commercial Applications of Company Law 2019, twentieth edition:
Request an inspection copy