Practical Legal Skills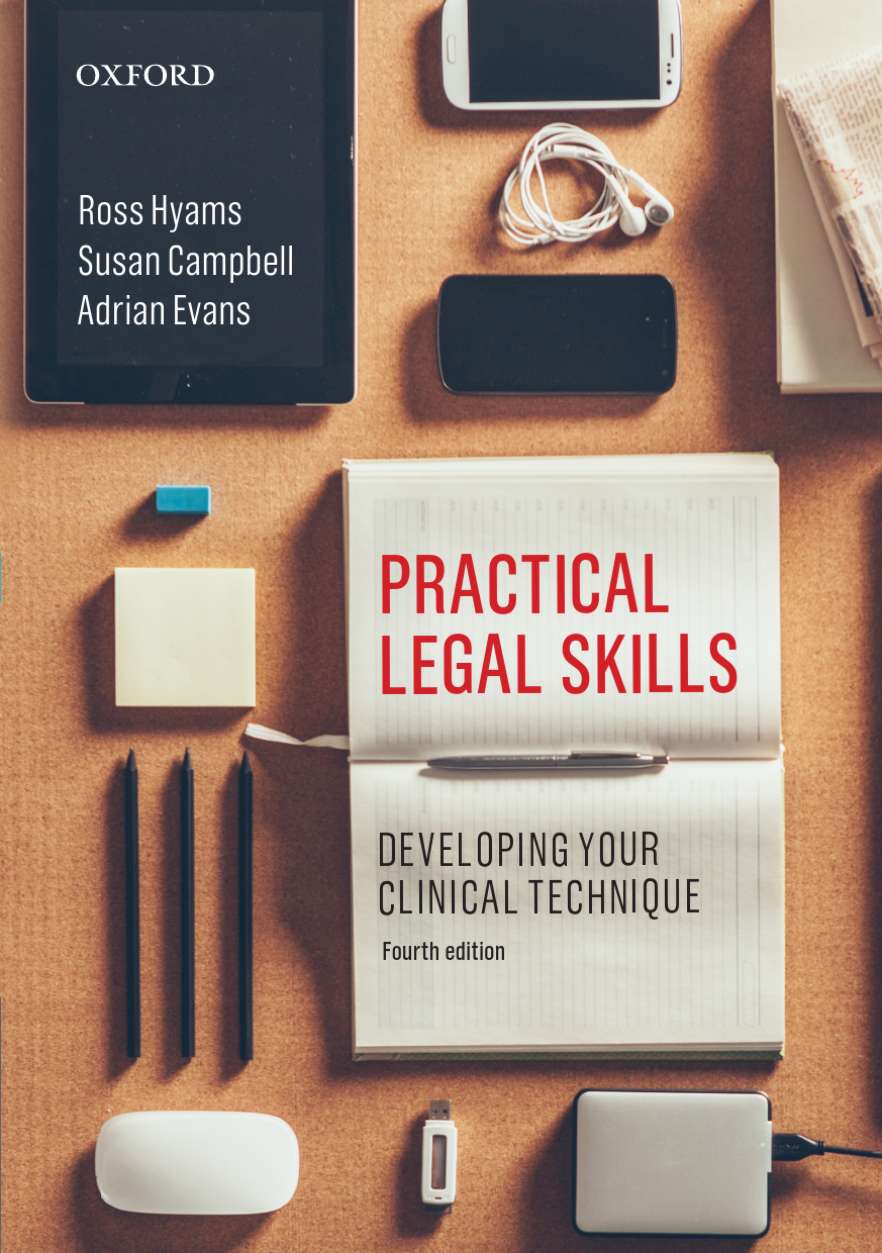 Practical Legal Skills
| | |
| --- | --- |
| ISBN: | 9780195529999 |
| Binding: | Paperback |
| Published: | 12 Mar 2014 |
| Availability: | 190 |
| Series: | |
$66.95 AUD
$76.99 NZD
Add To Cart
Other options: Ebook $60.95 AUD $69.99 NZD
Request an inspection copy
Description
Practical Legal Skills is an established and respected handbook for those engaged in legal training at all levels. Written by an expert author team, it covers the practical skills of lawyering, including interviewing, advising, advocacy, writing and drafting, and negotiation and mediation. The fourth edition also explores the ethical risks faced by clinical students and practitioners, and discusses the ethics, values and professional responsibilities surrounding the decisions lawyers' make. Exercises throughout allow readers to practise the full range of skills required in every-day legal work.
Clear and concise, Practical Legal Skills is the essential guide for preparing skilled and ethical lawyers in a rapidly changing environment of practice.
New to this edition
New chapter 'Keeping Out of Trouble' explores ethical methods and promotes ethical awareness, piloting a technique to assist law students and lawyers to identify the alternative ethical approach to problem solving
Expanded coverage of alternative dispute resolution, therapeutic jurisprudence, multidisciplinary and collaborative legal practice.
Contents
1. Introduction
The role of skills teaching in legal education
Content and method
The limitations of practical legal training
Enjoying law school
Skills and values
Skills teaching: The distinction between ethical content and process
Teacher and mentor values
Good ethics does not mean being squeamish
Learning with this book
2. Interviewing: Listening and Questioning
The structure of an interview
The three-stage process of interviewing
Ethical dangers in interviewing
3. Interviewing: Advising
Summarising the facts
Giving advice
Techniques for arriving at decisions
Barriers to communication
Professional rules and ethical considerations
4. Keeping out of Trouble
What sorts of ethical problems exist?
How to analyse an ethical problem
Common ethical problem areas
5. Writing and Drafting
Communication in writing: Why is it different?
Emails and other electronic communication methods
Document retention
Essential preliminaries
Ethical issues in letter writing
Why 'plain English'?
How to produce good 'plain English'
Words and sentences
Structuring a letter
Reports, memoranda, and other in-house documents
Drafting legal documents
6. Negotiation and Mediation
Negotiating
Mediation
Collaborative law
7. Advocacy
The objective of advocacy
Mainstream Magistrates/Local Court: Guilty pleas
Authors
Ross Hyams: Practicing solicitor and Senior Lecturer, Faculty of Law, Monash University
The late Susan Campbell AM: former practising solicitor, legal education consultant and Professorial Fellow, Faculty of Law, Monash University
Adrian Evans: Practising solicitor and Associate Professor, Faculty of Law, Monash University
Student Resources
The following resources are available for students using Practical Legal Skills for their course:
Sample Pages
Read a sample chapter from Practical Legal Skills: Developing Your Clinical Technique
Request an inspection copy