Law and Justice in Australia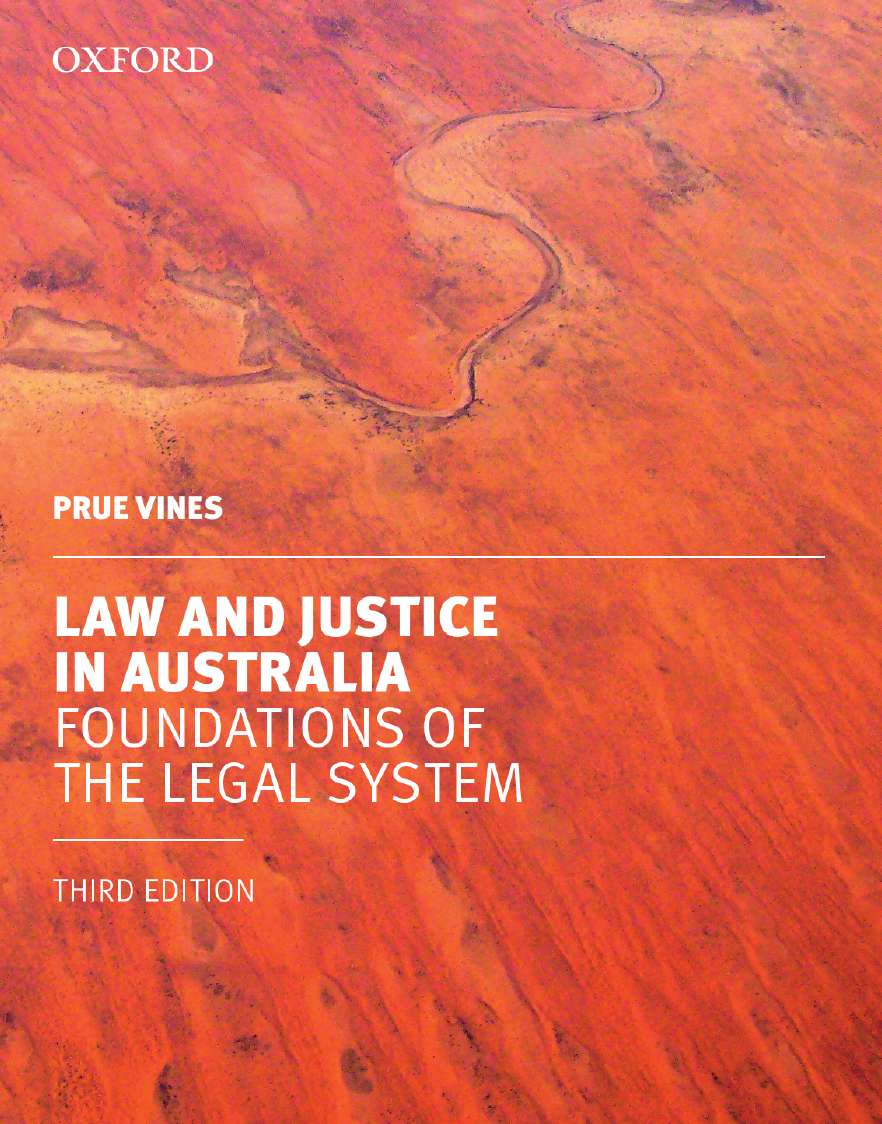 Law and Justice in Australia
| | |
| --- | --- |
| ISBN: | 9780195576566 |
| Binding: | Paperback |
| Published: | 26 Sep 2013 |
| Availability: | 211 |
| Series: | |
$118.95 AUD
$136.99 NZD
Add To Cart
Request an inspection copy
Description
Law and Justice in Australia takes a historical, critical and contextual approach to law and justice and offers readers a mix of stories, cases, article extracts and explanatory commentary. Written in a natural narrative style, this book encourages students to develop an in-depth understanding of the legal system and creates a sound basis for further law study.
The third edition prepares students to start thinking like lawyers; challenging them to deal with significant material, think deeply about law and society, and develop critical skills that can be applied to their future careers.
New to this edition
New chapter The Modern Lawyer draws on current research about the psychological wellbeing of lawyers and the development of personal and professional resilience within the context of the legal system of the twenty-first century
Renewed focus on providing a global perspective with international and comparative law
All chapters have been updated and engaging new stories added
OUP ANZ correction notice for Law and Justice in Australia: Foundations of the Legal System (2013).
Please note the following sentence on pg. 227 is incorrect, and the words 'and to his own children' are to be removed with immediate effect:
'…It was believed that he had made a practice of writing threatening letters to members of his wife's family and to his own children.'
OUP ANZ apologises for any harm associated with the error and is in the process of amending both print and digital editions of Law and Justice in Australia: Foundations of the Legal System (2013).
Contents
Part 1: The Australian Legal System
1. The Distinctiveness of Australian Law
2. The Place of Australia in Global Law
Part 2: The English Heritage
3. The Royal Courts and the Developments of the Common Law
4. Lawyers and the Early Development of the Doctrine of Precedent
Part 3: The Impact of the English Heritage
5. The Idea of Law in the Civil War and the Glorious Revolution
6. The Impact on the Indigenous Inhabitants
7. Britain and the Great Colonists: Using the Heritage
Part 4: Moving Towards Independence
8. The Nature and Scope of Parliamentary Democracy in the States
9. Federation as the Will of the People
10. Independent Attitudes, Race and Justice
Part 5: Drawing on the Heritage: Legal Institutions in Action
11. Classifying Australian Law
12. The Courts in Action
13. The Doctrine of Precedent
14. The Doctrine of Precedent in Action
15. Interpreting Statutes
16. The Modern Lawyer
17. Conclusion: The Importance of Law
Authors
Prue Vines: Professor, Director of First Year Studies, Co-Director – Private Law Research and Policy Group, School of Law, University of New South Wales
Sample Pages
Read a sample chapter from Law and Justice in Australia
Request an inspection copy