Real Property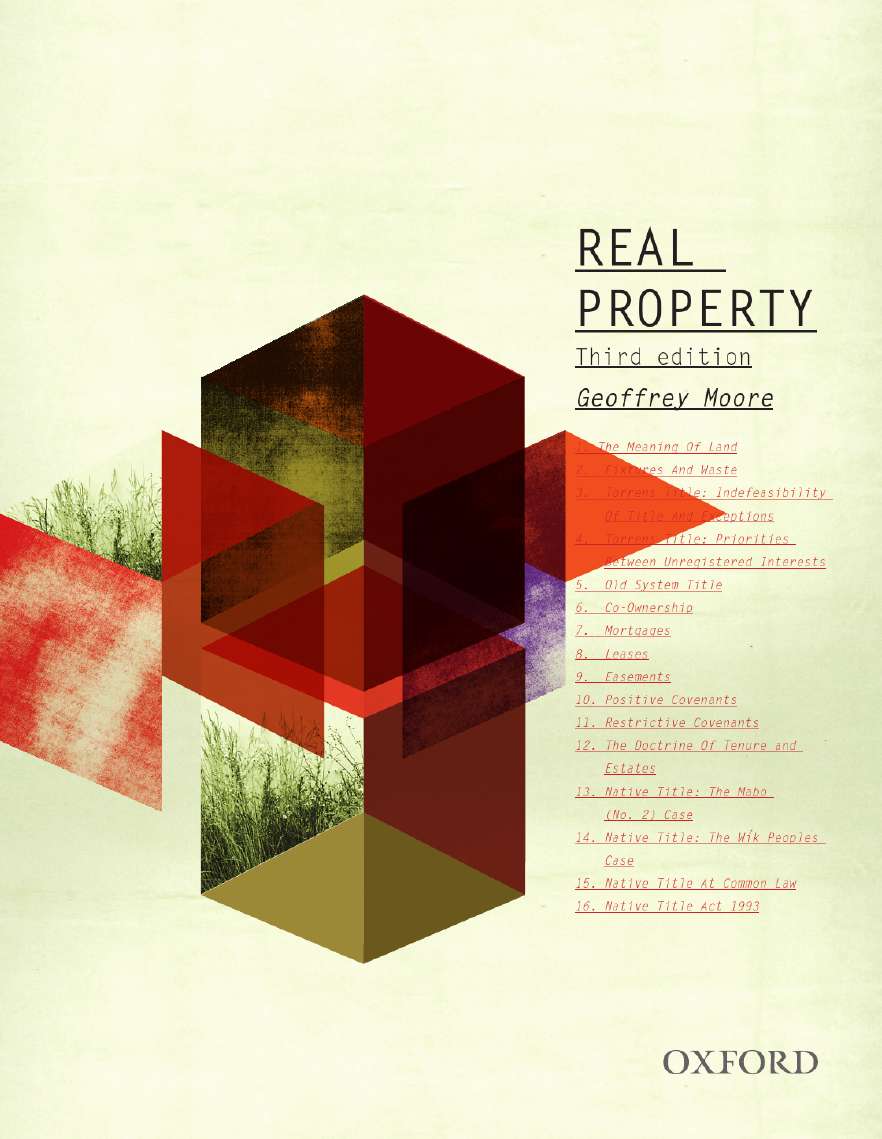 Real Property
| | |
| --- | --- |
| ISBN: | 9780195579031 |
| Binding: | Paperback |
| Published: | 31 Jan 2012 |
| Availability: | 12 |
| Series: | |
$117.95 AUD
$135.99 NZD
Add To Cart
Request an inspection copy
Description
Real Property 3rd edition covers the essential elements of property law for NSW. Perfect to introduce students to property law, this text is well-structured and written in a style that will appeal to undergraduates. It sets out the salient principles of property law together with quotations from cases and materials to enable the student to better appreciate the judicial reason behind the principles enunciated.
Key Features
Excellent length and weight of material for a one-semester course.
Clear, detailed explanation of key cases (particularly High Court cases and the judges' reasoning) makes the material more accessible to students.
Author's experience from both a professional and academic background ensures a well-rounded text.

New to this Edition
New chapters on common law and statutory Native Title
New chapters on Mabo and Wik
New chapter on the doctrine of tenures and estates
Updated throughout
Contents
1. The Meaning Of Land
2. Fixtures And Waste
3. Torrens Title: Indefeasibility Of Title And Exceptions
4. Torrens Title: Priorities Between Unregistered Interests
5. Old System Title
6. Co-Ownership
7. Mortgages
8. Leases
9. Easements
10. Positive Covenants
11. Restrictive Covenants
12. The Doctrine Of Tenure And Estates
13. Native Title: The Mabo (No. 2) Case
14. Native Title: The Wik Peoples Case
15. Native Title At Common Law
16. Native Title Act 1993
Authors
Geoffrey Moore , Senior Lecturer, University of Technology, Sydney
Geoffrey Moore is a senior lecturer in the Faculty of Law, University of Technology, Sydney. A Barrister of the Supreme Courts of NSW and ACT, and of the High Court of Australia, Geoff is a recognised expert in the area of property law.
Request an inspection copy