Law and Business eBook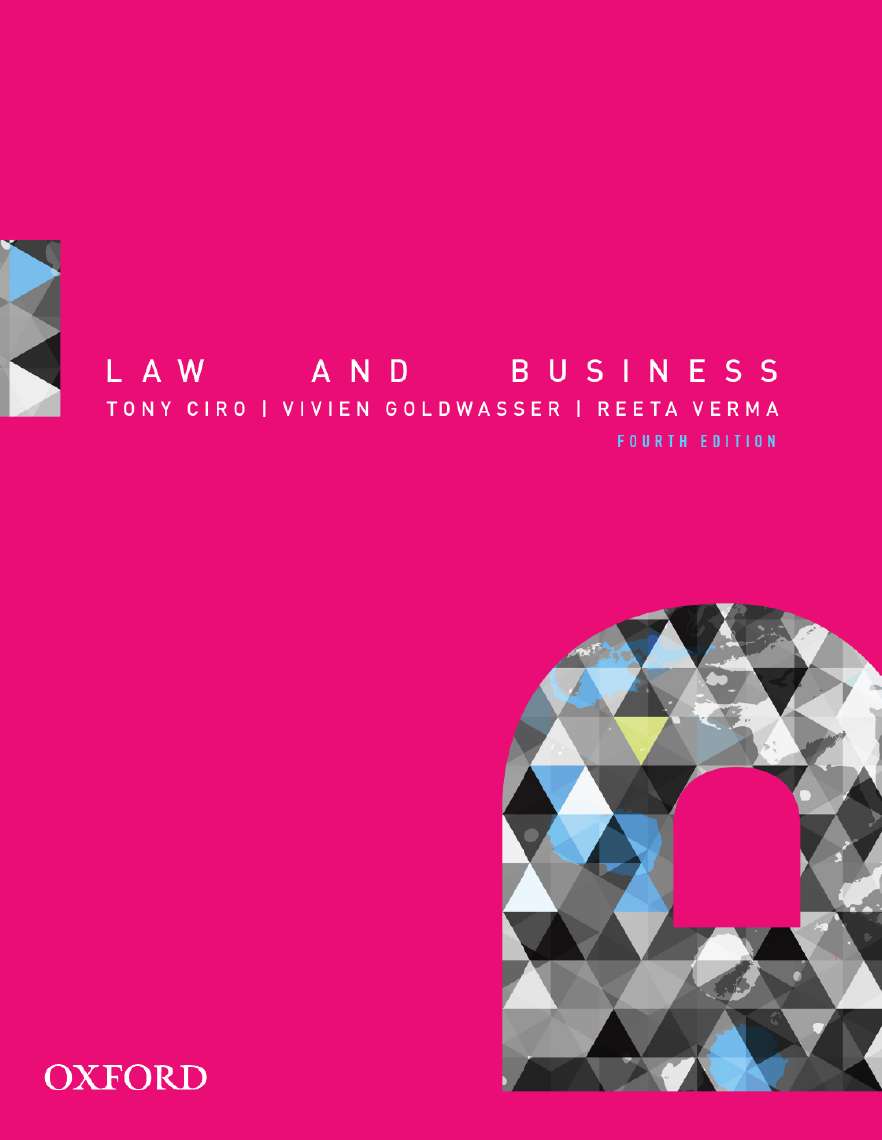 Law and Business eBook
| | |
| --- | --- |
| ISBN: | 9780195596939 |
| Binding: | Ebook |
| Published: | 18 Jul 2014 |
| Availability: | Available |
| Series: | |
$136.95 AUD
$156.99 NZD
Add To Cart
Description
Law and Business provides a clear and comprehensive grounding in all aspects of business law. Written specifically for business and management students, this book introduces the core topics of business law with accessible explanations of key legal principles, illustrated by case extracts, examples, activities and diagrams.Now in its fourth edition, Law and Business is even more student-friendly and easy to navigate; with problem-solving sections, activities and review questions that will help students develop the legal knowledge and practical skills needed to take into their future careers.

New to this edition
Updated throughout to reflect the changes in business law
Part 2 has been restructured for improved navigation, now with an introductory chapter on the principles of contract law
Revised and extended treatment of tort law, property and intellectual property law
New case extracts and pedagogy - more activities and examples, extended end of chapter material, risk management boxes
New chapter 18: Employment and Industrial Relations Law
Contents
PART 1: INTRODUCTION TO BUSINESS LAW
1. The Australian Legal System
Introduction
The nature and functions of law
Business and the law
Sources of law
Law in a global context: the influence of international law
Courts and tribunals in Australia
Alternative dispute resolution
2. The Australian Constitution
Federation
Australia Act 1986 (Cth)
The Bill of Rights debate
PART 2: CONTRACT AND TORT LAW
Introduction
Intentional and unintentional torts
Principles
Tort law reform
Duty of care
Defences
Vicarious liability
Remedies
Liability for negligent misstatements
Liability of auditors
4. Introduction to Contract Law
Introduction
Contract: meaning
Kinds of contract
Sources of contract law
The essential elements of a valid contract
Introduction
Definition of a valid contract
Elements of a valid contract.
Intention to create legal relations
Offer
To whom can offers be made?
Invitation to treat
Termination of an offer
The element of acceptance
Consideration
Certainty of terms
Introduction
Capacity to contract
Consequences of incapacity
Privity
Introduction
Terms versus representations
Express versus implied terms and the parol evidence rule
Conditions, warranties and innominate
terms
Exclusion clauses
Introduction
Discharge by consent
Discharge by operation of law: frustration
Discharge by breach of contract
Discharge by performance
9. Vitiating Factors and Rescission
Introduction
Vitiating factors
Key terms: void and voidable contracts
Mistake
Misrepresentation
Undue influence
Duress
Unconscionable conduct
Rescission
10. Consumer and Business Protection: Misleading and Deceptive Conduct
Introduction
Application, administration and enforcement of the Australian
Consumer Law
The ACL as an application law
Administration and enforcement—'the regulators'
Pre-conditions to liability
The definitions of 'person' and 'corporation'
In 'trade or commerce'
'Engaging in conduct'
Ancillary liability
'Mislead or deceive'
Impact of s 18 on the common law
Remedies
11. Consumer and Business Protection: Statutory Unconscionability
Introduction
Overview of legislative provisions
Administration and enforcement
Threshold elements
Section 21: unconscionable conduct in connection with goods or services
Section 22: factors to consider regarding 'unconscionable'
Section 20: unconscionable conduct within the meaning of the unwritten law
Unconscionability and business transactions: background
The ACCC small business guide
Remedies
Unfair contract terms
12. Remedies for Breach of Contract, Statutory Consumer Guarantees and Implied Terms
Introduction
Remedies for breach of contract: damages
Equitable remedies for breach of contract
Statutory consumer guarantees: Australian Consumer Law
Statutory implied terms: states and territories
Introduction
Types of agency relationships
Other types of relationships
Authority of agents
Ratification
Agents' rights and duties
Principal's rights and obligations
Third-party liability
Termination of agency
PART 3: BUSINESS ORGANISATIONS AND COMMERCIAL LAW
14. Choice of Business Structure
Introduction
Legal forms of association
Choice of business structure
Unincorporated business structures
Incorporated business structures: companies
15. Introduction to Company Law
Introduction
Formation of a company
Types of companies
Essential features of a company
Corporate contracting: Corporations Act assumptions
Company's internal rules
Meetings
Shares and transactions affecting share capital
Directors' and other officers' duties
Liability of directors and officers
Members' rights and remedies
16. Competition and Consumer Law
Introduction
Overview of competition law in Australia
Competition law and policy
Prohibited conduct under Part IV
17. Property and Intellectual Property Law
Introduction
Defining property
Possession and adverse possession
Torrens system
Caveats
Priorities under Torrens title
Easements and covenants
Acquisition of property by sale
Acquisition of property by gift
Trusts
Fixtures
General law priorities
Licences and leases37
What is intellectual property?
Copyright
Trade marks
Patent law
Registered designs
18. Employment and Industrial Relations Law
Introduction
Employer–employee relationship
Types of employment relationships
Duties of employers and employees
Workplace harassment, discrimination and bullying
Termination of employment
Appendix A: Learning Effectively in Business Law Subjects
Appendix B: A Guide to Legal Terminology
Authors
Tony Ciro - Professor, Faculty of Law and Business, Australian Catholic University
Vivien Goldwasser - Associate Professor and Reader, Faculty of Business, Economics and Law, La Trobe University
Reeta Verma - accredited mediator and lecturer in the Faculty of Business, Economics and Law, La Trobe University
Lecturer Resources
The following resources are available for lecturers who prescribe Law and Business for their course:
An Instructor's Resource Manual
PowerPoints with figures, tables and flowcharts from the text
Testbank with multiple-choice and true-false questions for each chapter
For more information about the resources for Law and Business, please contact your Oxford Territory Manager
Sample Pages
Read a sample chapter from Law and Business:
Request an inspection copy