Australian Intellectual Property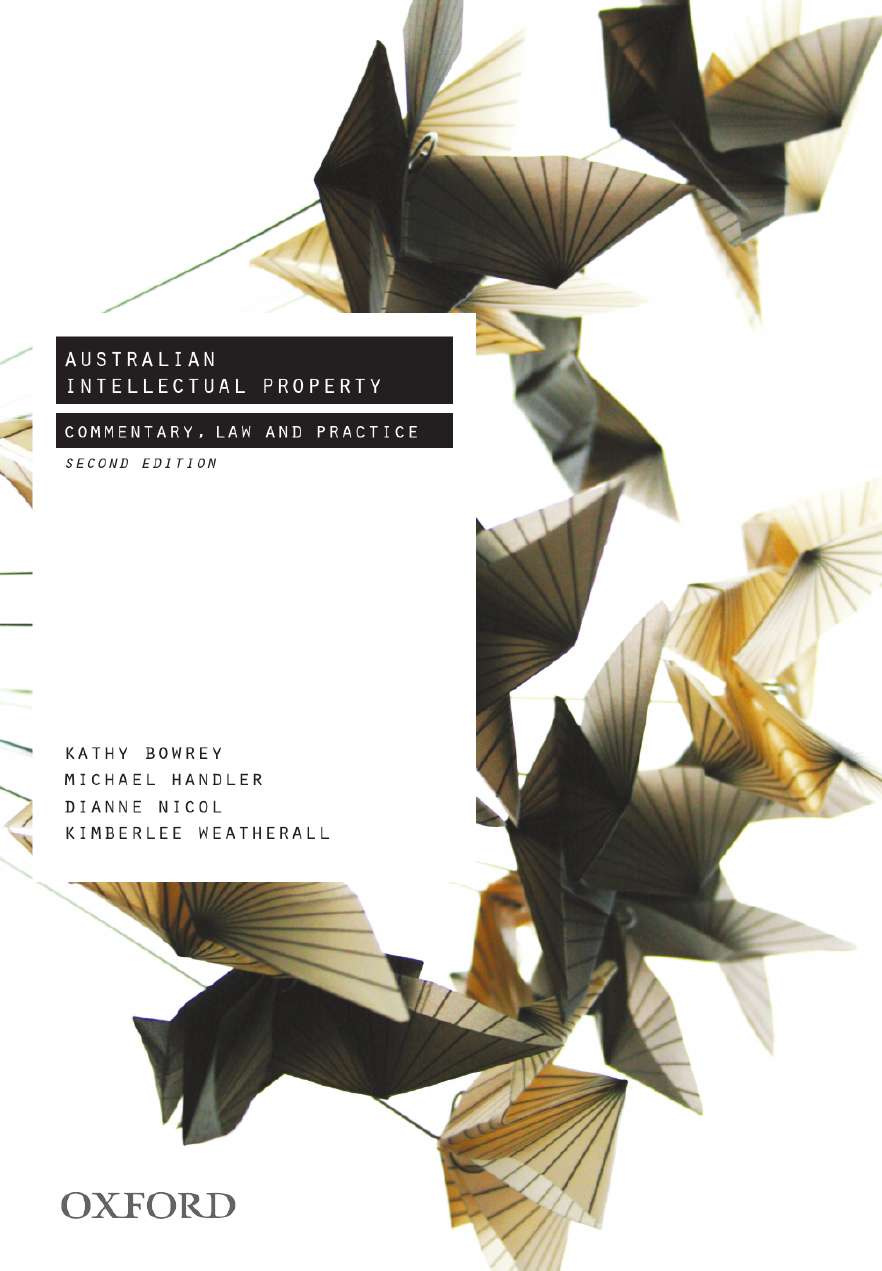 Australian Intellectual Property
| | |
| --- | --- |
| ISBN: | 9780195598469 |
| Binding: | Paperback |
| Published: | 22 Jun 2015 |
| Availability: | |
| Series: | |
$135.95 AUD
$158.99 NZD
Add To Cart
Request an inspection copy
Description
Intellectual property laws now impact on our daily lives in much more obvious ways than in the past and affect the way we access or engage with technology, medicine, nature, education and entertainment. This text uses broader social and economic contexts to locate the black letter law in the everyday, making it an accessible introduction to IP that will equip students with a foundation of legal knowledge for either entry level legal practice or to progress into more specialised postgraduate.
In relation to the key areas—copyright, designs, patents, confidential information, passing off and trade marks— the book covers:

a policy overview of the legal category, its history and emerging trends;

an explanation of the structure of the legislation and associated rights; and

leading case extracts to elucidate key legal principles and tensions.
Key Features
With a primary focus on Australian law, this text also has an awareness of comparative law, especially UK, EU and US law.

A unique casebook methodology and approach to the selection of cases which covers the basics, while keeping current policy challenges and international perspectives at the fore. In relation to difficult or controversial concepts, the authors provide: precedent; the current leading authority; a counterpoint (comparative perspective).
New to this edition
New Chapter —'Criteria for Subsistence of Copyright', to address the significant developments in this area of Australia law following Ice Tv Pty Ltd v Nine Network Australia Pty Ltd (2009).
Extensive discussion of the impact of the Intellectual Property Laws Amendment (Raising the Bar) Act 2012 (Cth), particularly in relation to substantive patent law.
Discussion of key policy proposals, including the Australian Law Reform Commission's Report No 122, Copyright and the Digital Economy (2013) and the Advisory Council on Intellectual Property's Review of the Designs System: Options Paper (2014).
New cases and extracts including: EMI Songs Australia Pty Ltd v Larrikin Music Publishing Pty Ltd (2011); National Rugby League Investments Pty Ltd v SingTel Optus Pty Ltd (2012); Roadshow Films Pty Ltd v iiNet Ltd (2012); Seafolly Pty Ltd v Fewstone Pty Ltd (2014); Research Affiliates LLC v Commissioner of Patents (2014); D'Arcy v Myriad Genetics Inc (2014); Apotex Pty Ltd v Sanofi-Aventis Australia Pty Ltd (2013); Generic Health Pty Ltd v Bayer Pharma Aktiengesellschaft (2014); Bodum v DKSH Australia Pty Ltd (2011); DC Comics v Cheqout Pty Ltd (2013); and Cantarella Bros Pty Ltd v Modena Trading Pty Ltd (2014) and many more.
Contents
1. Introduction: Australian Intellectual Property Law in the Global Marketplace
Introduction
IP legislation
Methodology
Australian IP policy management in a global context
Legal foundations: The Constitution
Philosophical justifications and slippery concepts
2. Copyright Law: History, Justifications and Basic Principles
Introduction
History and justifications
Copyright principles
3. Criteria for Subsistence of Copyright
Introduction
Originality
Material form
Qualification
4. Copyright Subject Matter
Introduction
Definitions and interpretive approaches
Part III of the Copyright Act: Copyright in original literary, dramatic, musical and artistic works
Part IV of the Copyright Act: Copyright in subject matter other than works
Denial of copyright protection?
5. Ownership and Exploitation of Copyright
Introduction
Ownership of copyright in works
Exploitation of copyright
Restrictions on freedom of contract: Unfair bargains
6. Infringement of Copyright
Introduction
Direct infringement: General principles
The exclusive rights of the copyright owner
Liability for authorising infringement
Indirect infringement
Criminal offences
Exceptions to infringement
7. Other Rights of Creators and Owners
Introduction
Authors' moral rights
Performers' protection
Resale royalty rights of visual artists
Traditional cultural expressions
Anti-circumvention rules
Circuit layout protection
8. Registered Designs
Introduction
History, justifications and context
The registration process
What is a registrable design?
Ownership and duration
Exclusive rights and infringement
Defences
The overlap with copyright protection
9. Patent Law: Justification, History and Context
Introduction
Justification for the patent system
History of the patent system
Context: The framework of the Australian patent system
Other patent-like IP rights
10. The Subject Matter of Patentable Inventions: Manner of Manufacture
Introduction
The subject matter requirement
Subject matter at the borderline of patentability
Methods of treatment
Morality, public interest and general inconvenience
Threshold requirements for newness and inventiveness
11. The Patent Criteria
Introduction
Novelty
Inventive step
Innovative step
Usefulness
Secret use
12. Disclosure and Claiming Requirements
Introduction
Legislative requirements for disclosure and claiming
Rules of construction
The disclosure requirement
The claiming requirements: Lack of fair basing
The new sufficiency and support requirements for disclosure and claiming
13. Patent Ownership, Rights and Limitations
Introduction
Ownership
Infringement
Exemptions from infringement
Licensing of patent rights and limitations on licence conditions
Uses without the authorisation of the patentee
14. Trade Secrets: Protection of Confidential Information
Introduction
Sources of law protecting confidential information
The distinction between confidential information and property
The relationship between trade secrets and other forms of IP
Elements of the equitable action for breach of confidence
The public interest and iniquity defences
Duration of the obligation
15. Trade Marks, Passing Off and Protecting Trade

Reputation: History, Justifications and Context
Introduction
History of passing off and trade mark protection
Justifications for protecting trade marks and indicia
Current context
16. Passing Off and Consumer Protection Legislation
Introduction
Tests for passing off and contravention of consumer protection legislation
Reputation
Misrepresentation, or misleading or deceptive conduct
Damage
17. Registered Trade Marks: Procedural and Substantive Requirements for Registration
Introduction
Types of trade marks
The registration process
The definition of a trade mark: A 'sign'
Examination, opposition and cancellation grounds
Absolute grounds of refusal
Relative grounds of refusal
18. Registered Trade Marks: Infringement, Defences,

Loss of Rights and Exploitation
Introduction
Infringement
Defences
Loss of rights
Exploitation
19. Intellectual Property Litiga tion and Remedies
Introduction
Litigation
Interlocutory remedies
Final remedies
Innocent infringement and safe harbour for carriage service providers
Unjustified threats of infringement proceedings
Criminal offences
Authors
Kathy Bowrey – Professor, Faculty of Law, University of New South Wales
Michael Handler – Associate Professor and Associate Dean (Education), Faculty of Law, University of New South Wales
Dianne Nicol – Professor and Chair of Academic Senate, Law Faculty, University of Tasmania
Kimberlee Weatherall – Associate Professor, Sydney Law School, The University of Sydney
Sample Pages
Request an inspection copy