Media Law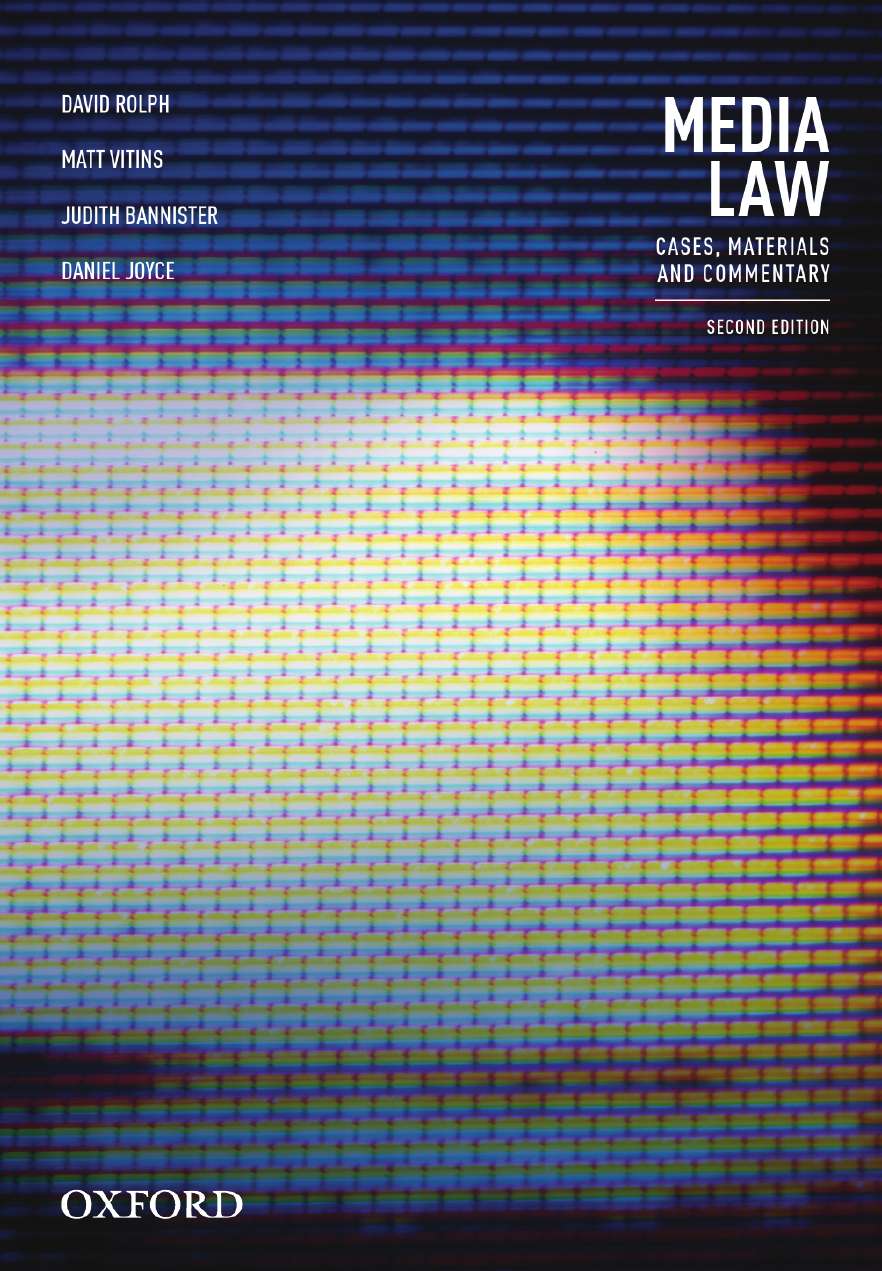 Media Law
| | |
| --- | --- |
| ISBN: | 9780195598483 |
| Binding: | Paperback |
| Published: | 30 Jul 2015 |
| Availability: | |
| Series: | |
$137.95 AUD
$157.99 NZD
Add To Cart
Request an inspection copy
Description
Media Law: Cases Materials and Commentary 2nd edition is an engaging and accessible introduction to the dynamic area of media law. It examines the basic principles of the substantive areas of law affecting the practice of contemporary media organisations including defamation, invasion of privacy and freedom of information.
Using carefully selected excerpts from recent cases and legislation and insightful author commentary, the book introduces important media concepts and helps readers put these into both legal and cultural contexts. The second edition incorporates critical perspectives from a range of academic disciplines including media and cultural studies to offer conceptual frameworks in which Australian media law can be understood and interpreted.
New to this edition
Comprehensively updated with current legislation, recent High Court decisions and discussion of contemporary, topical case studies and reports.

New author Daniel Joyce (UNSW) brings additional expertise in media law, particularly freedom of expression.

Part 2: Media Regulation has been substantially revised with new chapters on 'Print Media and Journalists', 'Broadcasting Services' and 'Online Content' and includes discussion of the Finkelstein Inquiry and Convergence Review

Chapter 15: Information Privacy updated to reflect amendments to the Privacy Act and the new Australian Privacy Principles.
Contents
PART 1: INTRODUCTION
1. The Social and Political Role of the Media
1.1 Social and political
1.2 Sectors in Australian media
1.3 The contents of this book
2. Freedom of Expression
2.1 Freedom of expression
2.2 Rationales for freedom of expression
2.3 Express protections of freedom of expression
2.4 The implied freedom of political communication in the Australian Constitution
2.5 Media freedom and freedom of expression
PART 2: MEDIA REGULATION
3. Print Media and Journalists
3.1 The Leveson Inquiry
3.2 The Finkelstein Inquiry
3.3 The Convergence Review
3.4 The Australian Press Council
3.5 Media Entertainment and Arts Alliance—Code of Ethics
4. Broadcasting Services
4.1 Rationales and regulatory principles
4.2 Broadcasting services
4.3 The co-regulatory scheme
4.4 Commercial television broadcasting services
4.5 Commercial radio
4.6 Subscription television
4.7 Community broadcasting services
4.8 Class licensed services
4.9 International broadcasting services
4.10 Enforcement
4.11 National broadcasting services
4.12 Digital broadcasting
5. Online Content
5.1 A brief history of online content regulation
5.2 Online content scheme
5.3 Safe harbours
6. Media Ownership
6.1 Pluralism and diversity
6.2 The evolution of Australian media ownership laws
6.3 Ownership and control under the Broadcasting Services Act
6.4 Competition
6.5 Deregulation and re-regulation
6.6 Foreign investment
PART 3: DEFAMATION AND THE PROTECTION OF REPUTATION
7. Liability for Defamation
7.1 Preliminary matters
7.2 Defamatory capacity and meaning
7.3 Identification
7.4 Publication
8. Defences to Defamation
8.1 Justification
8.2 The Polly Peck defence
8.3 Contextual truth
8.4 Absolute privilege
8.5 Qualified privilege
8.6 Fair comment and honest opinion
8.7 Innocent dissemination
8.8 Triviality
9. Remedies for Defamation
9.1 Damages
9.2 Injunctions
9.3 Offers of amends
9.4 Alternative remedies for defamation
10. Injurious Falsehood, Negligence and Misleading or Deceptive Conduct
10.1 Injurious falsehood
10.2 Negligence
10.3 Misleading or deceptive conduct
PART 4: OPEN JUSTICE AND CONTEMPT
11. The Principle of Open Justice
11.1 The principle of open justice
12. Contempt of Court
12.1 What is a court?
12.2 Sub judice contempt
12.3 Types of conduct amounting to sub judice contempt
12.4 Scandalising the court
12.5 Other forms of contempt of court
12.6 Penalties for contempt of court
PART 5: PRIVACY
13. Privacy
13.1 The concept of privacy
13.2 Privacy as a human right
13.3 No common law right to privacy?
13.4 Privacy in comparative perspective
13.5 Indirect protection of privacy
13.6 Trespass to land
13.7 Private nuisance
13.8 Defamation
14. Breach of Confidence
14.1 The elements of the cause of action
14.2 The development of breach of confidence as a means of privacy protection in the United Kingdom
14.3 Case studies from Australian law
15. Information Privacy
15.1 The Privacy Act
15.2 Interception
15.3 Surveillance
PART 6: OFFENSIVE PUBLICATIONS
16. Offensive Publications
16.1 Classification and censorship
16.2 Obscenity
16.3 Blasphemy
16.4 Sedition
16.5 Racial, religious and homosexual vilification
PART 7: FREEDOM OF INFORMATION
17. Freedom of Information
17.1 A history of secrecy
17.2 Rationales and objects
17.3 Official secrecy and information management
17.4 Proactive disclosure—disclosure logs
17.5 Right to access documents under FOI
17.6 Exemptions
17.7 Culture Change—Information Commissioners
17.8 Review of FOI decisions
17.9 Does FOI work for the media?
Authors
David Rolph - Associate Professor, Faculty of Law, University of Sydney
Matt Vitins - Senior Associate, Allens
Judith Bannister - Senior Lecturer, Adelaide Law School, University of Adelaide
Daniel Joyce - Lecturer, UNSW Law
Sample Pages
Read a sample from Media Law 2nd edition:
Request an inspection copy