Street on Torts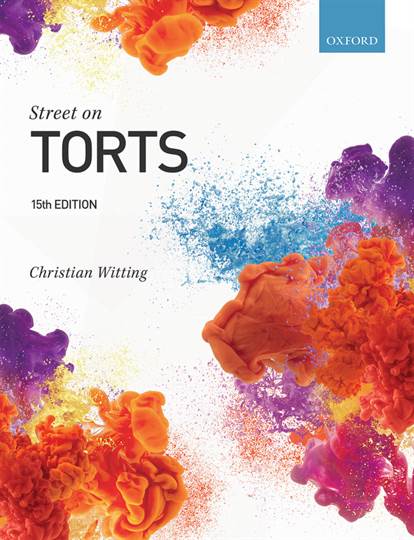 Street on Torts
| | |
| --- | --- |
| ISBN: | 9780198811169 |
| Binding: | Paperback |
| Published: | 2 Aug 2018 |
| Availability: | 20 |
| Series: | |
$73.95 AUD
$85.99 NZD
Add To Cart
Request an inspection copy
Description
Street on Torts provides an insightful and thorough treatment of tort law with a focus on key concepts and clear explanations. This book builds upon the excellent legacy of its previous, celebrated authors with a renewed focus on the needs of today's students.

Alongside perceptive coverage of the key principles of tort law, succinct case extracts and accompanying analyses allow students to consider the law in context and understand how it is applied in practice. Key Issues boxes help to guide students through each chapter, whilst clear conclusions offer the opportunity for consolidation.

The fifteenth edition of the book also sees the introduction of problem questions at the end of each chapter, which allow students to actively apply their knowledge of the law whilst practising essential analytical and essay writing skills.

NEW TO THIS EDITION
Problem questions have been added to the end of each chapter to allow students the opportunity to apply their learning, think critically and analytically about the topic, all whilst practising valuable examination and essay writing skills. Answer guidance is provided in the accompanying online resources for the book
Introduction of new duty of care chapters centred on bodily injury/psychiatric illness and property damages/purely financial loss.
Extensive restructuring and re-writing of chapters on causation, breach of statutory duty, privacy, and remedies
New conclusions section added to each chapter to help student consolidate their learning
Coverage of the Consumer Rights Act 2015
Coverage of key cases including: Hughes-Holland v BPE Solicitors (on scope of duty of care); Dunnage v Randall (on responsibility/standard of care while under a mental impairment); OPO v Rhodes (on intentional infliction of harm); Patel v Mirza (on the illegality defence); Campbell v Peter Gordon Joiners Ltd (on breach of statutory duty); Willers v Joyce (on malicious commencement of civil proceedings); Armes v Nottinghamshire CC, Cox v Ministry of Justice, and Mohamud v Wm Morrison Supermarkets plc (on vicarious liability); Fish & Fish Ltd v Sea Shepherd UK (on accessory liability); andKnauer v Ministry of Justice (on fatal accidents damages)
New, 2-colour text design
Contents
Part I. Introduction
1. Overview of Tort Law
Part II. Negligent Invasions of Personal, Property, and Financial Interests
2. Duty of Care I: Foundational Principles
3. Duty of Care II: Bodily Injury and Psychiatric Illness
4. Duty of Care III: Property Damage and Purely Financial Losses
5. Duty of Care IV: Public Authorities
6. Breach of Duty
7. Causation and Remoteness
8. Defences to Negligence
9. Liability for Defective Premises and Structures
Part III. Intentional Invasions of Interests in the Person and Property
10. Trespass to the Person and Related Torts
11. Wrongful Interference with Goods
12. Trespass to Land
13. Defences to Intentional Torts against the Person or Property
Part IV. Misrepresentation-based and 'Economic' Torts
14. False Representations
15. The General Economic Torts
Part V. Torts Involving Strict or Stricter Liability
16. Product Liability
17. Nuisance
18. The Rule in Rylands v Fletcher
19. Breach of Statutory Duty
Part VI. Interests in Reputation. Defamation
20. Defamation: Foundational Principles
21. Defences and Remedies in Defamation
Part VII. Privacy
22. Privacy Actions in Tort
Part VIII. Misuse of Process and Public Powers
23. Misuse of Process and Public Powers
Part IX. Parties and Remedies
24. Vicarious Liability
25. Capacity and Parties
26. Remedies
Authors
Christian Witting – Professor of Private Law, Queen Mary University of London (QMUL)
Student Resources
Street on Torts, fifteenth edition, is accompanied by online resources, with:
An answer guidance for each of the problem questions in the book
An additional chapter on animal torts and updates with details of key developments in the law since publication.
Reviews
"Street on Torts is an excellent text. It covers all the key and vital elements and will not leave you lacking in understanding." - Nkem Adeleye, Birmingham City University

"Excellent book. The sort of book that I would have wanted as a student. " - John O'Leary, Anglia Ruskin University

"I have been a fan of this text for many years; this latest edition follows in the excellent tradition of earlier editions." - The Student Law Journal
Request an inspection copy