How Brands Grow: Part 2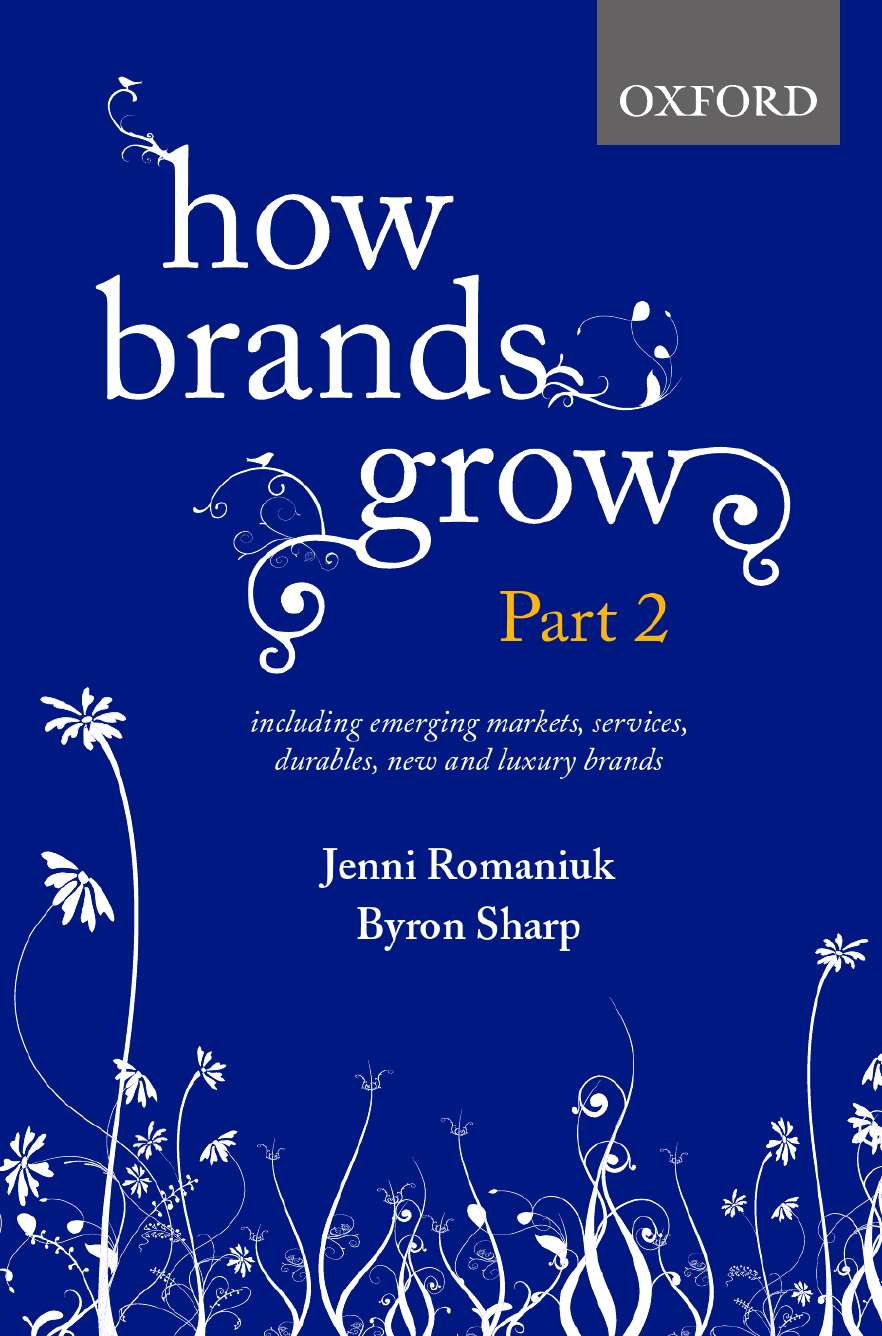 How Brands Grow: Part 2
| | |
| --- | --- |
| ISBN: | 9780195596267 |
| Binding: | Hardback |
| Published: | 12 Oct 2015 |
| Availability: | 999 |
| Series: | |
$55.95 AUD
$63.99 NZD
Add To Cart
Request an inspection copy
Description
Growth to survive is a marketing mantra.
Following the success of international bestseller, How Brands Grow: What Marketer's Don't Know, comes a new book that takes readers further on a journey to smarter, evidence-based marketing.
This book is about fundamentals of buying behaviour and brand performance – fundamentals that provide a consistent roadmap for brand growth, and improved marketing productivity.
Ride the next wave of marketing knowledge with insights such as how to build Mental Availability, metrics to assess the strength of your brand's Distinctive Assets and a framework to underpin your brand's Physical Availability strategy. Learn practical insights such as smart ways to look at word of mouth and the sort of advertising needed to attract new brand buyers.
How Brands Grow Part 2 is also a must read for marketers working in emerging markets, services, durables and luxury categories, with evidence that will challenge conventional wisdom about growing brands in these markets. If you've ever wondered if word of mouth has more impact in China, if luxury brands break all the rules of marketing or if online shoppers are more loyal to brands or retailers, this book is for you.
If you read and loved How Brands Grow - its time to move to the next level of marketing. And if you haven't… get ready - This book will change the way you think about marketing forever.
Contents
Chapter 1 How Brands Grow
Byron Sharp and Jenni Romaniuk
How to grow
Can you engineer your brand loyalty?
The Law of Double Jeopardy
Penetration rules!
Why does Double Jeopardy occur?
How to Grow
Dismantling barriers to market share growth
Meaningful loyalty metrics
Conclusion
Chapter 2 Target the (whole) market
Byron Sharp and Jenni Romaniuk
All that glitters....
The Heavy buyer fallacy
Why Our light buyers really matter
Pareto says you can't ignore light buyers
What about heavy category buyers?
The natural monopoly law
Resist the seduction of sole loyalty
Sophisticated mass marketing
Don't shoot yourself with target marketing
Conclusion
Chapter 3 Where new customers come from
Byron Sharp and Jenni Romaniuk
Competitive brands have similar customer bases
What about service categories?
Loyal Switchers
Using Predictable Customer overlap
Take the McDonald's challenge
Insights from Partitions
Are local brands a separate sub-market?
Conclusion
Chapter 4 The Foundations of Mental Availability
Jenni Romaniuk
The Brand = Our memories
We all have similar brains
Memory affects buying, and buying affects memory
Our brain when buying
Cued retrieval
Building mental availability
Psst...a secret about big brands
Not one 'consideration set', many context-specific evoked sets
Mental availability metrics
Building fresh brand memories
Brand positioning = your advertised messages
What about Country of Origin?
Love, hate and the wide chasm between them
Conclusion
Chapter 5 Leveraging Distinctive Assets
Jenni Romaniuk
Meet our Owl
What's in a (brand) name?
The many types of Distinctive assets
Distinctiveness ≠ differentiation
Step 1: Choosing wisely
Distinctiveness measurement in action
Step 2: How to Execute well
Distinctive assets and mental availability
Distinctive assets and physical availability
Distinctive assets and the digital world
Compiling a Distinctive asset palette
Conclusion
Chapter 6 Achieving Reach
Jenni Romaniuk
Welcome to the new media world
What does 'reach' really mean?
But I can't plan for reach because.....
No more excuses!
Advertise where you sell
(More) valuable audience: Non/light brand buyers
Choosing media platforms
Mixing a media cocktail
Conclusion
Chapter 7 Word of mouth facts worth talking about
Jenni Romaniuk and Robert East
The lure of Word of Mouth
Should I focus on Positive or Negative WOM?
WOM = conversation (about brands)
Experience with the brand matters
Word of mouth—What's normal?
Positive WOM has the most impact when….
WOM as a reinforcer
Conclusion
Chapter 8 The Fundamentals of Physical Availability
Magda Nenycz-Thiel, Jenni Romaniuk and Byron Sharp
What makes something 'easy to buy'?
Presence: Is your brand where it needs to be?
Grocery: Channelling Choice
Achieving market coverage
A multi-channel world
Useful laws of shopping behaviour
Shopping around
Double Jeopardy in retailer choice
The Duplication of Shopping Law
Channel management for services: Selling versus Servicing
Relevance: Is your brand buyable?
Prominence: Is your brand easy to spot?
Conclusion
Chapter 9 Online shopping…is it different?
Magda Nenycz-Thiel and Jenni Romaniuk
Growth in e-commerce
Access to a shopper world with no boundaries..?
Do you need an online presence?
What differences does the online channel bring?
How does online impact loyalty patterns and levels?
And for retailers?
Shopping is quick. Online too.
Key points when competing for the online shopper
Chapter 10 New Brands and Acquiring New Buyers
Jenni Romaniuk and Byron Sharp
A special occasion: the birth of a new brand
The 'arduous' path to first purchase
New brands grow in the same way as existing brands
Who buys first?
A two-stage launch strategy
What about loyalty?
Priority mental structures for a new brand (buyer)
Conclusion
Chapter 11 And finally, a bit of Luxury
Byron Sharp and Jenni Romaniuk
Does familiarity breed contempt?
If I own it does it lose its sparkle?
Does 'easily available' cheapen a luxury brand?
Does small mean niched?
Conclusion
Authors
Jenni Romaniuk is Research Professor and Associate Director (International) of the Ehrenberg-Bass Institute, at the University of South Australia. Jenni's research covers Brand equity, Mental Availability, Brand Health Metrics, Advertising effectiveness, Distinctive assets, Word of mouth and the role of Loyalty and Growth. She is the developer of the Distinctive Asset Grid, which is used by companies around the world to assess the strength and strategic potential of their brand's distinctive assets. She is also a pioneer in Mental Availability measurement and metrics.
Jenni is Executive Editor (International) of the Journal of Advertising Research, and is on the Editorial review board for four other journals. She has published in journals such as the Journal of Business Research, Journal of Marketing Management, Marketing Theory and European Journal of Marketing.
Dr Byron Sharp is Professor of Marketing Science, and the Director of the Ehrenberg-Bass Institute, at the University of South Australia. The Ehrenberg-Bass Institute's research is used and financially supported by many of the world's leading corporations, including Coca-Cola, Colgate-Palmolive, First National Bank, General Motors, Procter & Gamble, Turner Broadcasting, CBS, ESPN, and Unilever.
Byron's book How Brands Grow was voted marketing book of the year by AdAge readers in 2013. He has also published over 100 academic papers and is on the editorial board of five journals. He recently co-hosted with Professor Jerry Wind two conferences at the Wharton Business School on the laws of advertising, and co-edited the 2009 and 2013 special issues of the Journal of Advertising Research on scientific laws of advertising.
His university textbook Marketing: theory, evidence, practice (Oxford University Press) was released in 2013.
Contributors
Dr Magda Nenycz-Thiel is a Senior Researcher at the Ehrenberg-Bass Institute for Marketing Science, University of South Australia (www.MarketingScience.info). Magda's main research area is retailing, with particular focus on private-label brands, category growth and online shopping behaviour.
Robert East is emeritus professor of consumer behaviour at Kingston Business School, London and adjunct professor at Ehrenberg-Bass Institute for Marketing Science, University of South Australia. He trained as a social psychologist and is a postgraduate of London Business School. His research focuses on store use, consumer loyalty and brand switching and word-of-mouth patterns.
Sample Pages
Request an inspection copy