Business Research Methods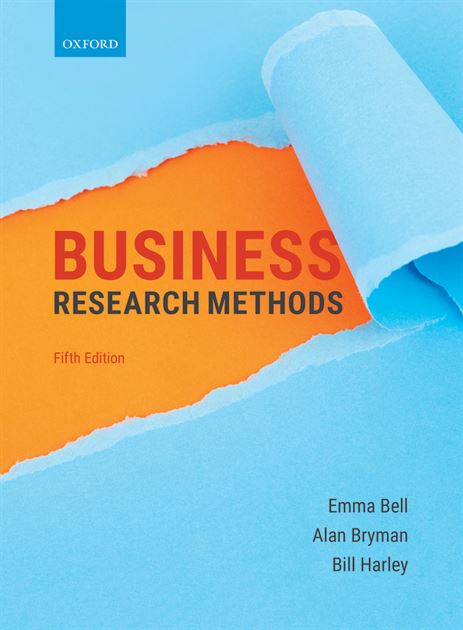 Business Research Methods
| | |
| --- | --- |
| ISBN: | 9780198809876 |
| Binding: | Paperback |
| Published: | 9 Nov 2018 |
| Availability: | 84 |
| Series: | |
$108.95 AUD
$125.99 NZD
Add To Cart
Request an inspection copy
Description
Business Research Methods is the complete introduction to doing business research and is an ideal guide for students embarking on a research project.

Developed specifically with business and management students in mind, this textbook explores the nature and purpose of business research and the issues it entails, while also providing students with practical advice through 'Tips and skills' boxes. In addition to a broad range of relevant examples, the book features a substantial discussion of ethics, and a strong emphasis on the most frequent challenges faced by students, such as choosing a research question, planning a project, and writing it up.

Fresh voices and perspectives run throughout this edition. New author, Bill Harley, further internationalizes the book's coverage, based on his expertise in the Australian business and management context. Also hear from Amrit, Jordan, Anna, Ed, and Alex - an additional five students whose personal insights and advice in the 'student experience' feature help you avoid common mistakes, and follow their successful strategies when undertaking your own research project.

New to this Edition
An additional five students provide first-hand accounts of their experience of doing business research, with accompanying videos available online
Extended material on 'ethics creep', 'big data', and writing academically
E-Research is now woven throughout the text, better reflecting how internet research methodology is taught
A new test bank and new discussion questions for lecturers are available as part of the educator-only online resources
This edition has been extensively streamlined to provide even more focused coverage of the key areas of business research
Jargon has been simplified throughout and clear, full explanations of methodologies and philosophies are provided

This title is available as an eBook. Please contact your Sales and Learning Resource Consultant for more information.
Contents
Part 1: The research process
1. The nature and process of business research
2. Business research strategies
3. Research designs
4. Planning a research project and developing research questions
5. Getting started. reviewing the literature
6. Ethics in business research
7. Writing up business research
Part 2: Quantitative research
8. The nature of quantitative research
9. Sampling in quantitative research
10. Structured interviewing
11. Self-completion questionnaires
12. Asking questions
13. Quantitative research using naturally occurring data. structured observation and content analysis
14. Secondary analysis and official statistics
15. Quantitative data analysis
16. Using IBM SPSS statistics
Part 3: Qualitative research
17. The nature of qualitative research
18. Sampling in qualitative research
19. Ethnography and participant observation
20. Interviewing in qualitative research
21. Focus groups
22. Language in qualitative research
23. Documents as sources of data
24. Qualitative data analysis
25. Computer-assisted qualitative data analysis. using NVivo
Part 4: Mixed methods research
26. Breaking down the quantitative/qualitative divide
27. Mixed methods research. combining quantitative and qualitative research
Authors
Emma Bell – Professor of Organisation Studies, The Open University
Alan Bryman – Professor of Organizational and Social Research, Formerly of The University of Leicester
Bill Harley – Professor of Management, The University of Melbourne
Student Resources
Business Research Methods is accompanied by a suite of online student resources that include:
Multiple-choice questions
Research Project guide
Interviews with students
Data sets
Using Excel in data analysis
Web links
Lecturer Resources
The following resources will be available for lecturers who prescribe Business Research Methods for their course:
Test bank
Discussion questions
PowerPoint slides
Lecturer's guide
Case studies
Figures and plates from the text
VLE cartridge

For more information about the resources for Business Research Methods, please contact your National Sales and Learning Resource Consultant.
Request an inspection copy