Oxford Handbook of General Practice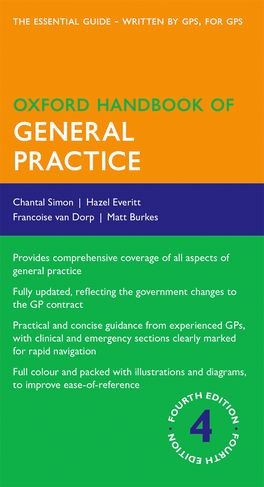 Oxford Handbook of General Practice
| | |
| --- | --- |
| ISBN: | 9780199671038 |
| Binding: | Flexicover |
| Published: | 8 Apr 2014 |
| Availability: | 36 |
| Series: | |
$75.95 AUD
$87.99 NZD
Add To Cart
Description
Fully revised to reflect the new changes to the GP contract, this fourth edition of the best-selling Oxford Handbook of General Practice provides a practical guide to all aspects of general practice, from vital clinical information, to valuable practical guidance from experienced GPs. This is the essential guide for all those working in general practice.

Comprehensively covering everything a doctor will need to work in, or manage a GP practice, this handbook will ensure the reader is always up-to-date with the latest guidelines, the most recent protocols, and cutting-edge clinical information. With concise, bullet-point information presented in the trusted Oxford Handbook style, the chapters are now colour coded to ensure the reader can find vital emergency or clinical information without delay. Fully illustrated, and now packed with even more figures, diagrams and tables to improve ease-of-reference, the reader will always have the information they need at their fingertips.
Contents
1: What is General Practice
2: Contracts
3: Practice management
4: Education, monitoring, and research
5: Consulting and certification
6: Prescribing
7: Minor surgery
8: Healthy living
9: Chronic disease management and elderly care
10: Cardiology and vascular disease
11: Respiratory medicine
12: Endocrinology
13: Gastrointestinal medicine
14: Renal medicine and urology
15: Musculoskeletal problems
16: Neurology
17: Dermatology
18: Infectious diseases
19: Haematology and immunology
20: Breast disease
21: Gynaecology
22: Sexual health and contraception
23: Pregnancy
24: Child health
25: Ear, nose, and throat
26: Ophthalmology
27: Mental health
28: Cancer and palliative care
29: Emergencies in general practice

Authors
Chantal Simon , General Practitioner, Banks and Bearwood Medical Practice, Bournemouth, Dorset, UK, and Executive Editor of InnovAiT
Hazel Everitt , Clinical Lecturer in Primary Care, Southampton University, UK
Francoise van Dorp , General Practitioner, Brentford, Essex, UK
Matt Burkes , GP Registrar, Flansham Park Health Centre, Bognor Regis, UK
Reviews
...covers an amazing breadth of relevant topics..this new edition retains its brilliant usefullness...covers all spheres of general practice and is an ideal when a GP is stuck for an answer when the patient is in front of them or a consultant is imminent... like a GP, this is a good all rounder, which will solve a significant majority of problems that is thrown at it. It can occupy a small bit of real estate on a desk or inside a bag...built to withstand a fair amount of use-which this book deserves. I would say it is ideal for practicing GPS, GP registrars and practice burses and other primary health care professionals... this is for someone on the frontline who wants a friend to help them. This book is their friend.
`Review from previous edition Review from previous edition An outstanding and useful text, de rigeur for young registrars.' British Journal of General Practice
`At less than one quarter of the price of a QOF point (£29.95), this book is excellent value for money and...it should be on the shelves of every Director of Public Health, or public health professional working within primary care organisations.' Public Health
`The best book by a country mile. I'd definitely recommend it!' medicworld.co.uk
This is an excellent summary of general practice. It's easy-to-use, fits in a bag, and enables a student, new GP or older GP to find the necessary information to support diagnosis and treatment quite easily.
`This is a book that demands to be used. It is well built for the job... The book is hugely and surprisingly comprehensive, covering vast tracts of areas of knowledge that GPs need to possess. Clinical and non clinical areas are amply covered in really good detail. The style is factual yet helpful and accessible and a simple scan of the relevant section is likely to help a GP manage a situation... For GP trainers like myself, this is an excellent source of tutorial material. The clinical sections are just as good... it is a frontline recipe book for all GPs-busy or not so busy. Without doubt, in my mind this is the best available book for British general practice and it ideal for GP registrars, newly starting GPs, mid career GPs and GPs wanting to freshen up their knowledge... there is little excuse not to buy it.' Dr Harry Brown
`What a treat - 1,100 pages of condensed knowledge and wisdom on everything from the new contract to what to do for obstetric shock... this is an essential - and I mean essential - piece of kit.' The Sessional GP
`A comprehensive guide to nearly everything. It is the yellow book equivalent for general practice. If you only buy one book, make sure it is this one.' British Medical Journal
`Small yet perfectly formed! This book is small enough to fit into any bag, or a capacious pocket, yet covers almost anything (clinical, practical, administrative) that any doctor or undergraduate working in general practice needs to know...I am extremely pleased to have been able to use and review this book. I have no hesitation in recommending it to its target audience.' BMA Medical Book Award Panel 2006
`As a comfort blanket for the less experienced it remains unrivalled, but truly, it is a must-have book for all' British Journal of General Practice
`This is an absolute gem of a book. I would not be without it for my general practice training...It is portable, comprehensive and relevant and the logical format covers practice management as well as medical conditions.' BMA Medical Book Competition 2010