Writing in the Biological Sciences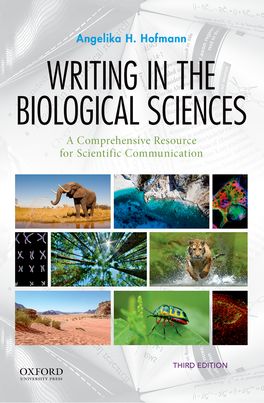 Writing in the Biological Sciences
| | |
| --- | --- |
| ISBN: | 9780190852191 |
| Binding: | Paperback |
| Published: | 12 Jul 2018 |
| Availability: | 10 |
| Series: | |
$45.95 AUD
$52.99 NZD
Add To Cart
Request an inspection copy
Description
Practical and easy to use, Writing in the Biological Sciences: A Comprehensive Resource for Scientific Communication, Third Edition, presents students with all of the techniques and information they need to communicate their scientific ideas, insights, and discoveries. Angelika H. Hofmann introduces students to the underlying principles and guidelines of professional scientific writing and then teaches them how to apply these methods when composing essential forms of scientific writing and communication.

Ideal as a free-standing textbook for courses on writing in the biological sciences--or as an accompanying text or reference guide in courses and laboratories with writing-intensive components--this indispensable handbook gives students the tools they need to succeed in their undergraduate science careers and beyond.

New to This Edition:
New sections on:

the scientific method
scientific writing
scientific ethics
basic statistical analysis
the most common interview questions

An expanded section on plagiarism
A glossary of scientific and technical terms
An updated layout of the text and chapter overviews
Updated PowerPoint slides
Contents
Foreword
Preface

PART I. SCIENTIFIC WRITING BASICS

Chapter 1: Science and Scientific Communication
1.1 The Scientific Method and Communication
1.2 Necessary Technical Skills
1.3 Scientific Writing versus Science Writing
1.4 Scientific Communication and Ethics
1.5 Readers and Writers
Summary
Chapter 2: Fundamentals of Scientific Writing, Part I--Style
2.1 Individual Words and Word Location
2.2 Sentences and Technical Style
Summary of Basic Writing Rules, Part I--Style
Problems
Chapter 3: Fundamentals of Scientific Writing, Part II--Composition
3.1 Paragraph Flow
3.2 Paragraph Construction and Organization
3.3 Condensing
Summary of Basic Writing Rules, Part II--Compositions
Problems

PART II: WORKING WITH REFERENCES AND DATA

Chapter 4: Literature Sources
4.1 Searching the Literature
4.2 Source Material
4.3 Citing References
4.4 Common Reference
4.5 Managing Sources
4.6 Plagiarism and Taking Notes
Summary
Problems
Chapter 5: Basics of Statistical Analysis
5.1 General Guidelines
5.2 Basic Statistical Terminology
5.3 Distribution Curves
5.4 Statistical Analysis of Data
5.5 Reporting Statistics
5.6 Graphical Representation
5.7 Useful Resources for Statistical Analysis
5.8 Checklist
Summary
Problems
Chapter 6: Notebooks, Data, Figures, and Tables
6.1 Keeping a Laboratory Notebook
6.2 From Notebook Entries to Presenting Data
6.3 Figures, Their Legends, and Their Titles
6.4 Tables and Their Titles
6.5 Software Resources for Figures and Tables
6.6 Checklist
Summary
Problems

PART III: INTRODUCTORY WRITING

Chapter 7: Laboratory Reports and Research Papers
7.1 General Purpose
7.2 The Big Picture
7.3 Before You Get Started
7.4 Components and Format
7.5 Title and Title Page
7.6 Abstract
7.7 Introduction
7.8 Materials and Methods
7.9 Results
7.10 Discussion
7.11 References
7.12 Acknowledgments
7.13 Checklist
Summary
Problems
Chapter 8: Revising and Editing
8.1 General Advice
8.2 Revising the First Draft
8.3 Revising Subsequent Drafts
8.4 Checklist for Revising
8.5 Editing Someone Else's Manuscript
8.6 Checklist for Editing Someone Else's Manuscript
8.7 Submission and the Review Process
Summary
Problems
Chapter 9: Sample Reports
9.1 General Overview
9.2 Sample Weekly Lab Report
9.3 Sample Project Paper
Chapter 10: Reading, Summarizing, and Critiquing a Scientific Research Article
10.1 Content of a Scientific Research Article
10.2 Reading a Research Paper
10.3 Writing a Summary of a Research Paper
10.4 Critiquing a Research Paper
10.5 Checklist
Summary
Problems
Chapter 11: Term Papers and Review Articles
11.1 Purpose of Reviews
11.2 Deciding on the Topic
11.3 Format
11.4 Title
11.5 Abstract
11.6 Introduction
11.7 Main Analysis Section
11.8 Conclusion
11.9 References
11.10 Checklist
Summary
Problems
Chapter 12: Note Taking and Essay Exams
12.1 General Overview
12.2 Effective Note Taking
12.3 Preparing for an Essay Exam
12.4 Answering an Essay Question
12.5 Time Management Tips
12.6 Checklist
Summary

PART IV: ADVANCED SCIENTIFIC DOCUMENTS AND PRESENTATIONS

Chapter 13: Oral Presentations
13.1 Format of a Scientific Talk
13.2 Preparing for a Talk
13.3 Delivery of a Talk
13.4 Question and Answer Period
13.5 Useful Resources
13.6 Checklist
Summary
Problems
Chapter 14: Posters
14.1 Components and Format of a Poster
14.2 Preparing a Poster
14.3 Presenting a Poster
14.4 Useful Resources
14.5 Complete Sample Poster
14.6 Checklist for a Poster
Summary
Problems
Chapter 15: Research Proposals
15.1 General Overview
15.2 Components and Format
15.3 Abstract
15.4 Specific Aims
15.5 Background
15.6 Research Design
15.7 Impact and Significance
15.8 Additional Proposal Components
15.9 Checklist
Summary
Problems
Chapter 16: Job Applications
16.1 Curricula Vitae (CVs) and Resumes
16.2 Cover Letters
16.3 Personal Statements
16.4 The Hiring Process and Interview
16.5 Letters of Recommendation
16.6 Checklist for a Job Application
Summary
Problems

Appendix A: Commonly Confused and Misused Words
Appendix B: MS Word Basics and Top 20 MS Word Tips
Appendix C: Excel Basics and Top 20 Excel Tips
Appendix D: PowerPoint Basics and Top 20 PowerPoint Tips
Appendix E: MS Office Cheat Sheet
Answers to Problems
Glossary of English Grammar Terms
Bibliography
Credits
Index
Authors
Angelika H. Hofmann - Deputy Director, Science Initiatives, Yale University
Angelika H. Hofmann is Deputy Director for Science and International Initiatives at Yale University. She holds a Ph.D. in molecular biology and biochemistry. Renowned in the field of scientific writing, she also heads "SciWri Services," a venture that has provided workshops and editing and consulting services for scholars and scientists around the world for over two decades.
Reviews
"This textbook is essential for any student in the biological sciences. It is also a valuable resource for students after graduation, in terms of presenting their research orally, preparing job and graduate or professional school applications, and interviewing. Every biology student will benefit from this book!"--Andrea Henle, Carthage College
"Writing in the Biological Sciences covers a variety of written communication topics that scientists encounter, from lab reports, to note-taking, to resume and curriculum vitae construction. I highly recommend this text to anyone in the biological sciences."--Judith D. Ochrietor, University of North Flordia
"This is an ideal resource for undergraduate students in the biological sciences to learn how to write in a variety of formats, including for peer-reviewed literature. The material is presented clearly and succinctly."--Jeffrey H. Toney, Kean University
Request an inspection copy