A Dictionary of Chemistry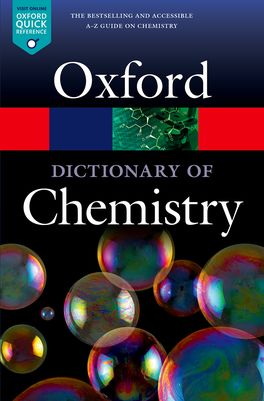 A Dictionary of Chemistry
| | |
| --- | --- |
| ISBN: | 9780198722823 |
| Binding: | Paperback |
| Published: | 22 Jan 2016 |
| Availability: | 146 |
| Series: | |
$31.95 AUD
$36.99 NZD
Add To Cart
Description
Fully revised and updated, the seventh edition of this popular dictionary is the ideal reference resource for students of chemistry, either at school or at university. With over 5000 entries--over 175 new to this edition--it covers all aspects of chemistry, from physical chemistry to biochemistry.

The seventh edition boasts broader coverage in areas such as nuclear magnetic resonance, polymer chemistry, nanotechnology and graphene, and absolute configuration, increasing the dictionary's appeal to students in these fields.

New diagrams have been added and existing diagrams updated to illustrate topics that would benefit from a visual aid. There are also biographical entries on key figures, featured entries on major topics such as polymers and crystal defects, and a chronology charting the main discoveries in atomic theory, biochemistry, explosives, and plastics.
Contents
Preface
Editors and Contributors
Dictionary of Chemistry A-Z
Atomic Theory Chronology
Biochemistry Chronology
Crystal Defects (Feature)
Explosives Chronology
Plastics Chronology
Polymers (Feature)
Appendices
The Greek alphabet
Fundamental constants
SI units
The electromagnetic spectrum
The periodic table
The chemical elements
Organic functional groups
Nobel prizewinners
Useful websites

Authors
Edited by Richard Rennie , University of Cambridge
Jonathan Law , Market House Books
Richard Rennie has conducted research at the Universities of Aberdeen, Oxford, Cambridge, and California, Santa Barbara. His main interest is in the theory of the structure of matter. He has written a number of articles and reviews. He has contributed to several reference books including A Dictionary of Physics and the Dictionary of Chemistry. He wrote the Facts on File Dictionary of Atomic and Nuclear Physics which was published in 2003. He has taught mathematics, physics, and chemistry at various Sixth Form Colleges and is a Senior Invigilator for the University of Cambridge. Jonathan Law (BA) is an editor at Market House Books Ltd.
Reviews
`Review from previous edition A favourite. It should be in every classroom and library ... the reader is drawn inevitably from one entry to the next merely to satisfy curiosity' School Science Review