Sociologic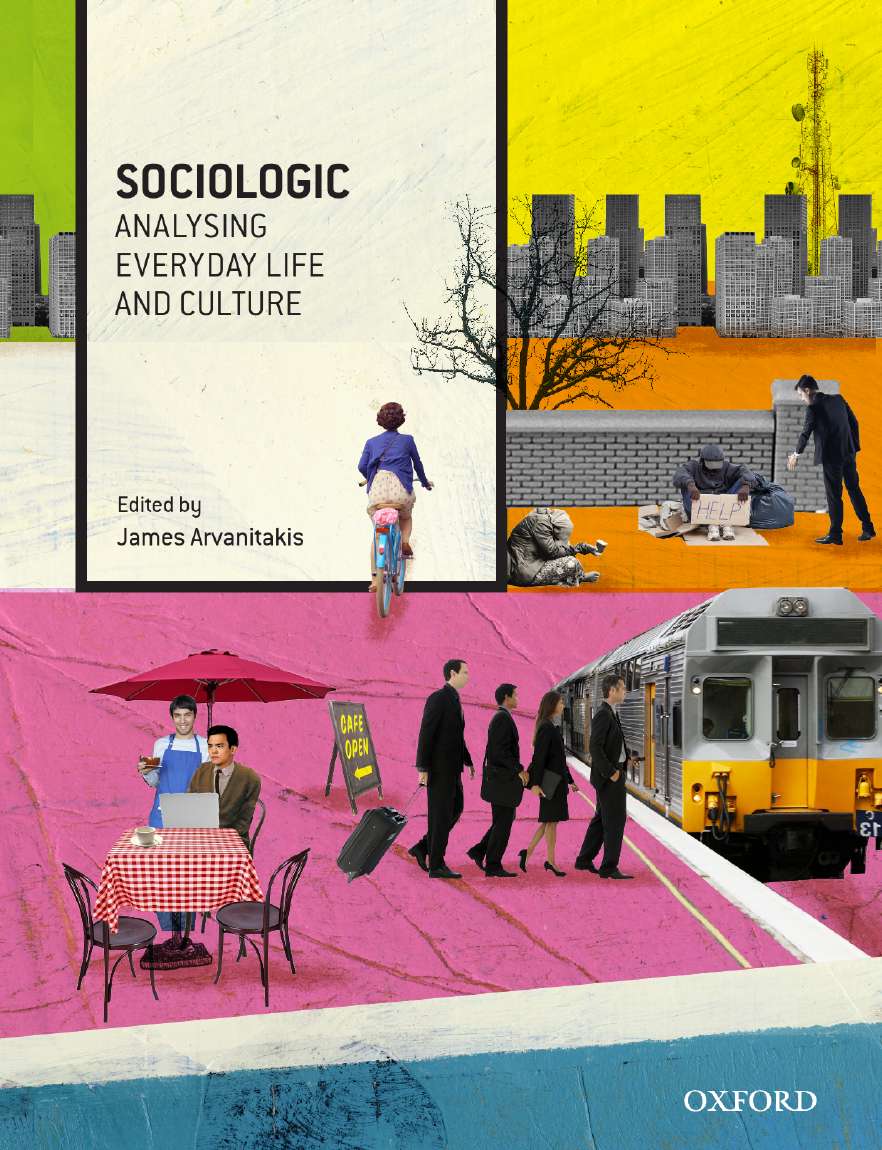 Sociologic
| | |
| --- | --- |
| ISBN: | 9780190300654 |
| Binding: | Paperback |
| Published: | 14 Dec 2015 |
| Availability: | 157 |
| Series: | |
$94.95 AUD
$108.99 NZD
Add To Cart
Request an inspection copy
Description
Why are there pirates in the supermarket?

Sociologic: Analysing Everyday Life and Culture is a contemporary introduction to sociology for the modern student. Readers will learn about sociological concepts through examination of a variety of theories and theorists, all the while relating and applying this knowledge to their own experiences of everyday life. Students will relish exploring the world of society and culture through personal narrative, humour, and examples.

Editor James Arvanitakis has assembled a stellar author team who collectively give students the tools to analyse how society functions, operates and changes… and lay down a challenge to change it for the better.

KEY FEATURES
Learn through the voices of real people – student and professional profiles throughout the text show real life examples of situations and expose readers to a wealth of voices and perspectives.

Critical reflection questions and discussion questions – encourage students to look at their own lives as they learn so they can see how the theories are relevant.

Rich with extra references and further reading to help readers investigate each subject area to greater depths.
Contents
1 Introduction
James Arvanitakis
2 Leap into Sociology
Michelle Black and Maria El-Chami
3 Studying Society and Culture
James Arvanitakis
4 Researching the World Around Us
Maggie Walter
5 Modernity and Modernisation
Glenda Ballantyne
6 Class and Class Relations
Verity Archer
7 Sex and Gender
Denise Buiten
8 Power in Contemporary Society
Lucas Walsh
9 Race and Ethnicity
Farida Fozdar
10 The Nation and the State
John A. Rees
11 Aboriginal Australia
Nikki Moodie
12 Youth and Young People
Paula Geldens
13 Deviance and moral panics
Jen Couch and Trudi
14 Work and Society
Justine Humphry
15 Society and the World of Sports
Mair Underwood
16 Religion and Contemporary Society
Anna Halafoff
17 Globalisation
Duncan McDuie-Ra
18 Society and the Environment
Nikó Antalffy
19 Science, Technology and Society
Anni Dugdale
Introduction
20 Media, social media, and why you should think twice before posting that!
Mitchell Hobbs
21 Social Movements
Moira Byrne
22 How to Change the World
Mitra Gusheh and James Arvanitakis
‪‬‬‬‬‬‬‬23 ‬‬‬‬‬‬‬‬Conclusion‬‬‬‬‬‬‬‬‬‬‬‬
James Arvanitakis
Authors
Edited by James Arvanitakis – Professor, Institute for Culture and Society, University of Western Sydney.

Contributors:

Michelle Black – Australian Catholic University
Maria El-Chami – Victoria University of Wellington
Maggie Walter – The University of Tasmania
Glenda Ballantyne – Swinburne University
Verity Archer – Federation University
Denise Buiten – Notre Dame University
Lucas Walsh – Monash University
Farida Fozdar – The University of Western Australia
John A. Rees – Notre Dame University
Nikki Moodie – The University of Melbourne
Paula Geldens – Swinburne University
Jen Couch – Australian Catholic University
Trudi Cooper – Edith Cowan University
Justine Humphry – University of Western Sydney
Mair Underwood – University of Queensland
Anna Halafoff – Deakin University
Duncan McDuie-Ra – University of New South Wales
Niko Antalffy – Macquarie University
Anni Dugdale – The University of Canberra
Mitchell Hobbs – University of Sydney
Moira Byrne – Australian National University
Mitra Gusheh – University of Technology, Sydney
Student Resources
Oxford Ascend
is the home of online resources for higher education students to help them study and succeed.
Each print copy of Sociologic comes with access to Oxford Ascend Student Resources including:
Multiple choice questions for each chapter

Interactive activities identify key theorists and research methods

Flashcard glossary to learn key terms

Videos of James Arvanitakis discussing different sociological topics

Research methods quiz
To access your Sociologic Oxford Ascend Student Resources:
Go to www.oxfordascend.com

Register for an account

Activate the code (printed inside the back cover of your textbook) within your account
This code can only be activated once. Once activated, access is valid for the life of the edition.
Lecturer Resources
The following resources are available for lecturers who prescribe Sociologic for their course:
Instructors Resource Manual
PowerPoint slides
For more information about the resources for Sociologic, please contact your Oxford Territory Manager.
Sample Pages
Request an inspection copy