Australian Taxation Law 2019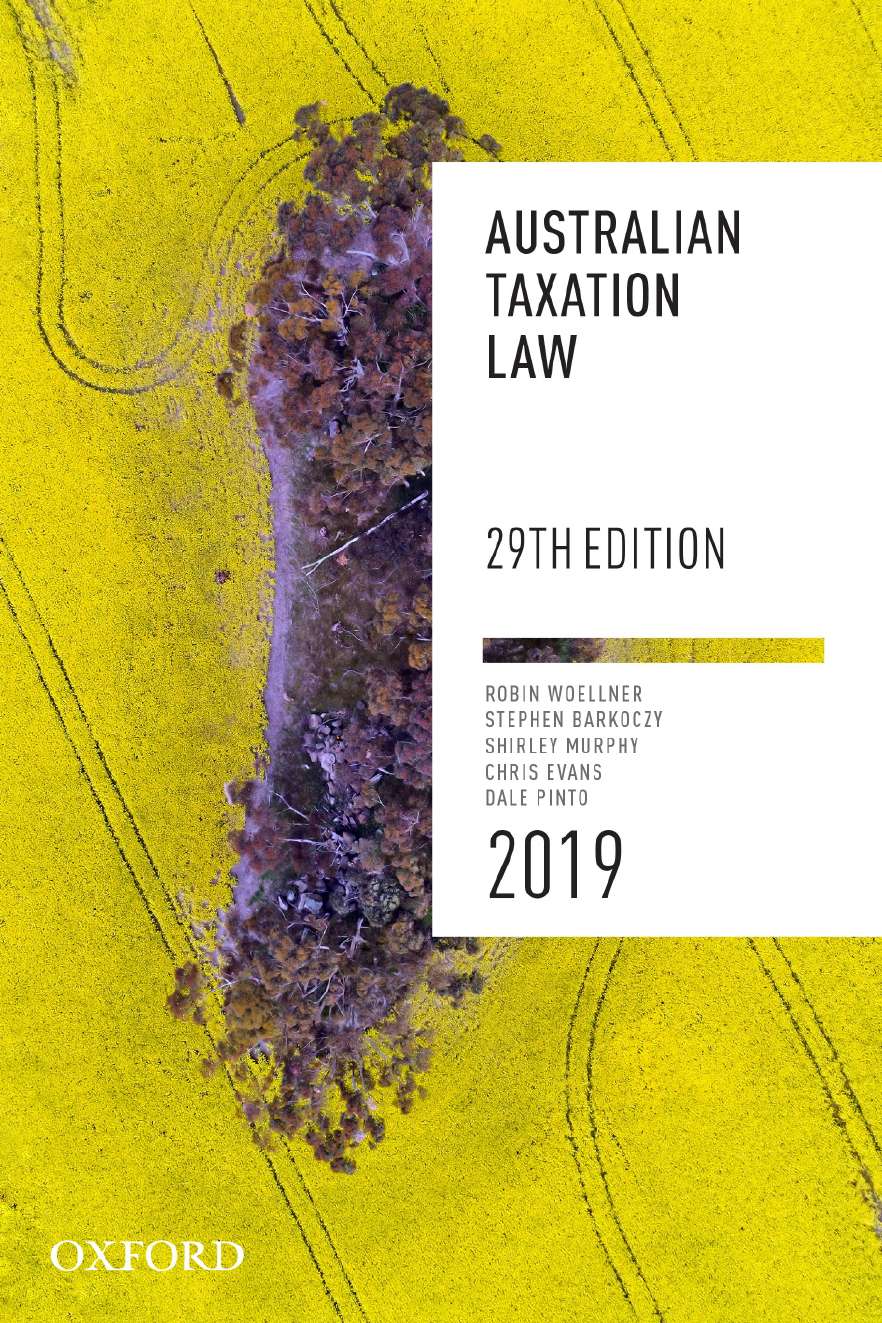 Australian Taxation Law 2019
| | |
| --- | --- |
| ISBN: | 9780190318475 |
| Binding: | Paperback |
| Published: | 23 Jan 2019 |
| Availability: | 999 |
| Series: | |
$175.00 AUD
$200.99 NZD
Add To Cart
Description
Written by an expert author team, Australian Taxation Law 2019 comprehensively examines the fundamental taxation legislation that underpins the Australian tax system, such as superannuation, income tax, GST, FBT, and state taxes. Providing extensive analysis of the latest legislative provisions, case law developments and rulings, administrative reforms, and policy announcements, this text is ideal for students and professionals who are looking for a concise and authoritative explanation of taxation law essentials.

New to this Edition
Incorporates the latest major legislative reforms and key decisions of courts and tribunals
Includes tax rates for the 2018/19 financial year
New discussions on:

Board of Taxation 2018 Review of Small Businesses
GST rulings on imported services and digital products ('Netflix' tax)
'One chance' ATO administrative exemption from penalty for small businesses and individuals
Corporate tax rate developments, including the introduction of the maximum passive income test for base rate entities
Updated legislation to equate crypto-currencies with money for GST purposes
Refinements to the superannuation rules following the 2018 Federal Budget
A proposed 'Location Incentive' for international productions filmed in Australia
Commencement of Low Value Goods measures dealing with imported purchases under $1,000
Contents
Introduction to income tax law
Tax formula, tax rates and tax offsets
Assessable income: general principles
Income from personal exertion
Income from property
Income from business
Capital gains tax: general topics
Capital gains tax: concessions and special topics
Non-assessable income
General deductions
Specific deductions
Capital allowances and capital works
Tax accounting
Trading stock
Small business entities and concessions
Taxation of partnership income
Taxation of trust income
Taxation of corporate tax entities and their members
Corporate tax losses, net capital losses and bad debts
Taxation of consolidated groups
Special taxpayers and incentive schemes
Taxation of financial transactions
Superannuation
International aspects
Tax evasion, avoidance and planning
Fringe benefits tax
Goods and services tax
State taxes
Administrative aspects of taxation
Tax rulings, tax returns, and assessments
Challenging an assessment
Collection and recovery of tax
Offences, penalties and regulation of tax practitioners
Rates and tables
Table of Cases
Decisions of Boards of Review and AAT (Taxation Appeals Division)
Table of Legislation
Table of Rulings
Index
Authors
Robin Woellner is an Adjunct Professor in the School of law at James Cook University, and the School of Taxation and Business Law at UNSW Sydney.
Stephen Barkoczy is a Professor in the Faculty of Law at Monash University.
Shirley Murphy is an Adjunct Lecturer in the Department of Accounting and Corporate Governance at Macquarie University.
Chris Evans is a Professor in the School of Taxation and Business Law at UNSW Sydney.
Dale Pinto is a Professor in the Curtin Law School and the Chair of the Academic Board at Curtin University.
Lecturer Resources
The following resources will be available for lecturers who prescribe Australian Taxation Law 2019 for their course:
Updated multiple choice questions with answers
For more information about the resources for Australian Taxation Law 2019, please contact your Oxford Learning Resource Consultant.
Sample Pages
Read a sample from Australian Taxation Law 2019, twenty-ninth edition:
Request an inspection copy