Australian Taxation Law Select 2019 eBook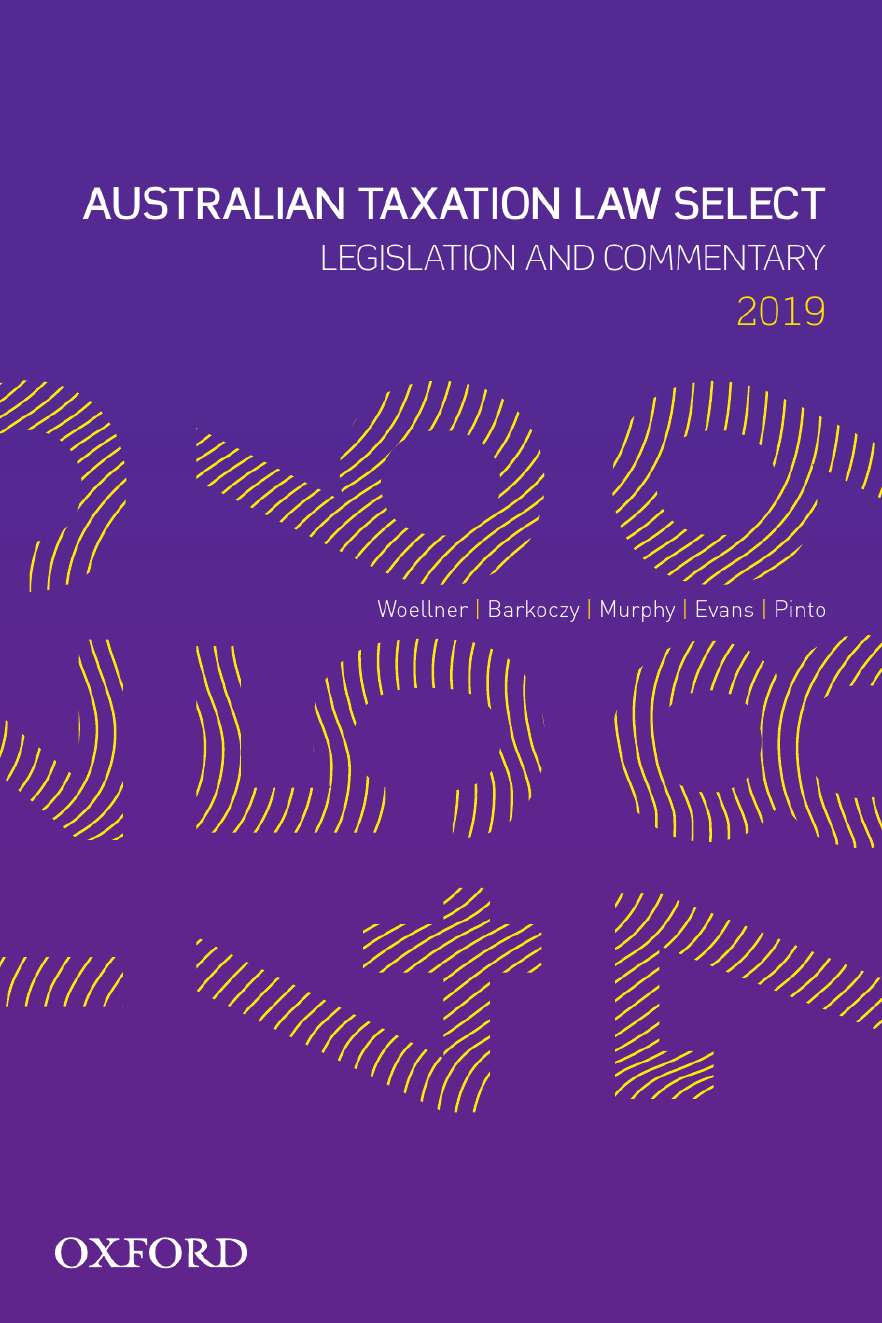 Australian Taxation Law Select 2019 eBook
| | |
| --- | --- |
| ISBN: | 9780190320492 |
| Binding: | Ebook |
| Published: | 29 Jan 2019 |
| Availability: | Available |
| Series: | |
$107.95 AUD
$123.99 NZD
Add To Cart
Description
Australian Taxation Law Select 2019 is a custom publication that combines the key legislative provisions dealing with Australian income tax and selected commentary from Australian Taxation Law 2019 in a single volume. It has been designed to ensure you get exactly what you need, week to week, to support your success in this subject.

This book has been created for Curtin Law School to accompany either:
Introduction to Australian Tax Law (Curtin TAXA2000; OUA BLW32), or
Fundamentals of Australian Tax Law (Curtin TAXA5001; OUA MT531).
Contents
Part A: Legislation
A New Tax System (Goods and Services Tax) Act 1999 (extracts)
Income Tax Assessment Act 1936 (extracts)
Income Tax Assessment Act 1997 (extracts)
Income Tax Rates Act 1986 (extracts)
Taxation Administration Act 1953 (extracts)
Fringe Benefits Tax Assessment Act 1986 (extracts)
Fringe Benefits Tax Act 1986 (extracts)
Fringe Benefits Tax Regulations 1992 (extracts)
Part B: Commentary
1. Introduction to Income Tax Law
2. Tax Formula, Tax Rates and Tax Offsets
3. Assessable Income: General Principles
4. Income from Personal Exertion
5. Income from Property
6. Income from Business
7. Capital Gains Tax: General Topics
8. Capital Gains Tax: Concessions and Special Topics
9. Non-Assessable Income
10. General Deductions
11. Specific Deductions
12. Capital Allowances and Capital Works
13. Tax Accounting
14. Trading Stock
15. Small Business Entities and Concessions
16. Taxation of Partnership Income
17. Taxation of Trust Income
18. Taxation of Corporate Tax Entities and Their Members
21. Special Taxpayers and Incentive Schemes
23. Superannuation
25. Tax Evasion, Avoidance and Planning
26. Fringe Benefits Tax
27. Goods and Services Tax
28. State Taxes
29. Administrative Aspects of Taxation
30. Tax Rulings, Tax Returns, and Assessments
31. Challenging an Assessment
33. Offences, Penalties and Regulation of Tax Practitioners
Table of Cases
Decisions of Boards of Review and AAT (Taxation Appeals Division)
Table of Legislation
Table of Rulings
Index
Authors
Robin Woellner – Adjunct Professor, School of Law, James Cook University and School of Taxation and Business Law, University of New South Wales
Stephen Barkoczy – Professor, School of Law, Monash University
Shirley Murphy – Adjunct Lecturer, Department of Accounting and Corporate Governance, Macquarie University
Chris Evans – Professor, School of Taxation and Business Law, University of New South Wales
Dale Pinto – Professor and Head of Department, Curtin Business School, Curtin University
Request an inspection copy