The Oxford Companion to Wine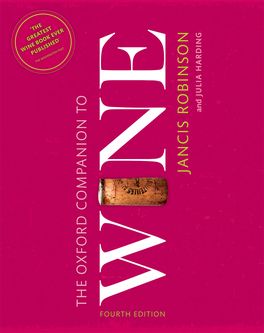 The Oxford Companion to Wine
| | |
| --- | --- |
| ISBN: | 9780198705383 |
| Binding: | Hardback |
| Published: | 29 Sep 2015 |
| Availability: | 45 |
| Series: | |
$102.95 AUD
$117.99 NZD
Add To Cart
Description
Published in 1994 to worldwide acclaim, the first edition of Jancis Robinson's seminal volume immediately attained legendary status, winning every major wine book award including the Glenfiddich and Julia Child/IACP awards, as well as writer and woman of the year accolades for its editor on both sides of the Atlantic. Combining meticulously-researched fact with refreshing opinion and wit, The Oxford Companion to Wine presents almost 4,000 entries on every wine-related topic imaginable, from regions and grape varieties to the owners, connoisseurs, growers, and tasters in wine through the ages; from viticulture and oenology to the history of wine, from its origins to the present day. The 187 esteemed contributors (including over 50 new to this edition) range from internationally renowned academics to some of the most famous wine writers and wine specialists in the world.
Now exhaustively updated, this fourth edition incorporates the very latest international research to present over 350 new entries on topics ranging from additives and wine apps to WSET and Zelen. Over 60 per cent of all entries have been revised; and useful lists and statistics are appended, including a unique list of the world's controlled appellations and their permitted grape varieties, as well as vineyard area, wine production and consumption by country.
Illustrated with almost 30 updated maps of every important wine region in the world, many useful charts and diagrams, and 16 stunning colour photographs, this Companion is unlike any other wine book, offering an understanding of wine in all of its wider contexts—notably historical, cultural, and scientific—and serving as a truly companionable point of reference into which any wine-lover can dip and browse.
New to this edition
Comprehensively revised and updated throughout

Over 350 brand-new entries

Significant new updates on hundreds of topics such as China, screwcaps, and the origins of viniculture
Impressive global coverage of wine regions, including new entries on Alaska, Lesotho, Norway, and Tahiti

Includes brand-new colour photographs and black and white line drawings

Maps of wine regions have been updated
Contents
Preface
Contributors
Acknowledgements
List of new entries
Maps of the wine regions
Note to the reader
Complete list of entries by subject
Companion to Wine
Appendix 1: Controlled appellations and their permitted grape varieties
Appendix 2A: Total vineyard area by country
Appendix 2B: Wine production by country
Appendix 2C: Per capita consumption by country

Authors
Edited by Jancis Robinson
Julia Harding
Contributors:
Sarah Ahmed
Hamish Aird
Professor Jean Aitchison
Mail Amanov
Kym Anderson
Alberto Antonini
Tony Aspler
Susy Atkins
Bill Baker
Dr John Barker
Dr Eveline Bartowsky
Nicolas Belfrage
Helen Bettinson
David Bird
Dr Linda Bisson
Dr Jeremy Black
Beverley Blanning
William Bolter
Dr Rob Bramley
Michael Broadbent
Dr Roger Brock
Stephen Brook
Larry Brooks
Nick Bulleid
Robin Butler
Bob Campbell
Dr Dimitra Capone
Alain Carbonneau
Tom Carson
Bruce Cass
Umay Çeviker
Dr Steve Charters
Dr Véronique Cheynier
Nodari Chkhartishvili
Professor Dr Monika Christmann
Elaine Chukan Brown
Dr Tyler Colman
Dr Michael Considine
Dr Bryan Coombe
Dr Peter Cousins
Dr Glen Creasy
Professor Barry Cunliffe
Tamlyn Currin
Dr Bob Dambergs
Dr Daniel Deckers
Li Demei
Dr Donald Dibbern
Barry Dick
Professor James Douglas
Dr Peter Dry
Dr Denis Dubourdieu
Anne Duggan
Abi Duhr
Margaret Emery
Marcel Essling
Nicholas Faith
Christopher Fielden
Michael Fridjhon
Doug Frost
Denis Gastin
Richard Gawel
Benny Génsbøl
Rosemary George
Dr Caroline Gilby
Dr John Gladstones
Sam Glaetzer
David Gleave
Wojciech Gogolinski
Howard G. Goldberg
Dr Jamie Goode
Robert Gorjak
Nayan Gowda
Paul Gregutt
Ronald de Groot
Lisa Shara Hall
James Halliday
Jake Hancock
Rosi Hanson
Julia Harding
Sam Harrop
Dr Judith Harvey
Maarten van Helden
Professor Paul A. Henschke
Dr Markus Herderich
Dr Hildegarde Heymann
Hans-Peter Hoehnen
Dr Leofranc Holford-Strevens
Huon Hooke
Alex Hunt
Dr Dan Johnson
Hugh Johnson
Russell Johnstone
Dr Gregory V. Jones
Dr Tony Jordan
Rupert Joy
Eva Kaluzynska
Michael Karam
Dr Philip Kennedy
John Kesby
Mel Knox
Dr Mark Krstic
Martin Lam
Miles Lambert-Gocs
Erica Landin
Dr Valérie Lavigne
Konstantinos Lazarakis
Professor Terry Lee
Cornelis (Kees) van Leeuwen
Harriet Lembeck
Peter Leske
Simon Loftus
Wink Lorch
Patrick E. McGovern
Edi Maletic
Alex Maltman
Jane Masters
Richard Mayson
Dr Gabriella Mészáros
Sven Moesgaard
Adam Sebag Montefiore
Jasper Morris
Lucie Morton
Linda Murphy
Igor Nykolyn
Dr Philip Norrie
Ken Ohashi
Jeremy Paterson
Edmund Penning-Rowsell
Professor Gary Pickering
Professor Thomas Pinney
John Platter
Dr John Possingham
Dr Vladimir Pukish
Wyatt H. Peabody
Alexander Purcell
Dr Jane Renfrew
Professor Pascal Ribéreau-Gayon
Jancis Robinson
Dr Gábor Rohály
Andrés Rosberg
Anthony Rose
Bjørn Tore Aastorp Ruud
Viacheslav Rybinstev
Dr Amanda Stewart
David Schildknecht
John Schreiner
Professor Hans Schultz
Michael Schuster
Tom Scott
Dr Mark Sefton
Victor de la Serna
Young Shi
Con Simos
Reva K. Singh
Stephen Skelton
Dr Richard Smart
Professor Barry C. Smith
Walter Speller
Richard Stávek
Patricia Stefanowicz
Tyson Stelzer
Creina Stockley
Lukas Susaj
Dr Elisabeta Susaj
Keith Sutton
Michael Tabone
Patricio Tapia
Geoff Taylor
Rémi Teissier du Cros
Joelle Thomson
Dr Roy Thornton
Dr Steve Tyerman
Tim Unwin
Dr José Ramón Úrbez-Torres
Tim Vandergrift
Gido Van Imschoot
Kenneth Verosub
Dr Olivier Viret
Dr José Vouillamoz
Monty Waldin
Dr Bernard Watney
A. Dinsmoor Webb
Robert E. White
Dr Patrick Williams
Dr Hanneke Wilson
Nigel Wilson
Dr Tony Wolf
Steve Wratten
Bruce Zoecklein
David Harvey
Pamela Vandkye Price
Reviews
Review(s) from previous edition

"a required reference for anyone who is serious about wine - The New York Times
"The greatest wine book ever published" - The Washington Post
"Jancis Robinson's brilliant and exhaustive tome on everything you ever wanted to know about the universe of wine" - from Sideways, the novel on which the award-winning screenplay was based
"It is hard to believe that Jancis Robinson could improve upon a work whose first edition was so universally lauded, but indeed she has ... The new edition is a huge compendium that covers practically everything you'd ever want to know about viticulture and winemaking ... The Oxford Companion to Wine is still the preeminent basic resource for wine lovers." - Wine Enthusiast Magazine
"This A-Z guide covers all aspects of wine, from vine density to bottling ... Robert Parker, publisher of The Wine Advocate, calls this "the most encylopedic" book available." - Brill's Content
"I can think of few better companions on a hazy Christmas afternoon" - Giles Kime, Sunday Telegraph
"I would like to be given Jancis Robinson's Oxford Companion to Wine ... it's one of those books you can keep going back to" - Sunday Express Magazine
"The wine world's most scholarly A to Z" - The Sunday Times, Joanna Simon
"the most impressive wine book ever published ... all wine enthusiasts would love to have a copy." - The Sunday Tribune (Dublin)
"a rich, enthusiastic celebration ... of the ancient people-centred arts of viticulture." - Valentine Cunningham, The Observer
"Most ambitious, most respected writing project ever ... this is a massive overhaul. There are about 500 new entries, while more than half of the previous 3000 have been rewritten to varying degrees by Robinson and her team of contributors ... with the same diligent approach she adopted to the first edition, she either wrote or oversaw every word." - Mary Dowey, The Irish Times (Dublin)
"Always authoritative, she has revised about half of the 5000 entries to keep pace with the rapidly evolving wine world." - Diana Gregory, The Independent
"The words "magisterial", "magnificent", and "indispensable", used more than once in a lifetime, begin to lose their potency, but both books deserve all these epithets and more." - The Guardian, (The other book was The Oxford Companion to Food)
"Deliciously definitive" - The Scotsman
"My advice is to buy the second edition ... a brilliant book ... by one of the great wine writers of our time" - The Observer
"an exhaustive and richly informed reference" - Newsday
"The Oxford Companion to Wine, edited by Jancis Robinson, is not just an extraordinarily well informed compendium of oenological data, it is a status symbol among wine 'cognoscenti', one of a handful of "must have" books for those who take their interest in wine that step further ... an oracular source 'par excellence' ... Information is presented in a typically academic, yet still warm and 'human' style." - Harold Heckle, The Tablet
"Beautifully illustrated, with alphabetical contributions from over 80 worldwide experts, here is everything you ever wanted to know about the subject, and more." - Christie Hickman. Midweek.
"Edited by a lively and distinguished wine writer, this is a welcome addition to the Oxford Companion series." - Good Book Guide
"far and away the best book on drink published last year." - Times
"... the most useful book on wine ever written; it is also one of the most enjoyable." - Kathleen Burk, The Week
"Those readers interested enough in the subject to buy the first edition are pretty much compelled to buy all subsequent ones, for the knowledge encompassed in them changes not only rapidly, but also radically." - Paul Levy, Times Literary Supplement
"No wine-lover's bookshelves should be without" - Jonathan Ray, Daily Telegraph
"The essential reference book" - David Baker, Financial Times
"Wine anoraks will want Jancis Robinson's revised, encyclopaedic The Oxford Companion to Wine." - The Times
"Impressive Scholarship" - The Times
"Essential reference guide" - Daily Express