Winnie and Wilbur: Celebration Collection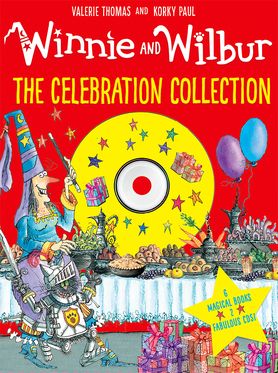 Winnie and Wilbur: Celebration Collection
| | |
| --- | --- |
| ISBN: | 9780192772497 |
| Binding: | Pack |
| Published: | 19 Sep 2019 |
| Availability: | 0 |
| Series: | |
$50.95 AUD
$59.99 NZD
Add To Cart
Description
Winnie and Wilbur would love to share their most fun-filled stories with you. Celebrate in style with a birthday party, exciting jousting, a festive encounter, a day at the beach, a magic show, and a taste of summer in the middle of winter! Enjoy all-year-round fun with these six Winnie and Wilbur adventures!
Authors
Author Ms Valerie Thomas , Australia
Author Mr Korky Paul , UK
Valerie Thomas: Since creating her characters Winnie and Wilbur in 1987, Valerie Thomas has taken them on all kinds of adventures: on a broomstick and a flying carpet, with a baby dragon and a big bad robot, in a haunted house and aboard a pirate ship, under the sea and even into outer space! Valerie, who lives in Australia, doesn't own a broomstick herself, but she has travelled to most parts of the world. Korky Paul: Born in Zimbabwe, Korky Paul is a well-known illustrator. His drawings appear in more than fifty Winnie and Wilbur books, as well as many other titles. Known only to himself as 'the world's greatest portrait artist', Korky regularly visits schools and appears at festivals to promote his passion for drawing. He lives in Oxford with his wife where he regularly cooks on the 'braai'.