Pippi Longstocking Gift Edition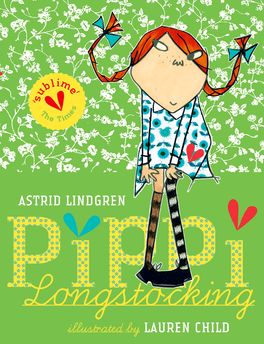 Pippi Longstocking Gift Edition
| | |
| --- | --- |
| ISBN: | 9780192782410 |
| Binding: | Paperback |
| Published: | 3 Dec 2010 |
| Availability: | 76 |
| Series: | |
$32.95 AUD
$38.99 NZD
Add To Cart
Description
This beautiful edition of the children's classic Pippi Longstocking is illustrated throughout with wonderful collage pictures from the award-winning Lauren Child. The contemporary design, imaginative layout of the text, and stunning illustrations from Lauren Child all add up to a perfect gift purchase.

When the book published in hardback, it gathered many wonderful reviews, including this one from Books for Keeps: 'Lauren Child is the perfect choice to illustrate this handsome, large format edition of Pippi . . . her unmistakeable illustrative style helps to bring a modern feel to the book.'

Pippi lives in Villa Villekulla with a horse, a monkey, and a big suitcase full of gold coins. The grown-ups in her village try to make Pippi behave in ways that they think a little girl should, but Pippi has other ideas. She would much rather spend her days arranging wild, exciting adventures to enjoy with her neighbours, Tommy and Annika, or entertaining everyone she meets with her outrageous stories. Pippi thinks nothing of wrestling a circus strongman, dancing a polka with burglars, or tugging a bull's tail and her wildly unconventional lifestyle is matched by Lauren's free-spirited illustrations.
Authors
Author Astrid Lindgren
Illustrator Lauren Child
During her lifetime, Lindgren was awarded dozens of Swedish and international prizes for her writing, among them the prestigious Hans Christian Andersen medal in 1958: widely considered the ultimate accolade for an author of children's books. Astrid Lindgren was born in 1907. Pippi Longstocking was published in Sweden in 1945 and was an instant success with children. She died in 2002. Lauren Child was awarded the Kate Greenaway Medal in 2001 for I Will Not Ever Never Eat a Tomato and the Nestlé Smarties Gold Award in 2002 for That Pesky Rat. Lauren Child was born in 1967 and grew up in Marlborough in Wiltshire. She now lives in London.
Reviews
`'Lauren Child's . . . version of Astrid Lindgren's Pippi Longstocking is sublime.'' Amanda Craig, The Times
`'[Lauren Child's] an inspired choice to hook a new generation of children on Sweden's greatest literary export.'' Susanna Forest, Telegraph Review
`'Some word and picture partnerships are akin to a marriage made in heaven. First there was EH Shepard and AA Milne, then Quentin Blake and Roald Dahl-now Lauren Child and Astrid Lindgren. If ever there was an illustrator born to understand the psyche and well-loved quirkiness of Pippi Longstocking and infuse it with a 21st-century edge, then Child is that artist.'' Junior
`'There's no stopping Lauren Child as she brings her own inimitable style to illustrate Pippi Longstocking . . . Everyone will love this.'' The Bookseller
`'Lauren Child . . . is the perfect choice to illustrate this handsome, large format edition of Pippi . . . her unmistakable illustrative style helps to bring a modern feel to the book and will enable another generation of readers to enjoy the exploits of this extraordinary little girl.'' Books for Keeps
`I love how unconsciously rebellious she is. She doesn't care about rules, she cares about people' Alicia Vikander