Oxford Literacy Assess Read Record Respond Professional Support plus obook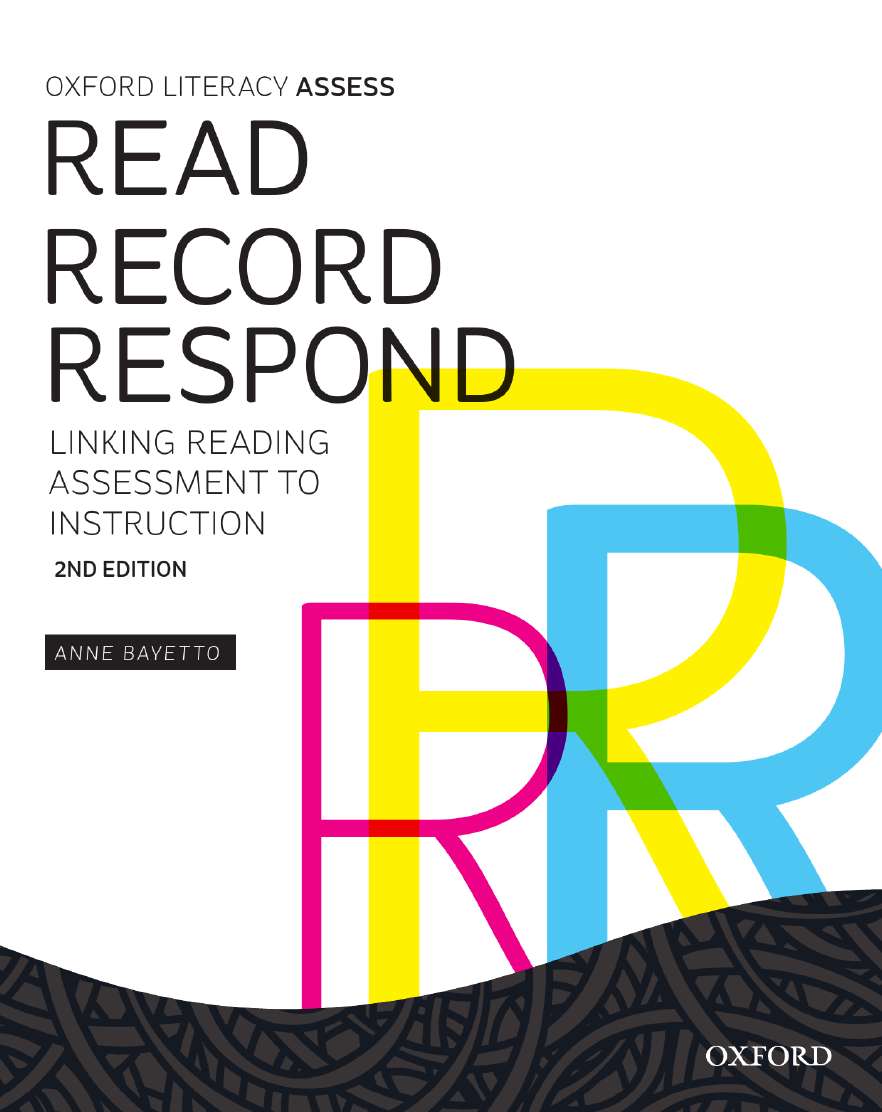 Oxford Literacy Assess Read Record Respond Professional Support plus obook
| | |
| --- | --- |
| ISBN: | 9780195520729 |
| Binding: | Paperback + obook |
| Published: | 11 Nov 2013 |
| Availability: | 304 |
| Series: | |
$101.95 AUD
Add To Cart
Description
Read Record Respond is the professional support tool that comes with Oxford Literacy Assess. Read Record Respond takes educators through a cycle of:


Oral reading assessment.
Analysis of students' reading responses, with an increased emphasis on comprehension.
Identification of learning goals.
Selection of instructional approaches to teach specific reading strategies, with greater support for teaching comprehension.


Read Record Respond is based on the latest research and addresses key questions, including:


What makes effective teachers of reading?
Reading stages and levels: what are students showing us?
What do independent and successful readers do?
What are meaning, structure and visual (MSV) skills?
Why is comprehension so important?
What is fluency and why is it important?


The Read Record Respond obook is an online version of the print professional support resource. The obook includes:


'extras' such as PDFs of the 60 reading
records and the 20 additional assessment checklists, which can be used to assess different aspects of reading more deeply
professional support videos
audio recordings of a reading assessment being carried out
the ability to personalise your copy of the obook by adding notes and bookmarks, and highlighting text.
Contents
INTRODUCTION & OVERVIEW
Introduction
Overview


READ
Reading: a guide for educators
What do independent and successful readers know and do?
Meaning, Structure and Visual skills
Retelling
Comprehension
Fluency
Error types
Assessing reading: a guide for educators
Approaches to instruction: a guide for educators
Whole-class instruction
Guided reading group lessons
One-to-one instruction


RECORD
How to use Oxford Literacy Assess
Take the reading record (print)
Additional assessment checklists


RESPOND
Planning for instruction
Using Oxford Literacy Assess to move from assessment to instruction
Meaning, Structure and Visual skills: instructional approaches
Retelling: instructional approaches
Comprehension: instructional approaches
Fluency: instructional approaches
Responding to reading behaviours: instructional approaches
Error types: instructional approaches
Whole-class instructional approaches


CONTENTS
Guided reading: instructional approaches and structure
Independent work


FURTHER RESOURCES
What makes independent and successful readers?: a guide for families
Appendix 1: Freebody and Luke's Four Resources
Appendix 2: helping students learn how to talk about text
Authors
ANNE BAYETTO
Anne Lecturers in special education at Flinders University, South Australia, and focuses on literacy and numeracy students with learning difficulties. Anne brings her knowledge of assessment, planning and the instruction of reading and written language to classroom practitioners.
As the author of the
Oxford Wordlist
Stage 2 Research Study Summary Report,
Read Record Respond
and
Spell Record, Respond: Moving from Assessment to Instruction
, Anne Provides professional development to school leaders and educators.
Sample Pages
To view a sample of Read Record Respond, please
CLICK HERE
.