Read Write Inc Phonics: Teacher's Kit Easy Buy Pack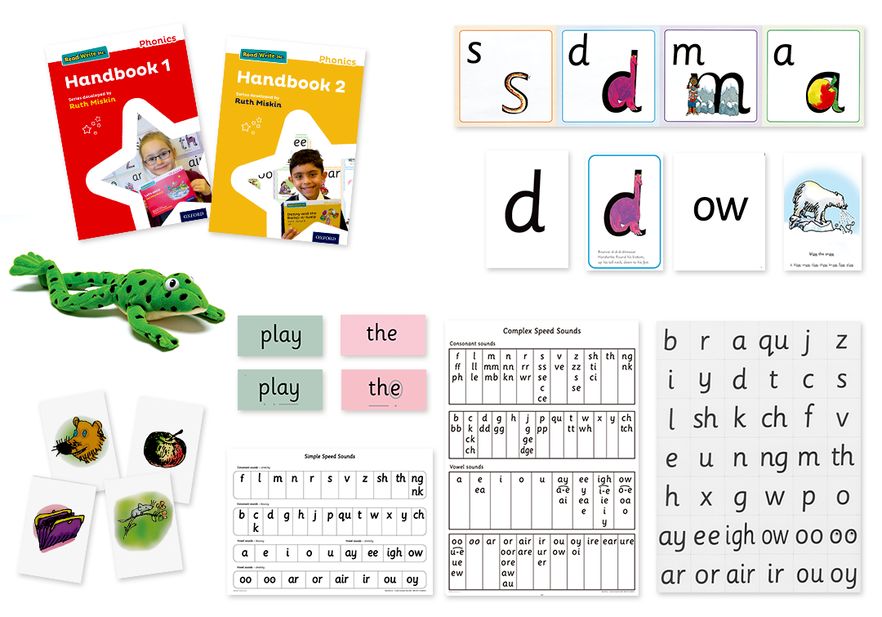 Read Write Inc Phonics: Teacher's Kit Easy Buy Pack
| | |
| --- | --- |
| ISBN: | 9780198374206 |
| Binding: | Paperback + CD |
| Published: | 18 Jul 2016 |
| Availability: | 94 |
| Series: | |
$497.00 AUD
$563.99 NZD
Add To Cart
Description
The Teachers Kit includes one copy of all the Read Write Inc. Phonics teaching resources each teacher or teaching assistant needs for their Read Write Inc. group.
Handbooks 1 and 2 contain day-by-day lesson plans that integrate Speed Sounds lessons, comprehension, vocabulary, grammar, handwriting and composition lessons. Speed Sounds Cards introduce children to the 44 sounds with the letter on one side and the mnemonic on the other. The Sound-Picture Frieze displays all of the 44 sounds and mnemonics. Phonic Green and Red Word Cards help children blend sounds into words. Picture Sound Cards can be used for extra practice of Set 1 sounds by reinforcing children's recognition of the different phonemes (letter sounds). Simple and Complex Speed Sounds Posters can be put up at the front of the class to clearly display all of the phonemes. The Magnetic Sound Cards can be used when practising sound-blending. The Fred Beanie can be used when teaching sound-blending.
This pack is part of the wider Read Write Inc. Phonics programme, developed by Ruth Miskin. The programme is designed to create fluent readers, confident speakers and willing writers. It includes Handbooks, Sounds Cards, Word Cards, Storybooks, Non-fiction, Writing books and an Online resource. Read Write Inc. is fully supported by comprehensive professional development from Ruth Miskin Training.
Authors
Author Ruth Miskin
Ruth Miskin is one of the UKs leading authorities on teaching children to read. She has many years experience as a head teacher, teacher trainer and consultant in phonics and literacy, working with primary and secondary schools throughout the UK. Ruth has been an adviser to the government on many aspects of literacy teaching since 1997. Her work has been featured both by Newsnight on BBC1 and Dispatches on Channel 4. Ruth was awarded an OBE for services to Education in 2011.
Reviews
`Read Write Inc. Phonics has had a massive impact on our phonic results, raising them from 56% to 96%. All of our staff enjoy using the programme, including our teaching assistants, who feel it has empowered them. We are all amazed and delighted at the difference it has made to teaching and learning in our school.' Joan Cullen, Head Teacher, Sacred Heart Catholic Primary School, Luton
`Read Write Inc. Phonics is effective because of the speed in which the children are able to make progress. There is a very clear structure and children are empowered to succeed because of the systematic and rigorous approach.' Katherine Roberts, Reading Manager, Elmhurst Primary School, Newham
`As a Head Teacher, its wonderful to have such confidence in a programme that you know no child will leave Key Stage 1 as a poor reader. How amazing is that!' Jacqueline Savage, Principal, Outwood Primary Academy Lofthouse Gate, Wakefield