Oxford Maths for Australian Schools Student and Assessment Book Yr 6 Value Pack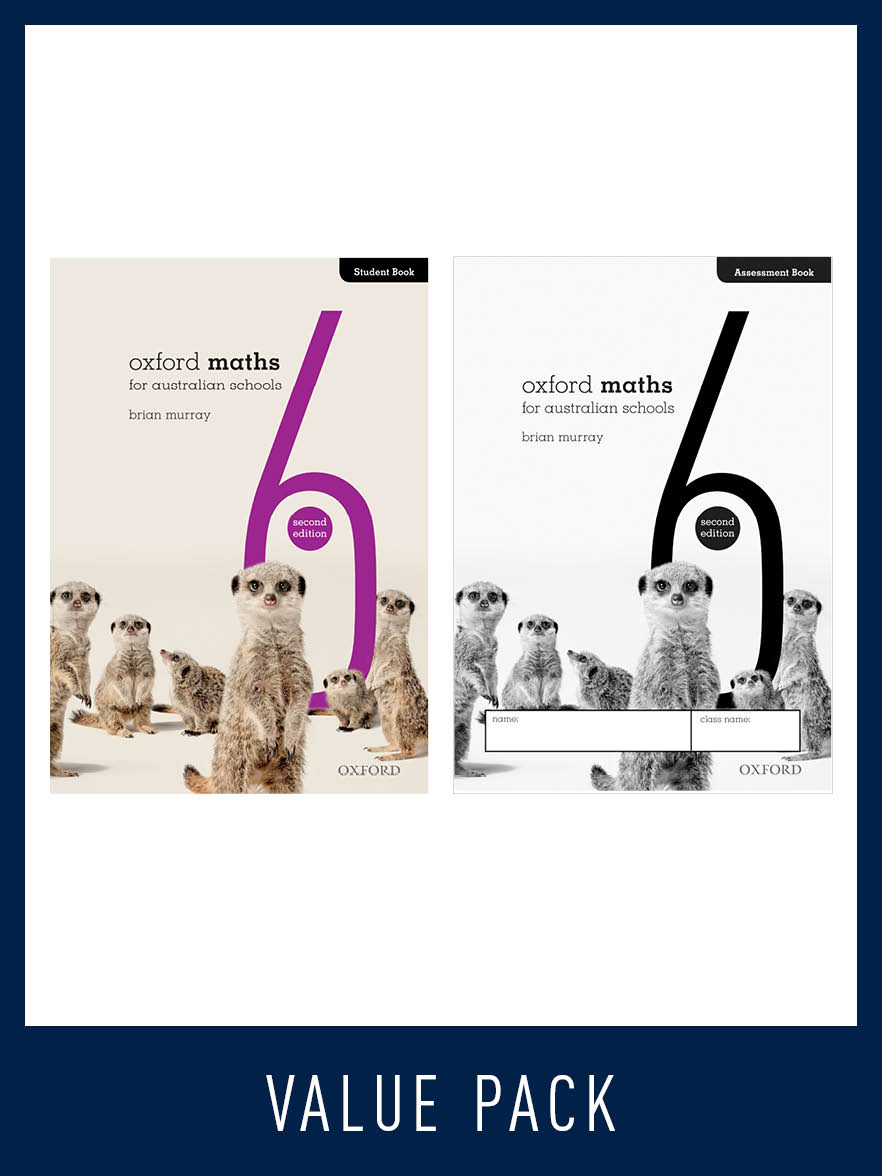 Oxford Maths for Australian Schools Student and Assessment Book Yr 6 Value Pack
| | |
| --- | --- |
| ISBN: | 9780190324902 |
| Binding: | Value Pack |
| Published: | 4 Jun 2020 |
| Availability: | 999 |
| Series: | |
$25.95 AUD
$29.99 NZD
Add To Cart
Description
Oxford Maths features:
Student Books with guided, independent and extend practice to cater for differentiation
Assessment Books featuring full-page pre- and post-tests for every topic
Student Dashboards with adaptive pre-tests, practice quizzes, post-tests, and digital access to the Student Book
Teacher Dashboards with access to a wealth of teaching resources and support materials
Updated grading guide for the Assessment Books via the Teacher dashboard
This series:
has been designed by experienced classroom teachers to support sequential acquisition of mathematical skills, concepts, and knowledge
is based on a developmental approach that incorporates initial scaffolding, which is gradually reduced to allow students to become confident and independent mathematicians
is fully aligned with the Australian and Victorian Curricula, and the NSW Syllabus.
Each Student Book is packaged with a corresponding Assessment Book and sold as a Value Pack. Teacher and Student Dashboards are free when booklisting or can be sold separately.
Please note: we have a variety of purchasing options to suit your school's needs. Please contact your Education Consultant to learn more.
Student Resources
The Oxford Maths Student Books are an integral part of the Oxford Maths series, and come packaged with corresponding Assessment Books.
In Student Books:
topics follow a scope and sequence that supports the sequential acquisition of mathematical skills, concepts and knowledge
student activity pages cover the Mathematics content strands of Number and Algebra, Measurement and Geometry, and Statistics and Probability
In Assessment Books:
pre-tests allow educators to identify each student's level of topic readiness, covering foundational content from the previous year and, where relevant, the breadth of subject matter for each topic at the target year level
post-tests allow educators to measure student growth, confirm the effectiveness of the learning sequence and identify areas of further need for the topic or concept.
Teacher Resources
The Oxford Maths Teacher Dashboards provide online access to a wealth of resources and support materials for Foundation to Year 6, offering teachers access to clear teaching and learning pathways to meet the diverse needs of students in a single class and across the whole school.
The Teacher Dashboards offer:
a digital version of the Student Book (with notetaking and bookmarking functionality)
curricula and planning documents
learning sequences supporting differentiation pathways
topic interactives
videos exploring potential difficulties within topics
access to student pre-tests, online quizzes and post-tests
blackline masters, activity sheets, and mastery tasks
assessment grading guides
answers.
The Teacher Dashboards also incorporate Markbook functionality. Markbook provides an easy-to-access snapshot of class and student progress, enabling teachers to view test performance, highlight areas of success and identify opportunities for additional support.
With Markbook, teachers can:
view and adjust student ability group (extension, at standard, support)
view and print results from practice quizzes and post-tests
filter test results by class or group
view results and progress reports by unit or topic
export results and progress reports
chart students' results and compare them to class averages
add comments to student results
create, track and record custom assessment task results.
The Teacher Dashboard is accessed via Oxford Owl.
For Dashboard subscription options, contact your local Oxford Education Consultant.
Sample Pages
See how the Student and Assessment Books work in context of the whole Oxford Maths program and preview samples from components within the series, including an overview of new digital resources.