Oxford Big Ideas Eco & Bus /Civics& Cit. 9&10 Vic Curr Teacher obook assess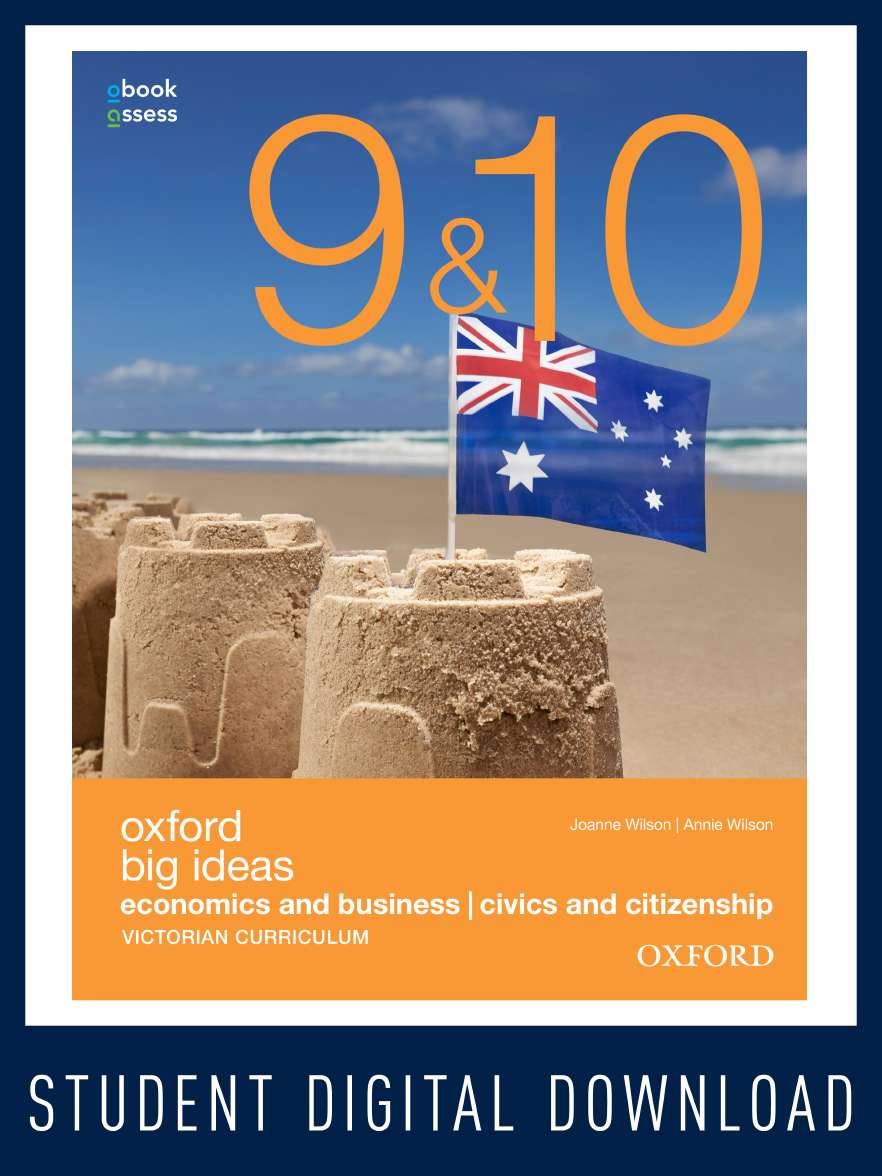 Oxford Big Ideas Eco & Bus /Civics& Cit. 9&10 Vic Curr Teacher obook assess
| | |
| --- | --- |
| ISBN: | 9780190308605 |
| Binding: | obook code (digital) |
| Published: | 30 Jan 2017 |
| Availability: | Available |
| Series: | |
$299.00 AUD
$343.99 NZD
Add To Cart
Add To Cart
Description
Practical and targeted teacher support is provided in digital format via Teacher obook assess.

obook provides teachers with access to the Student book together with added extras such as teaching programs, lesson ideas, worksheets, class tests and answers to all activities in the Student book.

assess offers the ability to assign interactive quizzes and tests, gather results, and monitor student performance.

Teacher obook assess now also offers Dashboard view – an online lesson control centre, allowing teachers to instantly preview, access and assign resources such as videos, interactives, worksheets and tests to students.

Free taster courses

Give your Year 10 students a taste of senior Accounting, Business Management, Economics and Legal Studies courses and empower them to make informed subject selections for the following year. Oxford Taster Courses introduce students to what they can expect to learn in Year 11 with informative topic spreads, case studies, glossaries and 'check your learning' questions. Answers to every question are provided to teachers in an accompanying booklet.

Available free of charge to schools booklisting Big Ideas Humanities 10 and Big Ideas Economics & Business | Civics & Citizenship 9 & 10, Taster Courses can be downloaded via the Teacher Resources tab on Oxford Digital.
Contents
PART 1 ECONOMICS AND BUSINESS

Concepts and skills

Chapter 1 The economics and business toolkit

YEAR 9 Unit 1 Resource allocation and making choices

Chapter 2 Understanding the economy

YEAR 9 Unit 2 Consumer and financial literacy

Chapter 3 Managing financial risks and rewards

YEAR 9 Unit 3 Work and work futures

Chapter 4 The changing work environment

YEAR 10 Unit 1 Enterprising behaviours and capabilities

Chapter 5 Measuring Australia's economic performance

Chapter 6 Living standards

YEAR 10 Unit 2 Work and work futures

Chapter 7 The business environment

PART 2 Civics and Citizenship

Concepts and skills

Chapter 8 The civics and citizenship toolkit

YEAR 9 Unit 1 Government and democracy

Chapter 9 Government, democracy and the citizen

YEAR 9 Unit 2 Laws and citizens

Chapter 10 Australia's legal system

YEAR 10 Unit 1 Government and democracy

Chapter 11 Australia's democracy and the global context

YEAR 10 Unit 2 Laws and citizens

Chapter 12 The Australian Constitution and the High Court

Chapter 13 Australia's international legal obligations

Glossary

Index

Acknowledgements
Authors
Joanne Wilson is a writer, publisher and teacher with many years' experience in the education sector. Having taught in both private and government schools, Joanne is an accomplished History teacher and has contributed to numerous textbooks and digital learning resources in the field of Humanities and Social Science.

Annie Wilson is an experienced Civics and Business Studies teacher who has been passionately teaching and developing curriculum materials for 30 years. She is the author of numerous textbooks and has prepared a range of teaching and learning resources for various publishers and subject associations, including the Victorian Commercial Teachers Association (VCTA). Annie is currently teaching at Presbyterian Ladies' College (Melbourne) and is actively involved in providing professional development to VCE Legal Studies teachers and student revision lectures.