Reading and Creating / Reading and Comparing Student book + obook assess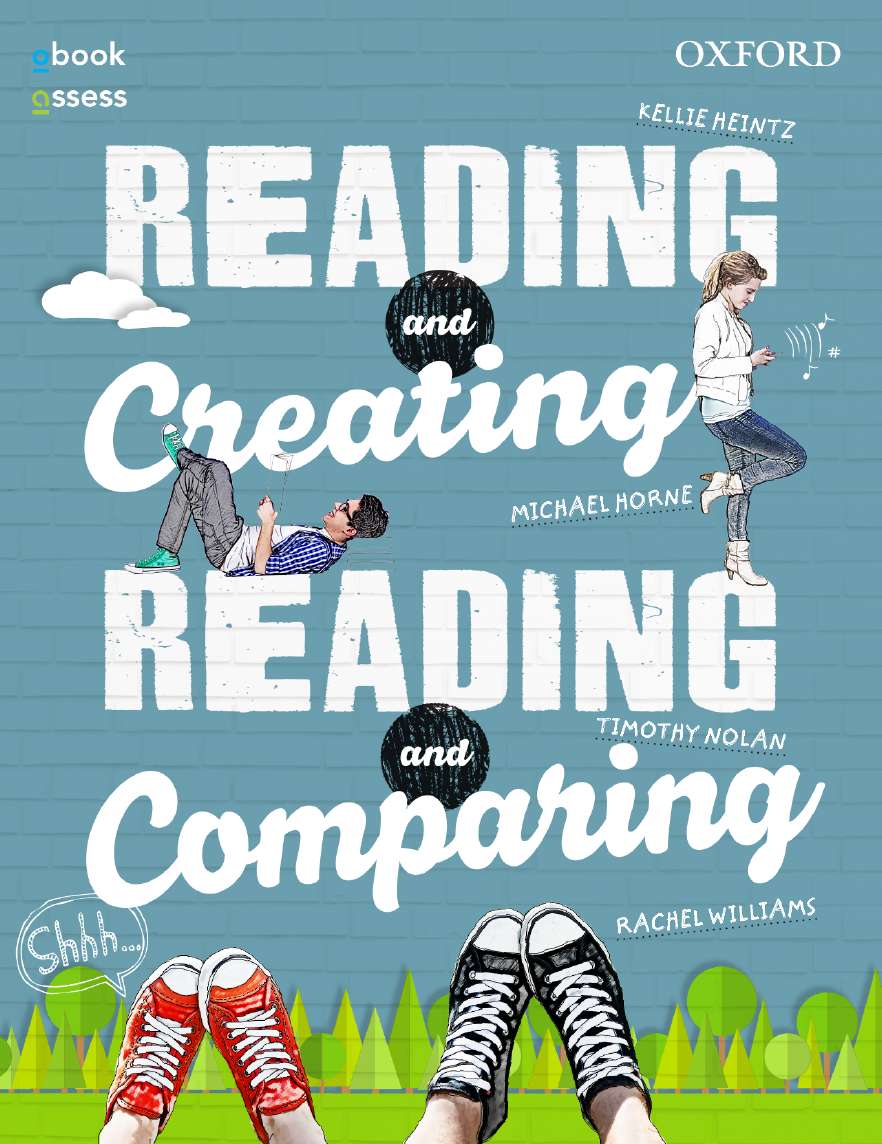 Reading and Creating / Reading and Comparing Student book + obook assess
| | |
| --- | --- |
| ISBN: | 9780190301170 |
| Binding: | Paperback + obook |
| Published: | 30 Jul 2015 |
| Availability: | 999 |
| Series: | |
$39.95 AUD
$45.99 NZD
Add To Cart
Description
Written specifically for the new 2016 Study Design,Reading and Creating | Reading and Comparingcomprehensively covers Area of Study 1 of the new Study Design in a write-in textbook format, using student-friendly language. Ideally used at Year 11 and carried into Year 12,Reading and Creating | Reading and Comparingwill prepare students for VCE English success.

Using a broad selection of text extracts (including text pairings in the 'Comparing' section), the book covers topics including: textual features, understanding texts, analytical writing, creative writing, reading for comparison, making connections and contrasts, and comparative writing. Additionally a helpful toolkit provides templates, annotated sample responses, practice SAC and examination tasks, and a glossary.

Written by a team of four exceptional English educators – Kellie Heintz, Michael Horne, Timothy Nolan and Rachel Williams – several of whom have been involved in shaping the Study Design,Reading and Creating | Reading and Comparing will ensure easy implementation of the new course. The text is supplemented digitally withobook andassess, including further support for EAL students.
Contents
1. Introduction
What is this book about?
Information for VCE students
Entering the world of text
Productive reading practises
2. Reading and creating
2.1 Understanding texts
Textual conventions
How Form Influences Reading
Understanding texts
2.2 Analytical writing
The craft of writing
What does 'analysis' mean?
Mechanics and techniques of analytical writing
Engaging with the world of the text
Developing an interpretation / reading of the text
Using textual evidence and quotations
Sample analytical responses
Understanding texts
2.3 Creative writing
the craft of creative writing
mechanics and techniques of creative writing
how to use the text to inform a creative response
3. Reading and comparing
3.1 Reading for comparison
Reading to identify ideas, issues and themes
Understanding the author's perspective
Constructing perspective through plot, character and setting
Identifying points of comparison
Note-taking (including note-taking sheets)
3.2 Making connections and contrasts
Texts with related issues and ideas
Comparing setting and context
Comparing elements of plot
Comparing characters
Comparing different forms of texts
Written and multimodal texts
Fiction and non-fiction texts
Comparing perspective and meaning
Considering contrasts
Evaluating differing personal interpretations
3.3 Comparative writing
Comparative essay topics
Planning for comparison
Identifying points of comparison
Topic terminology
Deconstructing essay topics
Steps/stages of planning
Constructing a response
Introductions
Body paragraphs
Conclusions
The mechanics of writing
Using the language of comparison
Using evidence
Putting it together
4. Toolkit
Templates
Sample SACs
Exam preparation
Authors
Kellie Heintz
Kellie Heintz is a Lecturer in Secondary English Education at the University of Melbourne. Prior to this, Kellie taught VCE English and Literature at a range of secondary schools for 20 years including Star of the Sea College and Avila College. She has co-authored a range of English textbooks. Kellie is currently a member of the VCAA VCE Text Advisory Panel and the VCAA Study Design Review Panel and has held various roles at VCAA over the years. Kellie is a PhD candidate who is researching the impact of text selection and teaching pedagogy on the engagement of students in senior English.

Michael Horne
Michael Horne is an experienced teacher of English and Literature. He is currently Head of School: 10-12 at Ave Maria College, and has previously taught at Scotch College. Michael has written a number of textbooks for Oxford University Press, and has assessed the VCE English exam. He is an experienced VATE presenter, and has spoken at English association conferences in a number of states on approaches to the Australian Curriculum.

Timothy Nolan
Timothy Nolan is a secondary school English, English Literature and Media teacher. A graduate of The University of Melbourne, Tim has been teaching at Ave Maria College in Aberfeldie for 7 years, where he has been the Head of English since 2011. Currently a member of the Victorian Association for the Teaching of English (VATE) Council, he regularly presents at and runs workshops for VATE in his capacity as an English and English Literature teacher. He has lectured for VATE at their conferences and Student Revision Days. Over the years he has worked for the Victorian Curriculum and Assessment Authority (VCAA) as both a Visitation Reviewer for Media and as a member of the Review Panel for the new iteration of the VCAA English/EAL Study Design. In 2014 Tim completed his Master of Education (Management) at the University of Melbourne. He has written text guides for VCE English for Insight Publications.

Rachel Williams
Rachel Williams has taught VCE English and Literature for more than ten years. She currently teaches at Assumption College where she has held the positions of VCE Coordinator and English Learning Area Coordinator. Rachel was a member of the VCE English study review panel, is one of the writers of the 2016 VCE English/EAL Study Design, and is also a member of the VCAA Text Advisory Panel for English. She has presented a number of workshops on English curriculum for a variety of organisations, including VATE.
Sample Pages