Oxford MyEnglish 7 Victorian Curriculum Student book + obook assess + Upskill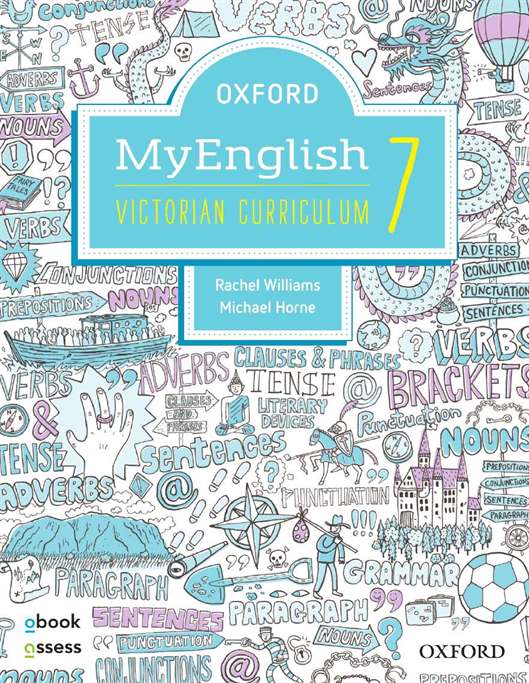 Oxford MyEnglish 7 Victorian Curriculum Student book + obook assess + Upskill
| | |
| --- | --- |
| ISBN: | 9780190305314 |
| Binding: | Paperback + obook |
| Published: | 2 Aug 2016 |
| Availability: | 726 |
| Series: | |
$25.95 AUD
$29.99 NZD
Add To Cart
Description
Oxford MyEnglish is specifically developed to cater to mixed-ability classrooms and offers an engaging and accessible approach to English grammar and skills.
More than comprehensive resources for years 7-9, MyEnglish offers additional content supporting students down to Year 5 and up to Year 10, to ensure that teachers have access to content that is appropriate for every student in the classroom.
Comprehensive grammar and skills coverage in an accessible workbook format.
Exploration of grammar in the context of topical text extracts.
Differentiated student support linked to every unit.
Simple, accessible and easy to navigate.
Interactive digital Upskill modules further accompany the units and include video tutorials to engage students.
Print and digital version
Contents
PART A: USING WORDS
Unit 1: Nouns – Types of nouns
Unit 2: Nouns – Pronouns
Unit 3: Verbs – Types of verbs
Unit 4: Verbs – Tenses
Unit 5: Adverbs – Adverbs of manner
Unit 6: Adverbs – Adverbs of time and place
Unit 7: Adjectives – How adjectives work
Unit 8: Adjectives – Types of adjectives and degrees of comparison
Unit 9: Prepositions and conjunctions - What prepositions do
Unit 10: Prepositions and conjunct
PART B: ORGANISING WORDS AND IDEAS
Unit 11: Punctuation – Punctuating sentences
Unit 12: Punctuation – Using apostrophes
Unit 13: Phrases and clauses – Phrases and clauses
Unit 14: Phrases and clauses – Combining clauses
Unit 15: Sentences – Subjects and predicates
Unit 16: Sentences – Types of sentences
PART C: EXPRESSING AND SHARING IDEAS
Unit 17: Text cohesion – Paragraphing
Unit 18: Text cohesion – Ellipsis and substitution
Unit 19: Literary devices – Simile, metaphor and personification
Unit 20: Literary devices – Analysing literary devices
Authors
Rachel Williams
Rachel Williams is an experienced teacher of English and Literature. She is currently teaching at Assumption College Kilmore, where she has also held positions such as Head of English and VCE Coordinator. Rachel was one of the writers of the new VCE English/EAL Study Design and is a member of the English Text Advisory Panel for VCAA.
Michael Horne
Michael Horne is an experienced teacher of English and Literature. He is currently Director of the Senior Campus at Salesian Rupertswood in Sunbury. Michael has written a number of textbooks for Oxford University Press and is an experienced VATE presenter.
Request an inspection copy