English for Queensland Units 1&2 Student book + obook assess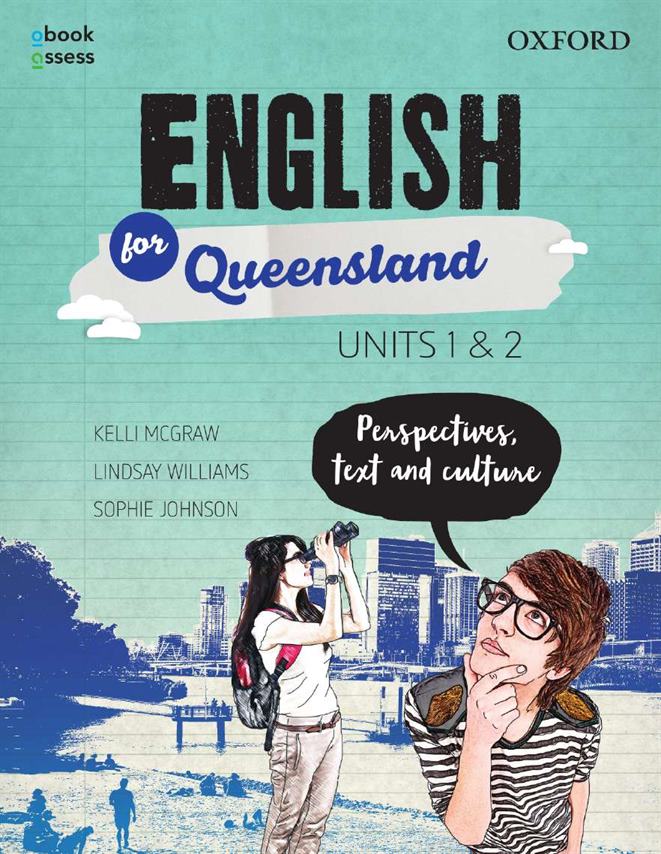 English for Queensland Units 1&2 Student book + obook assess
| | |
| --- | --- |
| ISBN: | 9780190313098 |
| Binding: | Paperback + obook |
| Published: | 10 Dec 2018 |
| Availability: | 999 |
| Series: | |
$49.95 AUD
$56.99 NZD
Add To Cart
Description
The new Queensland Senior English syllabus (implementation from 2019) affects all aspects of teaching and learning – new teaching content, new course structure and a new approach to assessment. As EPAA Secondary Publisher of the Year 2017, 2018 and 2019, Oxford University Press is committed to helping teachers and students in Queensland reach their full potential.

Our brand new two-volume series, English for Queensland, is designed to exemplify possible learning pathways and model approaches to text analysis and creation by providing depth and complete coverage of the new syllabus in format that encourages all students to succeed. Units 1 & 2 (Book 1) and Units 3 & 4 (Book 2).

Key features include:
Comprehensive coverage of the new syllabus, building on key knowledge and skills from junior English
Assessment support and resources including exam preparation and practice
Highly engaging write-in textbook format with direct and concise style
Sequencing of key content scaffolds student learning and aids navigation
Explores a range of engaging texts including classics, contemporary and media texts (including digital, multimodal and visual texts)
Supports differentiated teaching with a range of appropriately levelled 'Your Turn' questions and activities or each section
An English Toolkit which is a stand-alone reference section that explains the structure of the syllabus, supports the acquisition of key skills and provides practical tips for success in English
Additional digital learning resources to support both teachers and students.
Contents
Units 1 & 2

Part A: How to Think About Texts in English
Chapter 1: Ways into interpreting and creating

Part B: Perspectives in Texts
Chapter 2: Communicating and analysing experiences
Chapter 3: Finding your voice
Chapter 4: Sharing your position

Part C: Texts and Culture
Chapter 5: Representing identity and culture
Chapter 6: Shaping stories
Chapter 7: Close analysis and finding meaning

Part D: Toolkit for Creating and Comprehending
Chapter 8: Selection of templates, scaffolds, annotated sample responses, practice assessment tasks and glossary
Authors
Dr Kelli McGraw
Dr Kelli McGraw is a Lecturer in the Faculty of Education at Queensland University of Technology. Kelli currently teaches secondary English curriculum and draws on her prior experience teaching secondary school English and debating. Kelli is also the Treasurer of the English Teachers' Association of Queensland (ETAQ).

Dr Lindsay Williams
Dr Lindsay Williams has been an educator in Queensland for 36 years, teaching English at both state and independent schools. He has also served on numerous curriculum committees and panels, has coordinated and taught teacher preparation courses, and creates curriculum resources for numerous organisations including Reading Australia. He is the current Vice President of the ETAQ.

Sophie Johnson
Sophie Johnson has been teaching Senior English in both independent and state schools in Queensland for over 10 years. She has also taught International Baccalaureate syllabuses and has worked with the QCAA in a range of roles. Sophie is an active member of the ETAQ.
Student Resources
This resource includes a physical copy of the Student book and access to obook assess which is a cloud-based obook that students can use anywhere, anytime on any device.

obook assess provides Students with access to:
a complete digital version of the Student book with added note-taking and bookmarking functionality
free Oxford Concise Dictionary look-up feature
a range of engaging worksheets for every chapter designed to consolidate and extend understanding of key content from the syllabus
a range of interactive, auto-correcting, multiple-choice assess quiz questions.
Teacher Resources
This resource is supported by the English for Queensland Units 1 & 2 Teacher obook assess (ISBN: 9780190313135).

Teacher obook assess is available FREE to booklisting schools or schools that purchase a class set of 25 or more copies. Contact your Oxford Education Consultant via www.oup.com.au/contact to discuss your requirements and request a demonstration.
obook assess provides Teachers with access to:
answers to all questions and assessment tasks in the Student book
detailed course planners, teacher notes and lesson plans
Teachers will have access to the following Student resources via obook assess:
a complete digital version of the Student book with added note-taking and bookmarking functionality
free Oxford Concise Dictionary look-up feature
a range of interactive, auto-correcting, multiple-choice assess quiz questions
Sample Pages